Book Online at GoWabi - Anne Semonin Spa (Pullman Bangkok Hotel G Branch)
Anne Semonin Spa (Pullman Bangkok Hotel G Branch)
Cash, credit card
$$ (Based on Special Rates from our Partners)
THB
4th Floor, Pullman Bangkok Hotel G, 188 Silom Rd, Khwaeng Suriya Wong, Khet Bang Rak, Bangkok 10500
สถานที่บรรยากาศดี สงบ เป็นส่วนตัว โปรแกรมนี้แบ

- Sirawit

+2

Good service and good environment

- Chutima

Friendly staff, clean place, positive experien

- Charasporn
Anne Semonin Spa - We have been developing luxurious, highly effective skincare and made-to-measure treatments since 1985 with the goal of visibly enhancing your skin's radiance. Regardless of age or skin type your skin can be nourished, nurtured and revitalized to reveal a new freshness, softness and vitality. We restore that youthful 'glow' by harnessing the power of essential oils, minerals and marine active ingredients and by prescribing personalised regimes that detoxify your skin and help prevent or reverse signs of ageing.
MADE TO MEASURE SKINCARE
The Anne Semonin collection is designed with a simple insight in mind: Everyone's skin is unique, and skin changes daily. Our skin is affected by environmental conditions, hormones, stress levels, lifestyle – a wide range of factors that change constantly. Skincare needs to be tailored to those ever-changing needs. That's why we believe the most effective beauty products and treatments are based on a combination of a personal, made-to-measure prescription and a holistic approach to your specific skin concerns.
Spa Etiquette:
• Please arrive at least 15 minutes before your appointment time. In the case of late arrival, treatment may be shortened in consideration of the next client.
• In case of late arrival more than 15 minutes without giving any prior notification the spa reserves the right to cancel the booking without prior notice.
• Clients who miss their appointments without giving any prior notification will be charged in full for the scheduled service.
Anne Semonin Spa (Pullman Bangkok Hotel G Branch)
4th Floor, Pullman Bangkok Hotel G, 188 Silom Rd, Khwaeng Suriya Wong, Khet Bang Rak, Bangkok 10500
Mon 12:00 PM - 07:30 PM
Tue 12:00 PM - 07:30 PM
Wed 12:00 PM - 07:30 PM
Thu 12:00 PM - 07:30 PM
Fri 12:00 PM - 07:30 PM
Sat 12:00 PM - 07:30 PM
Sun 12:00 PM - 07:30 PM
REVIEWS (written by customers after their visit)

---
5.0
สถานที่บรรยากาศดี สงบ เป็นส่วนตัว โปรแกรมนี้แบ่งเป็น2ส่วนคือสครับผิว(ชาเขียวorช๊อกโกแล็ต) และนวดอโรม่า(มีกลิ่นให้เลือก4กลิ่น)
Sirawit
Sirawit
สถานที่บรรยากาศดี สงบ เป็นส่วนตัว โปรแกรมนี้แบ่งเป็น2ส่วนคือสครับผิว(ชาเขียวorช๊อกโกแล็ต) และนวดอโรม่า(มีกลิ่นให้เลือก4กลิ่น)
+2

Verified Reviews
Visited 26 Jul 2020
5.0
Good service and good environment
Chutima

Chutima
Good service and good environment

Verified Reviews
Visited 24 Dec 2020
5.0
Friendly staff, clean place, positive experience
Charasporn
Charasporn
Friendly staff, clean place, positive experience

Verified Reviews
Visited 14 Dec 2020
5.0
Overall night experience, nice staffs
Arthitaya
Arthitaya
Overall night experience, nice staffs. The place is a bit old but quiet

Verified Reviews
Visited 12 Dec 2020
5.0
เงียบสงบ บรรยากาศดีคะ ส่วนตัวมาก กลิ่นหอมสปา แนะนำมากๆคะ ปกติราคาแพงมากคะ ซื้อตอนโปรโมชั่น ราคาหาไม่ได้นะคะแบบนี้
Yok
Yok
เงียบสงบ บรรยากาศดีคะ ส่วนตัวมาก กลิ่นหอมสปา แนะนำมากๆคะ ปกติราคาแพงมากคะ ซื้อตอนโปรโมชั่น ราคาหาไม่ได้นะคะแบบนี้

Verified Reviews
Visited 06 Dec 2020
5.0
บริการดี สถานที่ดี สครับดี นวดดีมากกกกกกกกก
Lalintip
Lalintip
บริการดี สถานที่ดี สครับดี นวดดีมากกกกกกกกก

Verified Reviews
Visited 28 Nov 2020
5.0
Scrub ดี เสร็จแล้วผิวนุ่มชุ่มชื้น นวดไทยก็ดีมากค่ะ ที่ตึงๆเมื่อยๆอยู่คือดีขึ้นมากเลย
Sethanant

Sethanant
Scrub ดี เสร็จแล้วผิวนุ่มชุ่มชื้น นวดไทยก็ดีมากค่ะ ที่ตึงๆเมื่อยๆอยู่คือดีขึ้นมากเลย

Verified Reviews
Visited 25 Nov 2020
5.0
ส่วนตัวชอบผลิตภัณฑ์​แบรนด์นี้ ไม่เคยผิดหวังค่ะ
Kunlakod
Kunlakod
ส่วนตัวชอบผลิตภัณฑ์​แบรนด์นี้ ไม่เคยผิดหวังค่ะ

Verified Reviews
Visited 14 Nov 2020
5.0
บริการดี นวด ขัดผิว สบายมากค่ะ
Wachira
Wachira
บริการดี นวด ขัดผิว สบายมากค่ะ

Verified Reviews
Visited 25 Dec 2020
5.0
Attentive staffs and great product
Poonsak

Poonsak
Attentive staffs and great product

Verified Reviews
Visited 29 Aug 2020
People Also Like
THE EMPRESSER
204 reviews
Mendel Clinic
1248 reviews
Viva Jiva Spa @ Lancaster Bangkok Hotel
347 reviews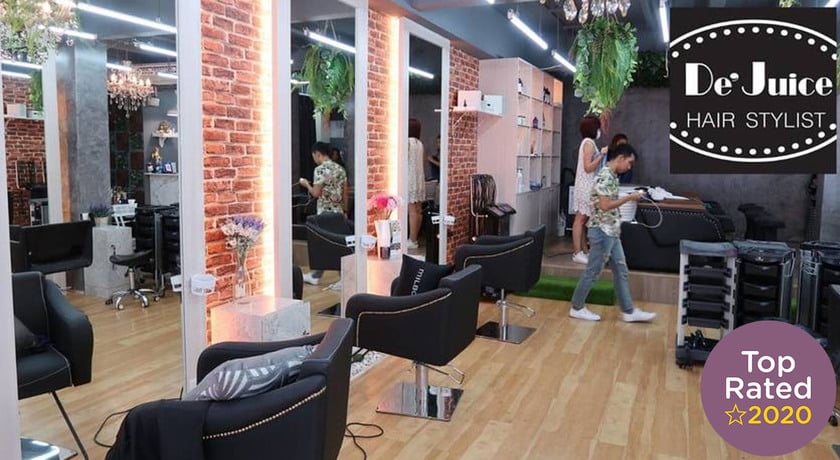 De Juice Hair Stylist
194 reviews
Clarins Skin Spa
54 reviews