Book Online at GoWabi - Charme Hair Studio (Wutthakat Branch)
Charme Hair Studio (Wutthakat Branch)
Cash, credit card
$$ (Based on Special Rates from our Partners)
THB
2rd The Entrance (Asprie Sathorn-Taksin), Wutthakat Rd, Talat Phlu, Bangkok 10600
ช่างดูแลดีค่ะ ร้านก็สะอาดสะอ้าน

- Abbie

+1

ร้านสะอาด ได้สีผมตรงตามที่อยากได้ค่ะ

- Naraporn

+1

คุณหมูบริการดี ดูแลดีเหมือนเดิมค่ะ :)

- Pat
Charme Hair Studio selects top hair product brands such as Schwarzkopf and Davines, which have been widely used among the professional hairstylists and been well-known in Thailand for a long time. Our hairstylists are all professionally trained. Moreover, we also provide Japanese head massage, making you relax and reducing stress and fatigue, only at Wutthakat branch. Our shop has free parking space or you can come by BTS and drop off at Wutthakat station, Exit 2.
Hair Coloring
Get the perfect hair color both of fashion color and classic color by our professional hair stylist, followed by styling advice and product knowledge (Armpit length)
Hair Package
The Shiatsu Touhi Massage head spa is a Japanese pressure points massage styles that leaves you feeling refreshed and energised also helps to reduce stress levels, increase blood flow, eliminate painful headaches and muscle tension. (Free wash & dry hair)
Hair Straight
Hair straightening with high quality products Solely to ensure the quality of your hair.
Charme Hair Studio (Wutthakat Branch)
2rd The Entrance (Asprie Sathorn-Taksin), Wutthakat Rd, Talat Phlu, Bangkok 10600
Mon 10:00 AM - 08:00 PM
Tue 10:00 AM - 08:00 PM
Thu 10:00 AM - 08:00 PM
Fri 10:00 AM - 08:00 PM
Sat 10:00 AM - 08:00 PM
Sun 10:00 AM - 08:00 PM
REVIEWS (written by customers after their visit)

---
5.0
ช่างดูแลดีค่ะ ร้านก็สะอาดสะอ้าน
Abbie
Abbie
ช่างดูแลดีค่ะ ร้านก็สะอาดสะอ้าน
+1

Verified Reviews
Visited 08 Jun 2020
5.0
ร้านสะอาด ได้สีผมตรงตามที่อยากได้ค่ะ
Naraporn

Naraporn
ร้านสะอาด ได้สีผมตรงตามที่อยากได้ค่ะ
+1

Verified Reviews
Visited 16 Aug 2019
5.0
คุณหมูบริการดี ดูแลดีเหมือนเดิมค่ะ :)
Pat

Pat
คุณหมูบริการดี ดูแลดีเหมือนเดิมค่ะ :)

Verified Reviews
Visited 27 Dec 2020
5.0
บริการดีค่ะ สีผมออกมาสวยถูกใจ
Napat
Napat
บริการดีค่ะ สีผมออกมาสวยถูกใจ

Verified Reviews
Visited 28 Nov 2020
5.0
บริการเดินทางสะดวก เจ้าของร้านเฟรนลี่ค่ะ
Sarunphat
Sarunphat
บริการเดินทางสะดวก เจ้าของร้านเฟรนลี่ค่ะ

Verified Reviews
Visited 25 Oct 2020
4.0
บรรยากาศเงียบ ร้านเล็กๆ ห้องแคบไปหน่อย พนักงานสุภาพ นวดดี ราคาคุ้ม ไม่แพง
Pat

Pat
บรรยากาศเงียบ ร้านเล็กๆ ห้องแคบไปหน่อย พนักงานสุภาพ นวดดี ราคาคุ้ม ไม่แพง

Verified Reviews
Visited 27 Dec 2020
5.0
ช่าง(พี่หมู) ให้คำแนะนำดีมาก ตัดกับพี่เค้ามาหลาบรอบแล้ว ฝีมือดีมากค่ะ
Noey
Noey
ช่าง(พี่หมู) ให้คำแนะนำดีมาก ตัดกับพี่เค้ามาหลาบรอบแล้ว ฝีมือดีมากค่ะ

Verified Reviews
Visited 23 Aug 2020
3.0
พนักงานผู้หญิงเหมือนยังสระผมไม่สะอาดค่ะ ดูรีบๆ เป่าออกมาผมยังเหนียวอยู่เลยค่ะ
June
June
พนักงานผู้หญิงเหมือนยังสระผมไม่สะอาดค่ะ ดูรีบๆ เป่าออกมาผมยังเหนียวอยู่เลยค่ะ

Verified Reviews
Visited 04 Aug 2020
3.0
พนักงานสระผม สระไวมากค่ะ ไม่มีให้เลือกว่าจะไดร์แบบไหน พนักงานบอกว่าราคานี้ไดร์ตรงได้อย่างเดียว
June
June
พนักงานสระผม สระไวมากค่ะ ไม่มีให้เลือกว่าจะไดร์แบบไหน พนักงานบอกว่าราคานี้ไดร์ตรงได้อย่างเดียว

Verified Reviews
Visited 04 Aug 2020
5.0
แชมพูที่ร้านหมอมากค่ะ
Nam
Nam
แชมพูที่ร้านหมอมากค่ะ

Verified Reviews
Visited 11 Jul 2020
People Also Like
THE EMPRESSER
204 reviews
Mendel Clinic
1253 reviews
Viva Jiva Spa @ Lancaster Bangkok Hotel
347 reviews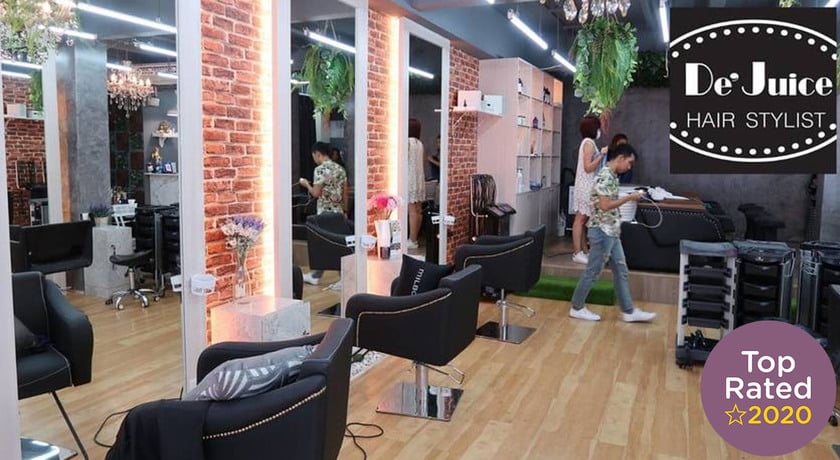 De Juice Hair Stylist
194 reviews
Clarins Skin Spa
54 reviews