Book Online at GoWabi - Hair Salon by Pink Area
Hair Salon by Pink Area
Cash, credit card
$$ (Based on Special Rates from our Partners)
THB
57 Lat Phrao 71 Alley, Nak Niwat Rd, Lat Phrao , Lat Phrao district Bangkok 10230
พนักงานตัดผมดี ทรงออกมาถูกใจ ร้านมีที่จอดรถ บร

- Wongsakorn

+6

ช่างตัดผมดีมากค่ะ และทางร้านบริการดีมาก วันนั้

- Sakulapat

+1

ตัดผมสวยมากค่ะ ถูกใจ ร้านดี มีที่จอดรถ

- Juthapohn

+1
Hair Salon by Pink Area is a full service. In our place Which the shop is located on the 3rd floor at Pink area Beauty & Cafe
Haircut & Blowdry (All hair length) For Women or MenThe stylist will cut your hair according to your face and your style. The stylist also pay attention with your hair condition. Therefore, you will get hair style that is suitable for yourself. Hairdressing is also performed.
The shop provides Cut+Hair Coloring (All Lengths) 
Terms & Conditions:
• This voucher can be used within 2 month after purchase. 
• All purchases and treatments cannot be amended.
• These vouchers cannot be used with other promotions.
• Show your voucher from email or GoWabi app for verification
• Appointment has to be booked in advance. The shop contact details will be available in your "GoWabi's Booking Confirmation email or My Booking page"
Hair Salon by Pink Area
57 Lat Phrao 71 Alley, Nak Niwat Rd, Lat Phrao , Lat Phrao district Bangkok 10230
Mon 11:00 AM - 09:00 PM
Tue 11:00 AM - 09:00 PM
Wed 11:00 AM - 09:00 PM
Thu 11:00 AM - 09:00 PM
Fri 11:00 AM - 09:00 PM
Sat 11:00 AM - 09:00 PM
Sun 11:00 AM - 09:00 PM
REVIEWS (written by customers after their visit)

---
3.0
พนักงานตัดผมดี ทรงออกมาถูกใจ ร้านมีที่จอดรถ บรรยากาศดี แต่บอกว่าราคานี้ไม่รวมสระผม (ทั้งๆที่ใน Voucher เขียนว่ารวมสระ) แล้วพอบอกว่าโปร 199 กลับงงๆกับเราว่ามีด้วยหรอราคานี้ 😫
Wongsakorn
Wongsakorn
พนักงานตัดผมดี ทรงออกมาถูกใจ ร้านมีที่จอดรถ บรรยากาศดี แต่บอกว่าราคานี้ไม่รวมสระผม (ทั้งๆที่ใน Voucher เขียนว่ารวมสระ) แล้วพอบอกว่าโปร 199 กลับงงๆกับเราว่ามีด้วยหรอราคานี้ 😫
+6

Verified Reviews
Visited 07 Sep 2020
5.0
ช่างตัดผมดีมากค่ะ และทางร้านบริการดีมาก วันนั้นที่ไปทำผมมี free drink จาก cafe ให้ฟรีด้วยค่ะ
Sakulapat
Sakulapat
ช่างตัดผมดีมากค่ะ และทางร้านบริการดีมาก วันนั้นที่ไปทำผมมี free drink จาก cafe ให้ฟรีด้วยค่ะ
+1

Verified Reviews
Visited 18 Oct 2020
5.0
ตัดผมสวยมากค่ะ ถูกใจ ร้านดี มีที่จอดรถ
Juthapohn

Juthapohn
ตัดผมสวยมากค่ะ ถูกใจ ร้านดี มีที่จอดรถ
+1

Verified Reviews
Visited 13 Sep 2020
5.0
พนักงานพูดจาน่ารักมากกกก คุณพี่ช่างทำผมก็น่ารัก แนะนำหลายอย่างเลย เป็นกันเองมากๆเลยค่ะ แนะนำด้วยว่าทำผมทรงไหนเข้ากับเรา ดูความเรียบร้อยให้หลายรอบมากๆ ดืออ เดี๋ยวจะแนะนำเพื่อนๆให้มาทำอีกเยอะๆเลยค่ะ
Atom
Atom
พนักงานพูดจาน่ารักมากกกก คุณพี่ช่างทำผมก็น่ารัก แนะนำหลายอย่างเลย เป็นกันเองมากๆเลยค่ะ แนะนำด้วยว่าทำผมทรงไหนเข้ากับเรา ดูความเรียบร้อยให้หลายรอบมากๆ ดืออ เดี๋ยวจะแนะนำเพื่อนๆให้มาทำอีกเยอะๆเลยค่ะ
+1

Verified Reviews
Visited 10 Sep 2020
4.0
Came with litte too short, cut by her way which was not same as the hair style image as I wanted to
Stang Akirata
Stang Akirata
Came with litte too short, cut by her way which was not same as the hair style image as I wanted to
+1

Verified Reviews
Visited 03 Sep 2020
5.0
ได้สีตามที่แจ้งไว้เลยค่ะ บรรยากาศร้านน่ารัก พนักงานบริการดีมากค่ะ
Kwankaew
Kwankaew
ได้สีตามที่แจ้งไว้เลยค่ะ บรรยากาศร้านน่ารัก พนักงานบริการดีมากค่ะ
+1

Verified Reviews
Visited 29 Aug 2020
4.0
The place was cute with beautiful decorations
Karr
Karr
The place was cute with beautiful decorations

Verified Reviews
Visited 22 Dec 2020
3.0
ช่างพี่เอสแนะนำดี เก่งมาก ตัดผมสวยค่ะ
Jutatip
Jutatip
ช่างพี่เอสแนะนำดี เก่งมาก ตัดผมสวยค่ะ

Verified Reviews
Visited 10 Oct 2020
3.0
Voucher เขียนไม่ชัดเจนว่าเป็นดัดผมแบบไหน เมื่อไปถึงมีต้องชำระเงินเพิ่มเท่ากับราคาเต็ม สรุปคือเหมือนจ่ายเงินล่วงหน้าบางส่วนไว้เฉยๆ ไม่ได้ส่วนลดอะไร พนักงานสุภาพ บริการดี ช่างฝีมือดี ดัดออกมาแล้วสวย ไม่เหม็นน้ำยามากจนเกินไป มีที่จอดรถ
Tawanrat
Tawanrat
Voucher เขียนไม่ชัดเจนว่าเป็นดัดผมแบบไหน เมื่อไปถึงมีต้องชำระเงินเพิ่มเท่ากับราคาเต็ม สรุปคือเหมือนจ่ายเงินล่วงหน้าบางส่วนไว้เฉยๆ ไม่ได้ส่วนลดอะไร พนักงานสุภาพ บริการดี ช่างฝีมือดี ดัดออกมาแล้วสวย ไม่เหม็นน้ำยามากจนเกินไป มีที่จอดรถ

Verified Reviews
Visited 06 Nov 2020
3.0
พี่คนสระผมน่ารักมากค่ะ มือเบา สบาย เป็นมิตร ร้านน่ารัก สะดวก มีที่จอดด้านหลังเลย ตอนตัดผมช่างแจ้งว่า ดีล 199 ได้แค่เล็มปลาย ไม่รวมซอยผม ถ้าจะตัดผมด้วย ราคาที่ร้านคือ 350 ต้องเพิ่มอีก 150 บาท แต่ในรายละเอียดที่ซื้อมาก็บอกชัดเจนว่าตัดผมทุกความยาว ออกแบบทรงผมให้เหมาะกับรูปหน้าบุคลิกภาพตัวคุณ สุดท้ายเลยแย้งไป ช่างเลยบอกสรุปใช้ดีล199 นะ และตอนตัดก็ไม่ได้ช่วยออกแบบทรงผมอะไรใดๆ
Anan

Anan
พี่คนสระผมน่ารักมากค่ะ มือเบา สบาย เป็นมิตร ร้านน่ารัก สะดวก มีที่จอดด้านหลังเลย ตอนตัดผมช่างแจ้งว่า ดีล 199 ได้แค่เล็มปลาย ไม่รวมซอยผม ถ้าจะตัดผมด้วย ราคาที่ร้านคือ 350 ต้องเพิ่มอีก 150 บาท แต่ในรายละเอียดที่ซื้อมาก็บอกชัดเจนว่าตัดผมทุกความยาว ออกแบบทรงผมให้เหมาะกับรูปหน้าบุคลิกภาพตัวคุณ สุดท้ายเลยแย้งไป ช่างเลยบอกสรุปใช้ดีล199 นะ และตอนตัดก็ไม่ได้ช่วยออกแบบทรงผมอะไรใดๆ

Verified Reviews
Visited 07 Nov 2020
People Also Like
THE EMPRESSER
211 reviews
Mendel Clinic
1284 reviews
Viva Jiva Spa @ Lancaster Bangkok Hotel
347 reviews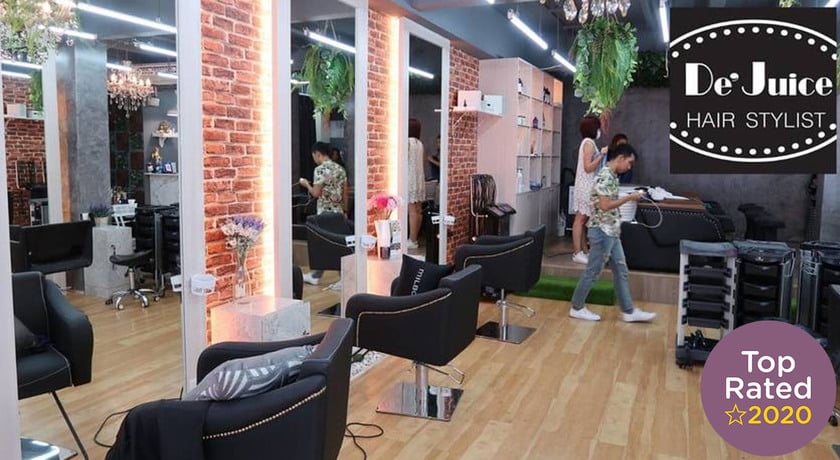 De Juice Hair Stylist
194 reviews
Clarins Skin Spa
54 reviews