Book Online at GoWabi - La La Lash (Sathon Branch)
La La Lash (Sathon Branch)
Cash, credit card
$$ (Based on Special Rates from our Partners)
THB
Empire Tower M2 Floor, South Sathorn Rd., Yannawa, Sathorn, Bangkok 10120
ร้านสะอาด พนักงานดูแลดีค่า แต่กาวคิดขนตาเหมือน

- Tina

+9

Nice atmosphere. I couldn't find the place but

- Bence

+2

ขนตาหลุดตั้งแต่วันแรกเลยค่ะ แต่พนักงานบริการดี

- Parrprae

+2
With our professionals, La la lash provides eyelash extensions services with wide selection of techniques for every customer. Classic eyelash extensions technique adds more dimension but still gives natural looks. Volume eyelash extensions technique focuses more on thickness of your eyelashes. Our shop is located in Empire Tower M2 floor.
Terms & Conditions:
• This voucher can be used within 2 month after purchase.
• All purchases and treatments cannot be amended.
• These vouchers cannot be used with other promotions.
• Show your voucher from email or GoWabi app for verification
• Appointment has to be booked in advance. The shop contact details will be available in your "GoWabi's Booking Confirmation email or My Booking page"
Eyelash Removal
La La Lash (Sathon Branch)
Empire Tower M2 Floor, South Sathorn Rd., Yannawa, Sathorn, Bangkok 10120
Mon 11:00 AM - 07:00 PM
Tue 11:00 AM - 07:00 PM
Wed 11:00 AM - 07:00 PM
Thu 11:00 AM - 07:00 PM
Fri 11:00 AM - 07:00 PM
Sat 11:00 AM - 07:00 PM
REVIEWS (written by customers after their visit)

---
3.0
ร้านสะอาด พนักงานดูแลดีค่า แต่กาวคิดขนตาเหมือนไม่ค่อยดี ทำได้ประมาณ1 อาทิตย์ขนตาหลุดเต็มเลย
Tina
Tina
ร้านสะอาด พนักงานดูแลดีค่า แต่กาวคิดขนตาเหมือนไม่ค่อยดี ทำได้ประมาณ1 อาทิตย์ขนตาหลุดเต็มเลย
+9

Verified Reviews
Visited 18 Jun 2020
5.0
Nice atmosphere
Bence

Bence
Nice atmosphere. I couldn't find the place but the staff is pretty helpful.
+2

Verified Reviews
Visited 31 Jul 2020
4.0
ขนตาหลุดตั้งแต่วันแรกเลยค่ะ แต่พนักงานบริการดี
Parrprae
Parrprae
ขนตาหลุดตั้งแต่วันแรกเลยค่ะ แต่พนักงานบริการดี
+2

Verified Reviews
Visited 30 Jun 2020
4.0
พนักงานบริการดีค่ะ แนะนำดีมากๆ
Chedtidq

Chedtidq
พนักงานบริการดีค่ะ แนะนำดีมากๆ
+2

Verified Reviews
Visited 18 Jun 2020
3.0
ดีค่ะ แต่หลุดง่าย ไม่รู้เพราะขนตาเราเอง หรือขนตาที่ต่อ
Varinkarn

Varinkarn
ดีค่ะ แต่หลุดง่าย ไม่รู้เพราะขนตาเราเอง หรือขนตาที่ต่อ
+1

Verified Reviews
Visited 18 Dec 2020
5.0
พนักงานน่ารักมากๆค่ะ ให้คำแนะนำดีมากสำหรับการต่อครั้งแรก
Phimjutha

Phimjutha
พนักงานน่ารักมากๆค่ะ ให้คำแนะนำดีมากสำหรับการต่อครั้งแรก
+1

Verified Reviews
Visited 20 Nov 2020
5.0
ดีค่ะ ต่อสวย เป็นธรรมชาติ
Phueng
Phueng
ดีค่ะ ต่อสวย เป็นธรรมชาติ
+1

Verified Reviews
Visited 30 Nov 2020
5.0
พนักงานบริการดี ขนตาไมาหนักค่ะ
Chengg
Chengg
พนักงานบริการดี ขนตาไมาหนักค่ะ
+1

Verified Reviews
Visited 31 Jul 2020
3.25
แอดมินจัดคิวไม่ชัดเจน พอไปถึงร้านพนง.แจ้งว่าไม่มีคิวที่จองไว้ แต่เรามีข้อความที่แอดมินคอนเฟิร์มทางไลน์ พนง.ร้านเลยต่อขนตาให้แต่ก็เหมือนรีบๆ ต่อเพราะขนตาก็ร่วงเร็วมาก อยู่ได้ไม่ทนเท่าที่ควร (เคยไปต่อร้านอื่นมาแล้วทนกว่านี้ค่ะ)
Stephanie
Stephanie
แอดมินจัดคิวไม่ชัดเจน พอไปถึงร้านพนง.แจ้งว่าไม่มีคิวที่จองไว้ แต่เรามีข้อความที่แอดมินคอนเฟิร์มทางไลน์ พนง.ร้านเลยต่อขนตาให้แต่ก็เหมือนรีบๆ ต่อเพราะขนตาก็ร่วงเร็วมาก อยู่ได้ไม่ทนเท่าที่ควร (เคยไปต่อร้านอื่นมาแล้วทนกว่านี้ค่ะ)
+1

Verified Reviews
Visited 31 Jul 2020
5.0
Best eyelash extension service
Sireethorn

Sireethorn
Best eyelash extension service
+1

Verified Reviews
Visited 16 Jul 2020
People Also Like
THE EMPRESSER
215 reviews
Mendel Clinic
1328 reviews
Viva Jiva Spa @ Lancaster Bangkok Hotel
347 reviews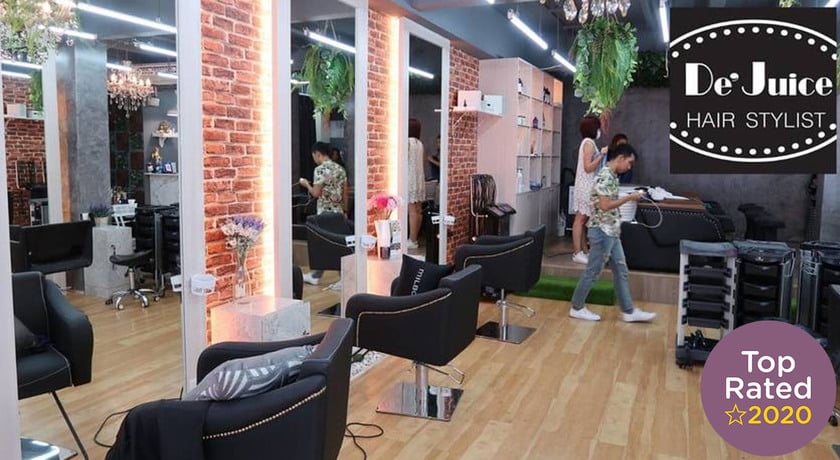 De Juice Hair Stylist
194 reviews
Clarins Skin Spa
54 reviews