Book Online at GoWabi - Lashhouse 21
Lashhouse 21
Cash, credit card
$$ (Based on Special Rates from our Partners)
THB
39 Ratchaphruek Rd, Bang Ramat, Taling Chan, Bangkok 10170
ดีมากเลยค่ะ เบาสบายตามาก ช่างต่อสวย

- วาสิตา

+4

แก้ปัญหาขนตาที่ทำมาแล้วช้อตจากร้านอื่นได้ดีมาก

- Pattimai

+3

ดีมากถึงดีมากๆที่สุด ช่างที่ทำอ่อนโยนน่ารัก มื

- ปรานชนก

+2
The shop uses premium quality products of the highest quality standard brand imported from Japan. We use premium mink eyelashes and royal mink to give a light, comfortable feeling after the glue is used, does not sting the eyes and cares about cleanliness therefore it's safe for your eyes.
Located in Selected 2 Branches
Lashhouse 21 Rama5 Branch | Nakhon In Rd Nonthaburi
Lashhouse 21 The Circle Ratchapruk Branch | Room (M38) Ratchapruk Rd
Terms & Conditions:
• This voucher can be used within 2 month after purchase.
• All purchases and treatments cannot be amended.
• These vouchers cannot be used with other promotions.
• Show your voucher from email or GoWabi app for verification
• Appointment has to be booked in advance. The shop contact details will be available in your "GoWabi's Booking Confirmation email or My Booking page"
Eyelash & Eyebrow Package
We use perming solution from Eleebana products imported from Australia.
We use Eleebana's perming solution imported from Australia, and Cor'epil wax imported from France.
Lashhouse 21
39 Ratchaphruek Rd, Bang Ramat, Taling Chan, Bangkok 10170
Mon 11:00 AM - 08:00 PM
Tue 10:30 AM - 08:00 PM
Wed 10:30 AM - 08:00 PM
Thu 10:30 AM - 08:00 PM
Fri 10:30 AM - 08:00 PM
Sat 10:30 AM - 08:00 PM
Sun 10:30 AM - 08:00 PM
REVIEWS (written by customers after their visit)

---
5.0
ดีมากเลยค่ะ เบาสบายตามาก ช่างต่อสวย
วาสิตา
วาสิตา
ดีมากเลยค่ะ เบาสบายตามาก ช่างต่อสวย
+4

Verified Reviews
Visited 17 Jul 2020
5.0
แก้ปัญหาขนตาที่ทำมาแล้วช้อตจากร้านอื่นได้ดีมากๆ ทำเสร็จแล้วไม่แสบตาเลย เส้นเรียงสวยงาม
Pattimai

Pattimai
แก้ปัญหาขนตาที่ทำมาแล้วช้อตจากร้านอื่นได้ดีมากๆ ทำเสร็จแล้วไม่แสบตาเลย เส้นเรียงสวยงาม
+3

Verified Reviews
Visited 03 Dec 2020
5.0
ดีมากถึงดีมากๆที่สุด ช่างที่ทำอ่อนโยนน่ารัก มือเบ๊าเบาาา ละเมียดละไมสุด แถมยังแก้ปัญหาขนตาเราที่ช็อตมาจากที่อื่นได้ดีมากด้วย มาอุดหนุนครั้งแรกแล้วแบบประทับใจมากๆเลย ซื้อดีลยกขนตาและย้อมในราคาคุ้มสุดๆ สาขาที่ไปคือ สาขาเดอะเซอเคิลนร้าา ไม่แน่ใจว่าน้องช่างที่ทำจะอยู่วันไหนบ้าง แต่จะมาอุดหนุนอีกแน่ๆ เยี่ยมๆๆๆ
ปรานชนก
ปรานชนก
ดีมากถึงดีมากๆที่สุด ช่างที่ทำอ่อนโยนน่ารัก มือเบ๊าเบาาา ละเมียดละไมสุด แถมยังแก้ปัญหาขนตาเราที่ช็อตมาจากที่อื่นได้ดีมากด้วย มาอุดหนุนครั้งแรกแล้วแบบประทับใจมากๆเลย ซื้อดีลยกขนตาและย้อมในราคาคุ้มสุดๆ สาขาที่ไปคือ สาขาเดอะเซอเคิลนร้าา ไม่แน่ใจว่าน้องช่างที่ทำจะอยู่วันไหนบ้าง แต่จะมาอุดหนุนอีกแน่ๆ เยี่ยมๆๆๆ
+2

Verified Reviews
Visited 11 Dec 2020
5.0
ทางร้านบริการดีๆมากๆเลยค่ะ เตียงนอนต่อขนตา สบายมากๆ พนักงานก็บริการดีมากๆค่ะ
Rungravee
Rungravee
ทางร้านบริการดีๆมากๆเลยค่ะ เตียงนอนต่อขนตา สบายมากๆ พนักงานก็บริการดีมากๆค่ะ
+2

Verified Reviews
Visited 24 Dec 2020
3.0
รู้สึกคนตาไม่งอนเท่าที่อื่น คุ้มราคาอยู่ๆนะ มาซ้ำอีกได้🤣 แต่บรรยากาศดีมาก แม่ค้าน่ารักสุดๆ
Anita
Anita
รู้สึกคนตาไม่งอนเท่าที่อื่น คุ้มราคาอยู่ๆนะ มาซ้ำอีกได้🤣 แต่บรรยากาศดีมาก แม่ค้าน่ารักสุดๆ
+2

Verified Reviews
Visited 03 Aug 2020
5.0
พนักงานบริการดีค่ะ ต่อขนตาสวยมาก ร้านสะอาดสะอ้านค่ะ ชอบค่ะ:)
Chutinat
Chutinat
พนักงานบริการดีค่ะ ต่อขนตาสวยมาก ร้านสะอาดสะอ้านค่ะ ชอบค่ะ:)
+1

Verified Reviews
Visited 29 Nov 2020
3.0
ขนตาไม่ค่อยเด้ง แต่พนักงานทำดี บรรยากาศดี
Natsinee

Natsinee
ขนตาไม่ค่อยเด้ง แต่พนักงานทำดี บรรยากาศดี
+1

Verified Reviews
Visited 09 Aug 2020
5.0
บรรยากาศ สาขาเดอะเซอเคิล มีช่างแค่คนเดียว ต้องรอหน่อย ควรจองก่อย
Anita
Anita
บรรยากาศ สาขาเดอะเซอเคิล มีช่างแค่คนเดียว ต้องรอหน่อย ควรจองก่อย
+1

Verified Reviews
Visited 03 Aug 2020
4.0
ช่างบริการดีมากก สบาย สบายจนนอนกรน มือเบาสุด ไม่รู้สึกเจ็บเลย แนะนำดี สวยมากกก
Pichai

Pichai
ช่างบริการดีมากก สบาย สบายจนนอนกรน มือเบาสุด ไม่รู้สึกเจ็บเลย แนะนำดี สวยมากกก

Verified Reviews
Visited 13 Jan 2021
4.0
ช่างบริการดีมากก สบาย สบายจนนอนกรน มือเบาสุด ไม่รู้สึกเจ็บเลย แนะนำดี สวยมากกก
Pichai

Pichai
ช่างบริการดีมากก สบาย สบายจนนอนกรน มือเบาสุด ไม่รู้สึกเจ็บเลย แนะนำดี สวยมากกก

Verified Reviews
Visited 13 Jan 2021
People Also Like
THE EMPRESSER
197 reviews
Mendel Clinic
1245 reviews
Viva Jiva Spa @ Lancaster Bangkok Hotel
347 reviews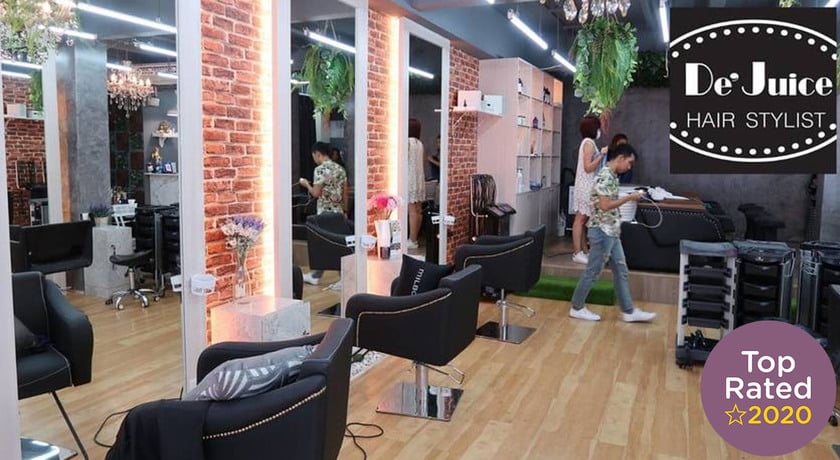 De Juice Hair Stylist
194 reviews
Clarins Skin Spa
54 reviews