Book Online at GoWabi - Let's Relax Phuket Millennium Resort Patong
Let's Relax Phuket Millennium Resort Patong
Cash, credit card
$$ (Based on Special Rates from our Partners)
THB
199 Rat-Uthit 200 Pee Road Kathu Patong Patong Muang Phuket Phuket 83150
Let's Relax Phuket Millennium Resort Patong, a tropical landscape day spa, is located by the pool on the 4th Floor, Lakeside Wing of the well-established Millennium Resort Patong and tucked within the fashionable Jungceylon Shopping Center. This modern and contemporary design Spa offers a spacious private treatment rooms that will leave a long-lasting impression for hotel guests, shoppers or beach lovers.
(staff wear mask and gloves during the service)
Both male and female therapists will be randomly selected to provide the services.
4 Hands Massage
FOUR-HAND THAI MASSAGE, Traditional Thai massage performed by two therapists at once that involves a unique combination of gentle stretching and acupressure techniques.
Aromatherapy Massage
AROMATHERAPY OIL MASSAGE is an ancient therapeutic method of pressure point massage utilizing essential oils from plants, leaves, and flowers that are applied to the body typically with a Swedish Massage technique, to stimulate blood flow and lymph fluid.
Bath
Perfect your spa experience at Let's Relax with a private time in the whirlpool bath sprinkled with tropical flower petals after your treatments. A great way to pamper and ready yourself for days to come.
Body Scrub
BODY SCRUB exfoliates the dead skin cells using various combination of sea salt, essential oils, water, skin brush or loofah to massage the body and to nourish the skin, improve circulation, cleanse and tone even the most sensitive skin.
Body Wrap
BODY WRAP is a treatment where the body is pasted with herbs and wrapped in a plastic sheet for about 20 minutes and kept under the heated blanket, also accompanied by head and scalp massage. It pampers and moisturizes skin at the same time.
Face Massage
Dr. Spiller 10-Step Facial Soothing Massage Treatment will deeply cleanse your skin by using Dr. Spiller's make up removal, Aloe Vera Sensitive Cleansing Milk, Jojoba Peeling Cream Scrub, and Sensitive Aloe Toner to prep your skin for pampering ritual. After your skin is perfectly clean, the therapist will apply highly concentrate ampoules of choice that you can choose from Aloe Vera Concentrate Ampoules – for all skin type, Aloe Vera Skin Lift Ampoules – for firmer skin, Propolis Vitamin A Ampoules for impure and acetic, enlarged pores, oily combination skin, and Repair Ampoules – for anti-aging and preventive skin care, followed by Eye Contour Gel, Apricot Lip Balm, Honey St. John Wort Cream Mask to prevent roughness with strong anti-inflammatory properties, Aloe Vera Jelly Gel to improve hydration. Next Step, the therapist will gently massage your face to improve your lymphatic system and skin lifting while using Aloe Night Cream to increase elasticity and firmness of the skin and finish the treatment by applying Aloe Day Cream for moisture protection from environmental drying.
Hand Massage
It's perfect for guests who don't have enough time for a full-course spa or wanted to add a final touch to their spa visit. Similar to foot reflexology, this is an ancient method of massaging reflex zones of the hands that correspond to individual parts of the body to help promote oxygenation of tissues, improve blood circulation, ease pain and treat a wide range of acute and chronic illnesses.
Hot Stone Massage
AROMATIC HOT STONE MASSAGE, where heated stones and warm essential oils are being used to massage the body, to release tension, nervous fatigue and create a positive flow in the body.
Neck, Head & Shoulder Massage
BACK & SHOULDER MASSAGE is typically massage that uses finger pressure and so with the hands and elbows which focuses on tension areas of back and shoulder. Good for jet lags, eases strain and tension,mobilizes stiff joints and improve blood circulation.
Oil Massage
A great reward for a special occasion. Similar to regular aromatherapy oil massage, which utilizes essential oils from plants, leaves, and flowers to massage on pressure points of the body. Yet, the heated warm oil lets our guest dive into the feeling of relaxation just moments after an oil is rubbed on the body as the heated oil helps soften and expand the muscle tissues.
Let's Relax Phuket Millennium Resort Patong
199 Rat-Uthit 200 Pee Road Kathu Patong Patong Muang Phuket Phuket 83150
Mon 10:00 AM - 11:45 PM
Tue 10:00 AM - 11:45 PM
Wed 10:00 AM - 11:45 PM
Thu 10:00 AM - 11:45 PM
Fri 10:00 AM - 11:45 PM
Sat 10:00 AM - 11:45 PM
Sun 10:00 AM - 11:45 PM
REVIEWS (written by customers after their visit)

---
People Also Like
NAIL HOUSE BANGKOK (Thonglor Soi 17)
463 reviews
Bong Bong Clinic
1010 reviews
Mandarin Ginger Spa
228 reviews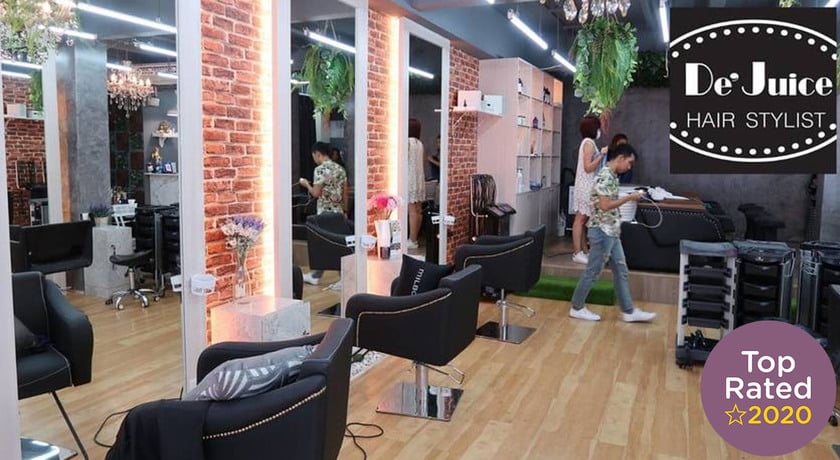 De Juice Hair Stylist
194 reviews
Clarins Skin Spa
54 reviews