Book Online at GoWabi - Lilac by 106 Hair
Lilac by 106 Hair
Cash, credit card
$$ (Based on Special Rates from our Partners)
THB
111, Rushmore 1st Floor, Soi Thonglor 5, Sukhumvit 55, Klongtan Nua, Wattana, Bangkok 10110
Good experience, stylist has excellent skill

- Pei

I had a lovely experience here as the stylist

- Katy

ภาพรวมโอเค ราคาโอเค แต่ขอหักที่สีที่ทำตามช่างแ

- Mintra
Spa & Hair LiLAC by 106 hair is a hair salon managed by Japanese professional executives which have successfully managed many beauty salons both in Japan and Thailand. Our stylist was trained by a Japanese professional stylist and now has over 13 years of experience in the hairdressing profession.
Our hairdressing styles based on each customer's look. We use techniques to nurture customers' hair and scalp in the long-term, which is not less important than getting beautiful hairstyles at the salon. We can give you advice about hairstyles, colouring, perm, including tips on how to keep up your beautiful hair afterward. Not only experienced hair stylists, all staff were trained on hairdressing techniques and good customer service by Japanese salon's standard as well. We can assure you that we offer the best service experiences and relaxation that meet and exceed our customers' expectations.
Terms & Conditions:
• This voucher can be used within 2 months after purchase.
• All purchases and treatments cannot be amended.
• These vouchers cannot be used with other promotions.
• Show your voucher from email or GoWabi app for verification
• Appointment has to be booked in advance. The shop contact details will be available in your "GoWabi's Booking Confirmation email or My Booking page"
• Promotions can only be used on Monday-Friday
Lilac by 106 Hair
111, Rushmore 1st Floor, Soi Thonglor 5, Sukhumvit 55, Klongtan Nua, Wattana, Bangkok 10110
Mon 10:00 AM - 07:30 PM
Tue 10:00 AM - 07:30 PM
Thu 10:00 AM - 07:30 PM
Fri 10:00 AM - 07:30 PM
Sat 10:00 AM - 07:30 PM
Sun 10:00 AM - 07:30 PM
REVIEWS (written by customers after their visit)

---
5.0
Good service compare to the price kaaa definitely come backkk
Apichaya
Apichaya
Good service compare to the price kaaa definitely come backkk

Verified Reviews
Visited 04 Jun 2020
5.0
ร้านเดินทางสะดวกจากรถไฟฟ้าทองหล่อ ลงทางออก 3 จะต่อรถแดงหรือเดินเข้ามาได้ค่ะไม่ไกล ร้านสีเขียวสะดุดตา เริ่มทำทรีทเมนต์ตรงเวลานัดหมาย น้ำที่ที่ร้านใช้เป็นน้ำโซดา ไม่ใช่น้ำประปาค่ะ และแอบเห็นผลิตภัณฑ์ส่วนมากจะเป็น milbon ซึ่งถูกใจสาวก milbon อย่างเรามาก ในแพคเกจนี้เราเลือกทำสีค่ะ เพราะสีที่ร้านใช้สีของ milbon ไม่ต้องกังวลเรื่องผมเสีย และเฉดสีมีให้เลือกเยอะ ปล
Ben

Ben
ร้านเดินทางสะดวกจากรถไฟฟ้าทองหล่อ ลงทางออก 3 จะต่อรถแดงหรือเดินเข้ามาได้ค่ะไม่ไกล ร้านสีเขียวสะดุดตา เริ่มทำทรีทเมนต์ตรงเวลานัดหมาย น้ำที่ที่ร้านใช้เป็นน้ำโซดา ไม่ใช่น้ำประปาค่ะ และแอบเห็นผลิตภัณฑ์ส่วนมากจะเป็น milbon ซึ่งถูกใจสาวก milbon อย่างเรามาก ในแพคเกจนี้เราเลือกทำสีค่ะ เพราะสีที่ร้านใช้สีของ milbon ไม่ต้องกังวลเรื่องผมเสีย และเฉดสีมีให้เลือกเยอะ ปล. รีวิวเพิ่มใน google รับฟรี Tansan Premier course การสระผมด้วยแชมพูโซดา เป็นหนึ่งในตัวท็อปของ milbon ด้วย

Verified Reviews
Visited 26 Dec 2019
3.0
คิวเยอะ แต่ก็โดยรวมคุ้มค่าค่ะ
Cherry
Cherry
คิวเยอะ แต่ก็โดยรวมคุ้มค่าค่ะ

Verified Reviews
Visited 24 Dec 2019
4.0
บริการดี พนักงานยิ้มแย้มเป็นมิตร อธิบายดีมากๆ ตืดอย่างเดียวคือซื้อดีล Cut+Perm+Sada Shampoo+ treatment ไป แต่พอไปที่ร้าน ช่างบอกว่าไม่ควรดัด เพราะสภาพผมไม่เหมาะ เลยเคว้งๆไม่รู้จะเอาไงดี ดีลก็ซื้อไปแล้ว และก็ไม่ได้สระผม soda ด้วย ช่างน่าจะลืม

บริการดี พนักงานยิ้มแย้มเป็นมิตร อธิบายดีมากๆ ตืดอย่างเดียวคือซื้อดีล Cut+Perm+Sada Shampoo+ treatment ไป แต่พอไปที่ร้าน ช่างบอกว่าไม่ควรดัด เพราะสภาพผมไม่เหมาะ เลยเคว้งๆไม่รู้จะเอาไงดี ดีลก็ซื้อไปแล้ว และก็ไม่ได้สระผม soda ด้วย ช่างน่าจะลืม

Verified Reviews
Visited 23 Dec 2019
5.0
ครั้งนี้พนักงานสระผมแรงและเร็วไปหน่อยค่ะ ซึ่งปรกติร้านนี่จะสระสบาย นวดหัว สระนาน เพลินๆ ส่วนการตัดผมโอเคดีค่ะ
Neungrutai

Neungrutai
ครั้งนี้พนักงานสระผมแรงและเร็วไปหน่อยค่ะ ซึ่งปรกติร้านนี่จะสระสบาย นวดหัว สระนาน เพลินๆ ส่วนการตัดผมโอเคดีค่ะ

Verified Reviews
Visited 24 Dec 2019
4.0
ทำผมดีมากเลยค่าา สีสวย ถูกใจ
สุมานา

สุมานา
ทำผมดีมากเลยค่าา สีสวย ถูกใจ

Verified Reviews
Visited 22 Dec 2019
5.0
ดีมากกก พนักงานดูแลดี เอาใจใส่ มีที่จอดรถ
Jang
Jang
ดีมากกก พนักงานดูแลดี เอาใจใส่ มีที่จอดรถ

Verified Reviews
Visited 23 Dec 2019
4.0
ที่จอดรถน้อยไปหน่อยค่ะ แต่สามารถไปจอดที่ Tops ได้ (ร้านช่วยจ่ายค่าจอด) ช่างบริการดี มีน้ำชาและลูกอมญี่ปุ่นให้ระหว่างรอ แต่ตัวทรีตเมนต์ เฉยๆ ที่ว่ามีโซดา ก็คือ เอามาใช้ล้างผมนิดหน่อย ส่วนตัวคิดว่าเฉยๆ สิ่งที่พิเศษคือ ช่างตัดผม ตัดผมสั้นสวยและน่ารักมาก ใจเย็น และพร้อมรับฟังมากค่ะ
ปณาลี

ปณาลี
ที่จอดรถน้อยไปหน่อยค่ะ แต่สามารถไปจอดที่ Tops ได้ (ร้านช่วยจ่ายค่าจอด) ช่างบริการดี มีน้ำชาและลูกอมญี่ปุ่นให้ระหว่างรอ แต่ตัวทรีตเมนต์ เฉยๆ ที่ว่ามีโซดา ก็คือ เอามาใช้ล้างผมนิดหน่อย ส่วนตัวคิดว่าเฉยๆ สิ่งที่พิเศษคือ ช่างตัดผม ตัดผมสั้นสวยและน่ารักมาก ใจเย็น และพร้อมรับฟังมากค่ะ

Verified Reviews
Visited 26 Sep 2019
4.0
ร้านสะอาด มีที่จอดรถ โดยรวมดีค่ะ
Joychan
Joychan
ร้านสะอาด มีที่จอดรถ โดยรวมดีค่ะ

Verified Reviews
Visited 07 Jun 2020
5.0
ช่างบริการดีคาะ ไม่เร่งเลย ค่อยๆสระ ค่อยๆตัด ไม่ทำรอบ
พรรณนิดา

พรรณนิดา
ช่างบริการดีคาะ ไม่เร่งเลย ค่อยๆสระ ค่อยๆตัด ไม่ทำรอบ

Verified Reviews
Visited 11 Oct 2020
People Also Like
THE EMPRESSER
211 reviews
Mendel Clinic
1283 reviews
Viva Jiva Spa @ Lancaster Bangkok Hotel
347 reviews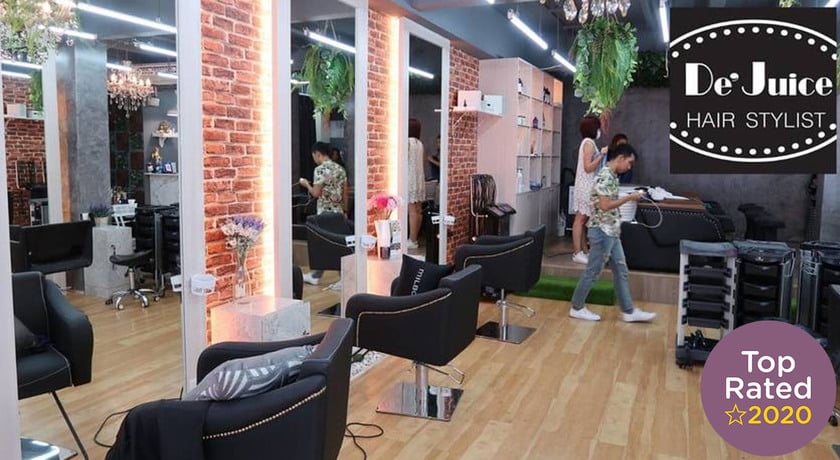 De Juice Hair Stylist
194 reviews
Clarins Skin Spa
54 reviews