Book Online at GoWabi - The Hairist (Nonthaburi Branch)
The Hairist (Nonthaburi Branch)
Cash, credit card
$$ (Based on Special Rates from our Partners)
THB
199/4-5 Floor 2 Fashionwalk Kanchanaphisek Road Bangyai District Nonthaburi 11140
เพิ่งไปตัดผมสั้นมาค่ะ​ น้องที่สระผมสระดีมาก​ ส

- Khim

+2

ต่อขนตาออกมาได้ดูเป็นธรรมชาติค่ะ ไม่หลอกตา พนั

- อมรรัตน์

+1

บริการดีมากค่ะ ประทับใจมาก ทั้งพนักงานสระผมและ

- สาวิณี

+1
The hairist is a full services salon in Nonthaburi, next to Central WestGate Located near the BTS Bang Yai market. Beautiful atmosphere, clean, airy, ready to give advice on all matters of hair and scalp and service with standard tools. With quality products from abroad And natural organic hair care by a team of experienced Hairstylist hair salons and beauty institutes for over 20 years. Master, mechanic and champion
All hair lengths
The stylist will cut your hair according to your face and your style. The stylist also pay attention with your hair condition. Therefore, you will get hair style that is suitable for yourself. Hairdressing is also performed.
Eyebrow Tattoo
Microblading is a semi-permanent tattooing technique that hair like to fill in sparse or thinning brows So look natural and realisticlook by Digital Machine by Design and Create Eyebrow & Make up Stylist
3D Eyebrow Slide  tattoo Our  Design and Create  Eyebrow & Make up  Stylist to fit with your face.
Hair Package
This treatment is Korean style setting perm for gentlemen. This helps to increase the volume of your hair. The shop uses Shiseido products. The liquid does not have a pungent odor. You can wash your hair the next day after doing the treatment. Besides, haircut will be provided in this service as well.
Hair Perm
For Should Lengths
Permanent straightening and hair conditioning the shop's unique techniques and the hair stylist team with Shishido's nourishing formula
Straightening the hair so that the straight hair but the tips are hooked up
- C-shaped volume uses the technique of bending your hair in
- S-shaped volume is the tip of the hook
The shop uses special special techniques for doing volume setting perm, which the perm that you will get looks beautiful and healthy.
Lip Treatment
Lip Permanent tattoo for natural lips and make your lips look healthy and painless
Shampoo
All hair length levels
A light conditioning and scalp massage. Our Stylists will guide you to the ideal shampoo, conditioner and styling products to fit your life.
The Hairist (Nonthaburi Branch)
199/4-5 Floor 2 Fashionwalk Kanchanaphisek Road Bangyai District Nonthaburi 11140
Mon 11:00 AM - 09:00 PM
Tue 11:00 AM - 09:00 PM
Wed 11:00 AM - 09:00 PM
Thu 11:00 AM - 09:00 PM
Fri 11:00 AM - 09:00 PM
Sat 11:00 AM - 09:00 PM
Sun 11:00 AM - 09:00 PM
REVIEWS (written by customers after their visit)

---
5.0
เพิ่งไปตัดผมสั้นมาค่ะ​ น้องที่สระผมสระดีมาก​ สบายมากค่ะ​ ช่างที่ตัดผมให้ชื่อคุณ​พลอย​ก็ตัดสวย​ค่ะ​ ชอบมากเลยเดี๋ยวจะซื้อดีลไว้อีก​
Khim
Khim
เพิ่งไปตัดผมสั้นมาค่ะ​ น้องที่สระผมสระดีมาก​ สบายมากค่ะ​ ช่างที่ตัดผมให้ชื่อคุณ​พลอย​ก็ตัดสวย​ค่ะ​ ชอบมากเลยเดี๋ยวจะซื้อดีลไว้อีก​
+2
Haircut (women)

Verified Reviews
Visited 10 Jul 2020
4.375
ต่อขนตาออกมาได้ดูเป็นธรรมชาติค่ะ ไม่หลอกตา พนักงานพูดจาดี มารยาทดีค่ะ
อมรรัตน์

อมรรัตน์
ต่อขนตาออกมาได้ดูเป็นธรรมชาติค่ะ ไม่หลอกตา พนักงานพูดจาดี มารยาทดีค่ะ
+1
Classic Eyelash Extension (Unlimited Strands)

Verified Reviews
Visited 26 Sep 2020
5.0
บริการดีมากค่ะ ประทับใจมาก ทั้งพนักงานสระผมและช่างที่ตัดผมให้เรา
สาวิณี
สาวิณี
บริการดีมากค่ะ ประทับใจมาก ทั้งพนักงานสระผมและช่างที่ตัดผมให้เรา
+1
Hair cut + Treatment Collagen Born Song (All hair lengths)

Verified Reviews
Visited 22 Jun 2020
5.0
ตัดผมร้านนี้ ทั้งครอบครัว
Natvsa

Natvsa
ตัดผมร้านนี้ ทั้งครอบครัว
+1
Haircut ( men)

Verified Reviews
Visited 18 Feb 2020
5.0
ช่างแก้วตัดผมเก็บรายระเอียดได้ตามทรงที่อยากได้ บริการดี พนักงานน่ารักค่ะ ไว้จะกลับไปใช้บริการอีกแน่นอน
Nutthanicha

Nutthanicha
ช่างแก้วตัดผมเก็บรายระเอียดได้ตามทรงที่อยากได้ บริการดี พนักงานน่ารักค่ะ ไว้จะกลับไปใช้บริการอีกแน่นอน
Haircut (women)

Verified Reviews
Visited 26 Sep 2020
5.0
ช่างดูแลดีใส่ใจมากๆค่ะ ดีมากๆ
Beam
Beam
ช่างดูแลดีใส่ใจมากๆค่ะ ดีมากๆ
Haircut + Treatment Collagen Born Song (All Hair Lengths) (1 TIME PURCHASE PER USER)

Verified Reviews
Visited 26 Sep 2020
5.0
ตัดผมละเอียด ได้ทรงตามต้องการ น้องพนักงานสระผมสบาย ทรีทเม้นท์ดีค่ะ
Tukta
Tukta
ตัดผมละเอียด ได้ทรงตามต้องการ น้องพนักงานสระผมสบาย ทรีทเม้นท์ดีค่ะ
Hair cut + Treatment Collagen Born Song (All hair lengths)

Verified Reviews
Visited 28 Aug 2020
5.0
ช่างสระผม..หนูนาสระดีมีนวดให้ด้วยสบายหนังศีรษะ ช่างตัดผม..ขอบอกคุณนุ้ยตัดผมถูกใจ เก็บรายละเอียดดีมาก ใจเย็น จะซื้อดีลเพิ่มค่ะ
ปฐพร
ปฐพร
ช่างสระผม..หนูนาสระดีมีนวดให้ด้วยสบายหนังศีรษะ ช่างตัดผม..ขอบอกคุณนุ้ยตัดผมถูกใจ เก็บรายละเอียดดีมาก ใจเย็น จะซื้อดีลเพิ่มค่ะ
Haircut (women)

Verified Reviews
Visited 12 Aug 2020
5.0
ช่างมีประสบการณ์ ตัดผมออกมาเหมาะกับหน้าและสภาพผม
Kanyawan
Kanyawan
ช่างมีประสบการณ์ ตัดผมออกมาเหมาะกับหน้าและสภาพผม
Haircut ( men)

Verified Reviews
Visited 26 Jul 2020
5.0
บริการดี ตัดผมออกมาดีมาก หน้าร้านมีที่จอดรถแต่จอนที่เวสต์เกตจะสะดวกกว่า
Kanyawan
Kanyawan
บริการดี ตัดผมออกมาดีมาก หน้าร้านมีที่จอดรถแต่จอนที่เวสต์เกตจะสะดวกกว่า
Hair cut + Treatment Collagen Born Song (All hair lengths)

Verified Reviews
Visited 26 Jul 2020
People Also Like
Lashury Eyelash Salon
353 reviews
Let's Relax Onsen Thong Lor
2423 reviews
La Zensa Spa
442 reviews
The Cocktail Clinic
1834 reviews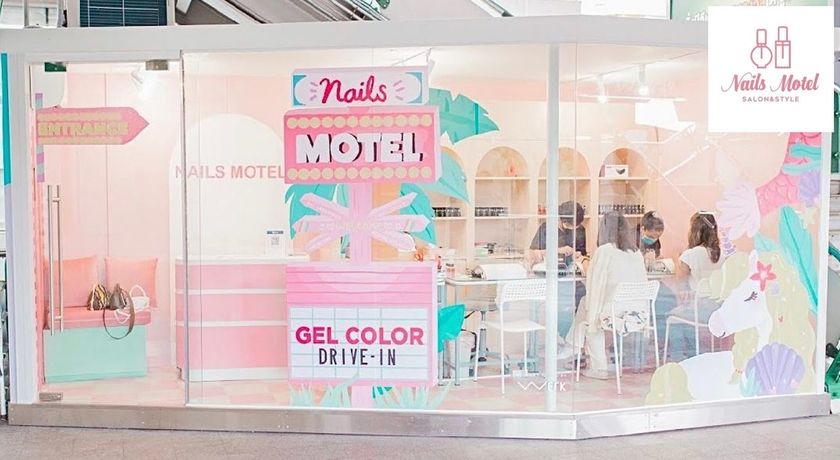 Nails Motel
50 reviews
The Hairist (Nonthaburi Branch)
199/4-5 Floor 2 Fashionwalk Kanchanaphisek Road Bangyai District Nonthaburi 11140
MON 11:00 AM - 09:00 PM
TUE 11:00 AM - 09:00 PM
WED 11:00 AM - 09:00 PM
THU 11:00 AM - 09:00 PM
FRI 11:00 AM - 09:00 PM
SAT 11:00 AM - 09:00 PM
SUN 11:00 AM - 09:00 PM
Available Payment Methods
People Also Like
Lashury Eyelash Salon
353 reviews
Let's Relax Onsen Thong Lor
2423 reviews
La Zensa Spa
442 reviews
The Cocktail Clinic
1834 reviews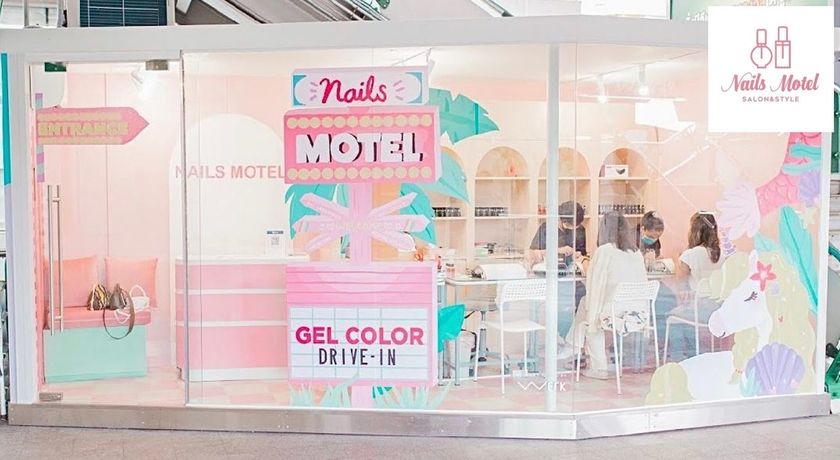 Nails Motel
50 reviews