Book Online at GoWabi - Treasure Spa (Siam Square Branch)
Treasure Spa (Siam Square Branch)
Cash, credit card
$$ (Based on Special Rates from our Partners)
THB
Treasure Spa Siam Square, 426 Siam Square Soi 2, Bangkok
นวดดีมาก น้ำมันมีหลายกลิ่นให้เลือก สามารถเน้นจ

- Amonrada

+3

สถานที่ดี สวยงามและเงียบสงบ รู้สึกผ่อนคลายค่ะ

- Sawittri

+3

พนักงานน่ารัก บริการดี เพลงคลอให้บรรยากาศผ่อนค

- Bllm

+2
New Treasure Spa Siam Square is an urban sanctuary located right in the heart of Bangkok's most vibrant shopping district. With carefully crafted treatments based on age-old therapies from around the world with modern twist, the spa offers affordable, luxurious relaxing and pampering sessions. Choose from an extensive list of facial treatments, body scrub and body wrap, relaxing massage and various other pampering packages to totally pamper, re-energize, revitalize and balance physical, mental and emotional energy.
Signature highlight include the ancient Arabian-style Signature Royal Hammam that totally cleanses, nourishes and pampers with the mineral-rich Rhassoul Clay from Mount Atlas in Morocco and warm oil body massage. Bask in the essential Moroccan hammam experience with Moroccan Bath Retreat where the traditional scrubbing mitt "kessa" is used with the detoxifying and purifying black soap, leaving the skin soft, supple and thoroughly exfoliated. Feel the warmth of the tropics in your sore muscles with the world's first naturally self-heating massage tool in Aromatic Lava Shell Body Massage that also helps promote blood circulation, while natural essential oil balances and calm the mood.
Catered to treasured guests like you, the spa's delightful treatments are offered in a soothing, stress-relieving environment by experienced and well-trained therapists with excellent hospitality.
Spa Etiquette
To get the most benefit from a visit to Treasure Spa all guests are requested to follow these guidelines:
- It is vital to inform spa reception prior to treatment if you have any pre-existing medical conditions or health concerns including pregnancy and chronic illness
- If you feel uncomfortable at any time during your treatment immediately ask the therapist to stop and inform reception of the issue
- At all times respect the privacy of fellow guests
- Keep noise to a minimum
- Please give at least 24 hours notice to cancel booking or reschedule
- Switch off phones and other electronic devices in spa rooms
- Whenever possible leave jewellery, gadgets and valuable items at home
- Refrain from smoking within spa or immediate environment
- Alcohol consumption is not permitted in spa and intoxicated guests may be refused treatment
- Please anticipate and make time for delays due to traffic especially if your treatment is scheduled during peak times and coming by taxi
Unfortunately if arriving more than 15 minutes late reservation may be cancelled or treatment time reduced.
This is to maintain the timings of other reservations and is subject to the discretion of spa reception.
Reservations In Advance:
Please remember to reconfirm your booking the day before your visit by email or telephone.
To maximise your treatment time arrive and inform reception 15 minutes before the start time of your program.
ไม่รู้ว่าควรจะทำเซอร์วิสไหนดี? อ่าน Blog รีวิว เกี่ยวกับเซอร์วิสของร้านนี้ได้ที่นี่!
Treasure Spa (Siam Square Branch)
Treasure Spa Siam Square, 426 Siam Square Soi 2, Bangkok
Mon 10:00 AM - 09:00 PM
Tue 10:00 AM - 09:00 PM
Wed 10:00 AM - 09:00 PM
Thu 10:00 AM - 09:00 PM
Fri 10:00 AM - 09:00 PM
Sat 10:00 AM - 09:00 PM
Sun 10:00 AM - 09:00 PM
REVIEWS (written by customers after their visit)

---
5.0
นวดดีมาก น้ำมันมีหลายกลิ่นให้เลือก สามารถเน้นจุดที่ต้องการได้
Amonrada

Amonrada
นวดดีมาก น้ำมันมีหลายกลิ่นให้เลือก สามารถเน้นจุดที่ต้องการได้
+3

Verified Reviews
Visited 26 Dec 2020
5.0
สถานที่ดี สวยงามและเงียบสงบ รู้สึกผ่อนคลายค่ะ เพิ่งเคยแว็กซ์แบบไม่มีแถบผ้าแบบนี้มาก่อน รู้สึกตอนแกะแว็กซ์ มันจะทรมานใจกว่าแบบมีแถบผ้าแปะทับนิดนึง เหมือนจังหวะการดึงมันจะไม่สมูทเหมือนแบบมีแถบผ้า แต่ก็โอเคค่ะ ช่างที่ทำให้ก็ละเอียดดี มีการเก็บด้วยแหนบเพิ่มตามปกติ
Sawittri
Sawittri
สถานที่ดี สวยงามและเงียบสงบ รู้สึกผ่อนคลายค่ะ เพิ่งเคยแว็กซ์แบบไม่มีแถบผ้าแบบนี้มาก่อน รู้สึกตอนแกะแว็กซ์ มันจะทรมานใจกว่าแบบมีแถบผ้าแปะทับนิดนึง เหมือนจังหวะการดึงมันจะไม่สมูทเหมือนแบบมีแถบผ้า แต่ก็โอเคค่ะ ช่างที่ทำให้ก็ละเอียดดี มีการเก็บด้วยแหนบเพิ่มตามปกติ
+3

Verified Reviews
Visited 10 Oct 2020
5.0
พนักงานน่ารัก บริการดี เพลงคลอให้บรรยากาศผ่อนคลาย กลิ่นสบู่ แชมพู อโรม่า คุมโทนดีค่ะ
Bllm
Bllm
พนักงานน่ารัก บริการดี เพลงคลอให้บรรยากาศผ่อนคลาย กลิ่นสบู่ แชมพู อโรม่า คุมโทนดีค่ะ
+2

Verified Reviews
Visited 13 Nov 2020
5.0
พนักงานถูกเทรนมาดีมากค่ะ มีมารยาท สถานที่สะอาด
Mantana
Mantana
พนักงานถูกเทรนมาดีมากค่ะ มีมารยาท สถานที่สะอาด
+2

Verified Reviews
Visited 25 Oct 2020
5.0
Everything is nice so far!❤️❤️
Kawfang
Kawfang
Everything is nice so far!❤️❤️
+2

Verified Reviews
Visited 24 Dec 2020
5.0
บริการดีมาก พนักงานแนะนำดีค่ะ สะอาดไม่เจ็บเลยมือเบามากๆ
Sudarat

Sudarat
บริการดีมาก พนักงานแนะนำดีค่ะ สะอาดไม่เจ็บเลยมือเบามากๆ
+2

Verified Reviews
Visited 10 Dec 2020
5.0
พนักงานมารยาทดีมากค่ะ ชื่อคุณตั้ก บริการดีชวนคุย พูดเพราะ จะกลับมาใช้บริการอีกแน่นอนค่ะ
Tanaree
Tanaree
พนักงานมารยาทดีมากค่ะ ชื่อคุณตั้ก บริการดีชวนคุย พูดเพราะ จะกลับมาใช้บริการอีกแน่นอนค่ะ
+2

Verified Reviews
Visited 17 Dec 2020
5.0
ดีมากกกกกกก สบาย สะอาด ชอบค่ะ
Muk
Muk
ดีมากกกกกกก สบาย สะอาด ชอบค่ะ
+1

Verified Reviews
Visited 31 Dec 2020
5.0
great and very relaxing
Rhajib
Rhajib
great and very relaxing
+1

Verified Reviews
Visited 28 Nov 2020
5.0
The overall experience was amazing I would recommend the staff her name is P'Fon She is professional and nice
Summer
Summer
The overall experience was amazing I would recommend the staff her name is P'Fon She is professional and nice
+1

Verified Reviews
Visited 15 Nov 2020
People Also Like
THE EMPRESSER
204 reviews
Mendel Clinic
1255 reviews
Viva Jiva Spa @ Lancaster Bangkok Hotel
347 reviews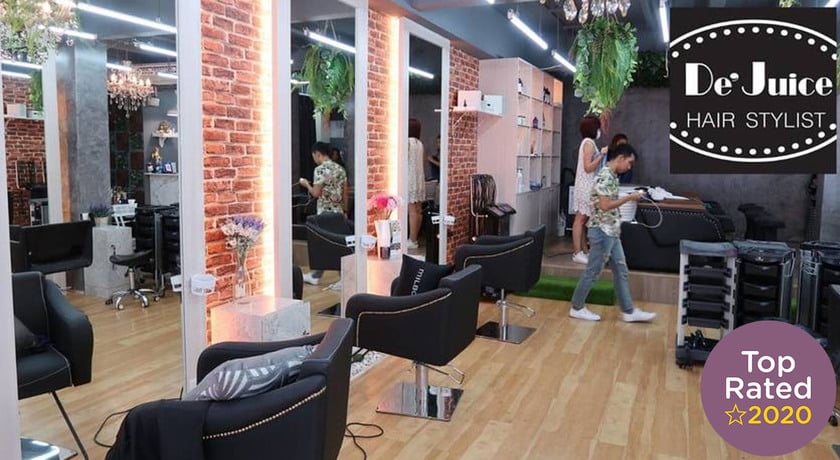 De Juice Hair Stylist
194 reviews
Clarins Skin Spa
54 reviews