Cash, credit card
$$ (Based on Special Rates from our Partners)
THB
412/19 Siam Square Soi 6, Rama I Rd, Lumpini, Pathum Wan, Bangkok 10330
การบริการดีมากคะ ทำออกมาแล้วผมจากแห้งมากๆ กลาย

- Pattarawadee

Best Salon in Bkk 10/10

- Napat

ตัดดีมาก เดินทางง่าย สะดวกติดรถไฟฟ้า

- Napat
Shop 365 @ siam, a salon service that wants to meet the needs of customers who want to be comfortable. Located in the heart of Bangkok With a beautiful atmosphere that invites relaxation, users can feel the relief from stress. While using the service at the store With Schwarzkopf hair salon products that pay attention to every detail Focus on nourishing treatments before doing, after doing, for the most effective results.
365 Shop @ siam is a full service salon. Customers can choose to use the service from hair cut, perm, dyeing, hair treatment, hair treatment, and many more. All of which has been mentioned. The shop will service the customers who come to use the service as well. Customers will go back with glamor once again. The shop is located at Siam Square Soi 6, can be reached by taking the BTS to Siam station.
Reserve 365 @ siam online now. To receive special privileges and discounted prices on salon services such as hair cuts, perms, hair dyeing, hair treatments and much more. See the price list menu with promotions.
拉直发
Keratin is the basic protein of hair. Nails and skin It can be a very important ingredient in hair conditioning and straightening. Change the hair to be healthy. Smooth and shiny It is different from other types of straightening, in which most keratin hair conditioners condition the hair without changing or destroying the molecular structure. They coat the hair, but do not damage the epidermis. The result is straight and natural hair that can be easily styled.
烫发
Digital Perm By using heat from the core, which is a permanent bending, the resulting waves can live longer. Until it became soft and smooth, shiny like a straightened hair
美发套餐
Can trim the hair and color as you like For women with long hair at the chest level
美发护理
Chemical scalp and hair washing treatment After doing chemicals or washing off any residue that is impossible to completely clean the hair itself Complete with shampoo and hair dryer
Collagen Born Song treatment imported from Korea. This treatment will help to nourish, repair and restore your hair.
3 times concentrated keratin treatment to fix and repair natural keratin. The treatment penetrates into the hair flakes. To reduce the curly and wavy hair Helps to restore the condition of the hair to be straight. With weight and shine
[email protected]
412/19 Siam Square Soi 6, Rama I Rd, Lumpini, Pathum Wan, Bangkok 10330
Mon 11:00 AM - 06:30 PM
Tue 11:00 AM - 06:30 PM
Wed 11:00 AM - 06:30 PM
Thu 11:00 AM - 06:30 PM
Fri 11:00 AM - 06:30 PM
Sat 11:00 AM - 06:30 PM
Sun 11:00 AM - 06:30 PM
评价 (访问后客户意见)

---
5.0
การบริการดีมากคะ ทำออกมาแล้วผมจากแห้งมากๆ กลายเป็นผมดูมีน้ำหนัก เงางามคะ ☺️
Pattarawadee

Pattarawadee
การบริการดีมากคะ ทำออกมาแล้วผมจากแห้งมากๆ กลายเป็นผมดูมีน้ำหนัก เงางามคะ ☺️

验证评论
已访问 25 Oct 2020
5.0
Best Salon in Bkk 10/10
Napat

Napat
Best Salon in Bkk 10/10

验证评论
已访问 18 Jan 2021
5.0
ตัดดีมาก เดินทางง่าย สะดวกติดรถไฟฟ้า
Napat

Napat
ตัดดีมาก เดินทางง่าย สะดวกติดรถไฟฟ้า

验证评论
已访问 18 Jan 2021
5.0
Not bad but not perfect
Tanya

Tanya
Not bad but not perfect. Due to the location the salon is very popular, mostly among tourists, so don't expect something special.

验证评论
已访问 19 Jun 2019
3.75
The treatment was alright
เพชรชมพู

เพชรชมพู
The treatment was alright. My hair didn't feel soft and silky much after but I think it's because it's a "fast" treatment. We know hair treatment is better when it takes more time. Just didn't feel as "rejuvinating" but maybe is because my hair was too dry?

验证评论
已访问 12 May 2019
People Also Like
THE EMPRESSER
204 评论
Mendel Clinic
1248 评论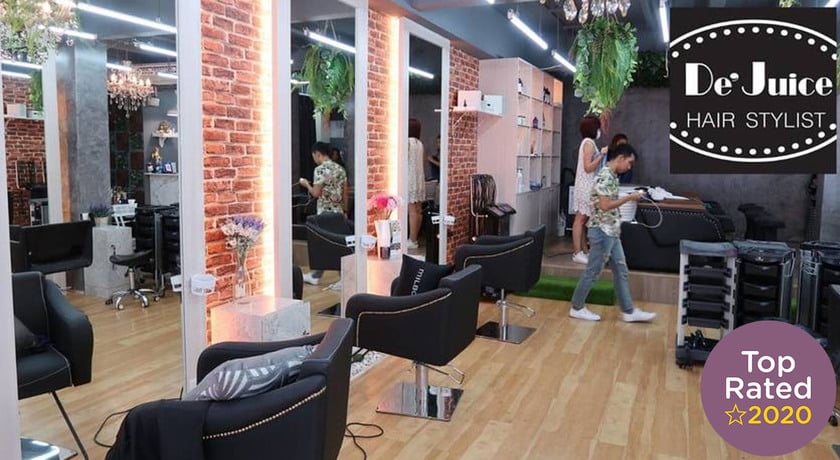 De Juice Hair Stylist
194 评论
Clarins Skin Spa
54 评论