在GoWabi网上预订 - Cuu's Hair
Cuu's Hair
Cash, credit card
$$ (Based on Special Rates from our Partners)
THB
522/3 Penny's Balcony, Room 10A, 2nd Floor, Sukhumvit 55, Khlong Tan Nuea, Watthana, Bangkok 10110
The interior was very beautiful and the servic

- Asuka

ทำดีมากๆเลยค่ะ ผมนุ่มเบาแลดูสะอาด ผมเงางามขึ้น

- Benz

ดีมากๆเลยค่ะ พี่ๆทุกคนบริการดี ช่างฝีมือดีเลยค

- Benz
We use organic products from Japan that cause the least damage to the hair and the color we used, we use the color that lasts and makes the hair shiny and looks healthy.
Straightening fluid after the service, customers will definitely feel the difference.
Our technician team will focus on hearing the problem and give advice to customers thoroughly and create an atmosphere in the store to make all customers feel comfortable and relaxed when they come to Cuu's.
* Shop closes on Wednesday and every 2nd & 4th Thursday
Terms & Conditions:
• This voucher can be used within 2 months after purchase.
• All purchases and treatments cannot be amended.
• These vouchers cannot be used with other promotions.
• Show your voucher from email or GoWabi app for verification
• Appointment has to be booked in advance. The shop contact details will be available in your "GoWabi's Booking Confirmation email or My Booking page"
美发套餐
It is a program that helps reduce hair problems by solving from the condition of the scalp.
We use nanotechnology to stimulate the residue and then use "Professional use Cleansing shampoo" to wash off the residue and improve the condition of the scalp. We will check the condition of the scalp thoroughly using a microscope and give advice on food choices that are beneficial to the hair. Including taking care of your hair properly, too.
评价 (访问后客户意见)

---
5.0
The interior was very beautiful and the service was excellent.
Asuka

Asuka
The interior was very beautiful and the service was excellent.

验证评论
已访问 14 Jan 2021
5.0
ทำดีมากๆเลยค่ะ ผมนุ่มเบาแลดูสะอาด ผมเงางามขึ้นด้วย พี่ๆทุกคนบริการดีมากๆ ร้านสะอาด สบายตา มาทำผมแล้วรู้สึกผ่อนคลายมากๆค่ะ
Benz
Benz
ทำดีมากๆเลยค่ะ ผมนุ่มเบาแลดูสะอาด ผมเงางามขึ้นด้วย พี่ๆทุกคนบริการดีมากๆ ร้านสะอาด สบายตา มาทำผมแล้วรู้สึกผ่อนคลายมากๆค่ะ

验证评论
已访问 12 Jan 2021
5.0
ดีมากๆเลยค่ะ พี่ๆทุกคนบริการดี ช่างฝีมือดีเลยค่ะเวลาตัดดูคล่องตัว ตัดละเอียดมากกกก แล้วก็ใส่ใจสภาพผมเรามากๆเลยค่ะ ได้ทรงที่ต้องการ พี่ที่สระผมให้ก็นวดหัวสบายมากๆเลยค่ะ มีน้ำและขนมคอยบริการให้ พี่ล่ามก็ดูแลอย่างดีเลย ถ้าไม่มีประกาศอะไรเพิ่มเกี่ยวกับโควิดเรากลับมาใช้บริการอีกแน่นอนค่ะ~ :D
Benz
Benz
ดีมากๆเลยค่ะ พี่ๆทุกคนบริการดี ช่างฝีมือดีเลยค่ะเวลาตัดดูคล่องตัว ตัดละเอียดมากกกก แล้วก็ใส่ใจสภาพผมเรามากๆเลยค่ะ ได้ทรงที่ต้องการ พี่ที่สระผมให้ก็นวดหัวสบายมากๆเลยค่ะ มีน้ำและขนมคอยบริการให้ พี่ล่ามก็ดูแลอย่างดีเลย ถ้าไม่มีประกาศอะไรเพิ่มเกี่ยวกับโควิดเรากลับมาใช้บริการอีกแน่นอนค่ะ~ :D

验证评论
已访问 12 Jan 2021
5.0
ร้านสะอาดดีค่ะ พนักงานก็บริการดี สระผมนวดหัวสบายมากค่ะ ช่างก็ตัดผมดีค่ะ ใส่ใจรายละเอียด ตอนแรกว่าจะแค่เล็มผม แล้วจะไปตัดสั้นกับร้านที่เพื่อนแนะนำ แต่ไม่ค่อยมีเวลาไม่รู้จะได้ไปตัดสั้นเมื่อไหร่ เลยตัดสินใจตัดสั้นกับที่นี่เลย ไม่ผิดหวังค่ะ
Kornvika
Kornvika
ร้านสะอาดดีค่ะ พนักงานก็บริการดี สระผมนวดหัวสบายมากค่ะ ช่างก็ตัดผมดีค่ะ ใส่ใจรายละเอียด ตอนแรกว่าจะแค่เล็มผม แล้วจะไปตัดสั้นกับร้านที่เพื่อนแนะนำ แต่ไม่ค่อยมีเวลาไม่รู้จะได้ไปตัดสั้นเมื่อไหร่ เลยตัดสินใจตัดสั้นกับที่นี่เลย ไม่ผิดหวังค่ะ

验证评论
已访问 10 Jan 2021
3.0
พนักงานบริการดีน่ารัก แต่เครื่องมือยังไม่ทันสมัย
Ploy
Ploy
พนักงานบริการดีน่ารัก แต่เครื่องมือยังไม่ทันสมัย

验证评论
已访问 21 Dec 2020
3.0
สะอาดดีพนักงานน่ารักมาก แต่เครื่องมือตรวจผมยังไม่ทันสมัย ดูได้ไม่ละเอียด จอดฟรีประทับตา 1 ชม
Ploy
Ploy
สะอาดดีพนักงานน่ารักมาก แต่เครื่องมือตรวจผมยังไม่ทันสมัย ดูได้ไม่ละเอียด จอดฟรีประทับตา 1 ชม. โทรไปวะน พุธ-พฤ ไม่มีใครรับสาย เพราะร้านปิด ควรไปวันอื่น

验证评论
已访问 21 Dec 2020
5.0
ประทับใจมากๆค่ะ ช่างเป็นคนญี่ปุ่นให้คำแนะนำดีมาก มีล่ามแปลให้ตลอด พนักงานบริการดีทุกคนเลย ร้านหาง่ายอยู่ติดริมถนน มีเครื่องดื่มกับของว่างให้ด้วย
Bright

Bright
ประทับใจมากๆค่ะ ช่างเป็นคนญี่ปุ่นให้คำแนะนำดีมาก มีล่ามแปลให้ตลอด พนักงานบริการดีทุกคนเลย ร้านหาง่ายอยู่ติดริมถนน มีเครื่องดื่มกับของว่างให้ด้วย

验证评论
已访问 22 Dec 2020
People Also Like
THE EMPRESSER
219 评论
Mendel Clinic
1360 评论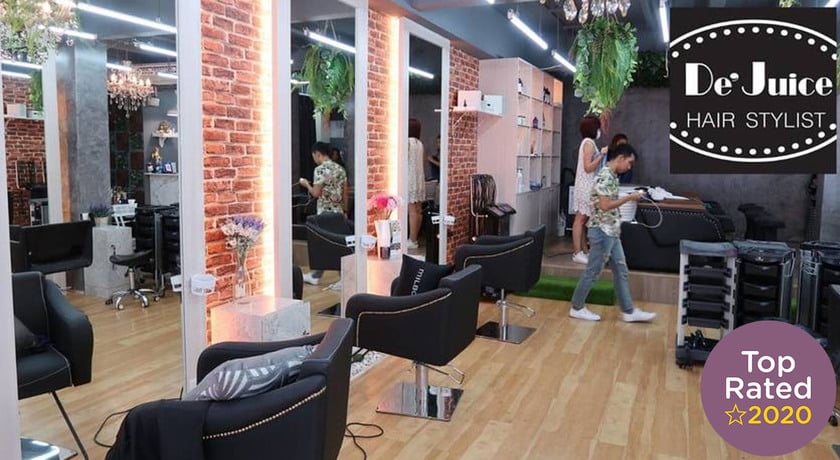 De Juice Hair Stylist
194 评论
Clarins Skin Spa
54 评论