在GoWabi网上预订 - KOSE Beauty Center
KOSE Beauty Center
Cash, credit card
$$ (Based on Special Rates from our Partners)
THB
Central World 5Fl Zone Atrium 999/9 Rama I Rd, Pathum Wan, Pathum Wan, Bangkok 10330
บริการดี นวดน้ำหนักมือดี ห้องนวดดี มีบริการน้ำ

- Milky

บริการดี นวดน้ำหนักมือดี ห้องนวดดี มีบริการน้ำ

- Milky

บริการดี นวดน้ำหนักมือดี ห้องนวดดี มีบริการน้ำ

- Milky
Introducing a beauty spa by KOSE, the premium Japanese skincare. Experiencing our treatments and products with a signature massage technique. To discover your true beauty and indulge your skin.
Terms & Conditions:
• This voucher can be used within 2 months after purchase.
• All purchases and treatments cannot be amended.
• These vouchers cannot be used with other promotions.
• Show your voucher from email or GoWabi app for verification
• Appointment has to be booked in advance. The shop contact details will be available in your "GoWabi's Booking Confirmation email or My Booking page"
Remove blackheads and dead skin cells that cause dullness.
Add moisture immediately making your skin smoother and brighter. 
4 steps
1. Washing & Cleansing
1.1 Using SEKKISEI Cleansing Cream and SEKKISEI White Washing Foam
2. Pre-Massage & Massage
2.1 SEKKISEI Clear Wellness Water Shield Cream and INFINITY Refining Massage Cream
3. Mask
3.1 SEKKISEI Clear Whitening Mask and SEKKISEL lotion
4. Treatment
4.13.1 SEKKISEI Emulsion, SEKKISEI Day Essence, and SEKKISEI Skincare UV Gel
评价 (访问后客户意见)

---
5.0
บริการดี นวดน้ำหนักมือดี ห้องนวดดี มีบริการน้ำชาร้อน มีเครื่องสำอางให้แต่งหน้าเอง
Milky
Milky
บริการดี นวดน้ำหนักมือดี ห้องนวดดี มีบริการน้ำชาร้อน มีเครื่องสำอางให้แต่งหน้าเอง

验证评论
已访问 25 Apr 2021
5.0
บริการดี นวดน้ำหนักมือดี ห้องนวดดี มีบริการน้ำชาร้อน มีเครื่องสำอางให้แต่งหน้าเอง
Milky
Milky
บริการดี นวดน้ำหนักมือดี ห้องนวดดี มีบริการน้ำชาร้อน มีเครื่องสำอางให้แต่งหน้าเอง

验证评论
已访问 25 Apr 2021
5.0
บริการดี นวดน้ำหนักมือดี ห้องนวดดี มีบริการน้ำชาร้อน มีเครื่องสำอางให้แต่งหน้าเอง
Milky
Milky
บริการดี นวดน้ำหนักมือดี ห้องนวดดี มีบริการน้ำชาร้อน มีเครื่องสำอางให้แต่งหน้าเอง

验证评论
已访问 25 Apr 2021
5.0
นวดดีมากก ผ่อนคลาย ทำความสะอาดหน้าล้ำลึก นวดหลายขั้นตอนมาก แถมนวดคอบ่าไหลด้วยค่ะ ฟินน 🥰
Nitchanan
Nitchanan
นวดดีมากก ผ่อนคลาย ทำความสะอาดหน้าล้ำลึก นวดหลายขั้นตอนมาก แถมนวดคอบ่าไหลด้วยค่ะ ฟินน 🥰

验证评论
已访问 22 Apr 2021
5.0
ดีเสมอเลยค่ะ ประทับใจมาก
Siree

Siree
ดีเสมอเลยค่ะ ประทับใจมาก

验证评论
已访问 21 Apr 2021
5.0
พนักงานบริการดีและนวดดีมาก
สรัลพร
สรัลพร
พนักงานบริการดีและนวดดีมาก

验证评论
已访问 02 Apr 2021
5.0
พนักงานนวดดีมาก ชอบใจยี่ห้อนี้มานานแล้ว ทำเสร็จหน้านุ่มขึ้นมาก
Ekkamol
Ekkamol
พนักงานนวดดีมาก ชอบใจยี่ห้อนี้มานานแล้ว ทำเสร็จหน้านุ่มขึ้นมาก

验证评论
已访问 06 Apr 2021
5.0
นวดสบายมากค่ะ คงเป็นลูกค้าประจำแล้ว
Ying
Ying
นวดสบายมากค่ะ คงเป็นลูกค้าประจำแล้ว
+1

验证评论
已访问 06 Apr 2021
5.0
บรรยากาศดี สะอาด นวดดีคะ
Suparada

Suparada
บรรยากาศดี สะอาด นวดดีคะ

验证评论
已访问 05 Apr 2021
5.0
ประทับใจมากค่ะ มาครั้งที่ 2 แล้วชอบมากๆเลย
Siree

Siree
ประทับใจมากค่ะ มาครั้งที่ 2 แล้วชอบมากๆเลย
+1

验证评论
已访问 21 Apr 2021
People Also Like
Alinda Clinic
1634 评论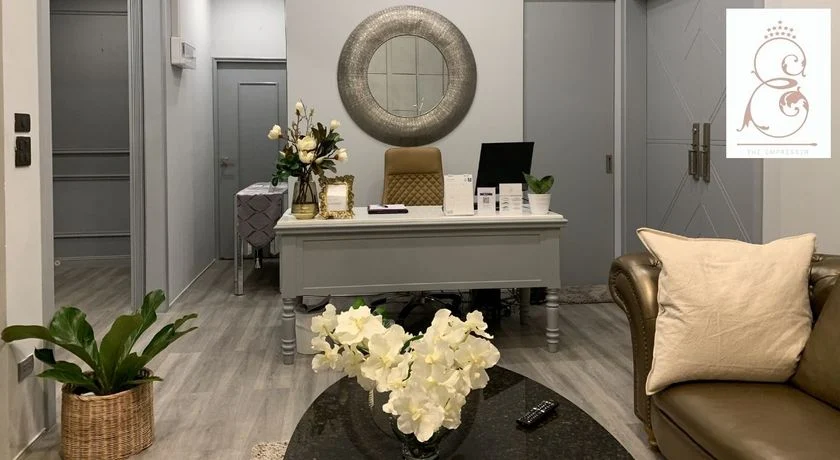 The Empresser (Lash & Brow)
385 评论