在GoWabi网上预订 - Sleep Salon & Nails (Siam)
Sleep Salon & Nails (Siam)
Cash, credit card
$$ (Based on Special Rates from our Partners)
THB
Choose Dress 3rd Floor, Siam Square Soi 9, Chula 64 Road, Pathumwan, Bangkok 10330
ใช้บริการยังไม่ถึง 75 นาทีเลยค่ะ นวดก้อธรรมดา

- ยุวพัชร์

+7

so relaxing and wonderful! it is a treat

- Suri

+2

บริการดีค่ะ มีน้ำขวดเสิร์ฟให้ด้วย

- Nutcha

+1
Sleep Salon & Nails provides hair and nails services. Located in the heart of Bangkok with a beautiful, relaxing atmosphere, allowing naps, users can feel relaxing and relieving stress while using the service at the store
Sleep Salon & Nails is a one-stop service for nails and hair services. Services that provided in Sleep Salon & Nails are Manicure, Pedicure, Gel Nails, Art Nails, Acrylic Nails, Nails Extension, Hand Spa, Foot Spa, Nails Package, Foot Scrub, Nails Paint, Gel extension, Gel Polish, Hair cut, Hair treatment, Hair coloring, Hair perm, Hair package and many more services.
* Appointment has to be booked 1-2 days in advance.
PVC
PVC nail service + Gel nail painting.
修甲
修脚
Scrub and remove dead skin (foot)
手部&脚部
This is a cosmetic beauty treatment for the hand nails and toenails in a nail salon which consists of filing and shaping the free edge, pushing and clipping (with a cuticle pusher and cuticle nippers) any nonliving tissue (but limited to the cuticles and hangnails), treatments with various liquids or massage of the hand. *Not include nail polish
烫发
*All Hair lengths
Keratin straightening will help change the hair to be healthy. Smooth and shiny It is different from other types of straightening, in which most keratin hair conditioners condition the hair without changing or destroying the molecular structure. They coat the hair, but do not damage the epidermis. The result is straight and natural hair that can be easily styled.
美发护理
(Milkshake product group) that everyone is fascinated by the smell of the fragrance like in the grove. This product helped to repair after coloring, perming, helping to improve to severely damage the hair to return to healthy beautiful hair Try this one and get impressed
* Warning: Don't decide to cut your hair if you haven't tried Milkshake. The 5-step process takes about 2 hours.
All hair lengths
Through the use of breakthrough bonding technologies, these customizable smoothing treatments actually improve the condition of the hair by creating a protective protein layer around the hair shaft to eliminate frizz and smooth the cuticle.
Sleep Salon & Nails (Siam)
Choose Dress 3rd Floor, Siam Square Soi 9, Chula 64 Road, Pathumwan, Bangkok 10330
Mon 11:00 AM - 08:00 PM
Tue 11:00 AM - 08:00 PM
Wed 11:00 AM - 08:00 PM
Thu 11:00 AM - 08:00 PM
Fri 11:00 AM - 08:00 PM
Sat 11:00 AM - 08:00 PM
Sun 11:00 AM - 08:00 PM
评价 (访问后客户意见)

---
5.0
ใช้บริการยังไม่ถึง 75 นาทีเลยค่ะ นวดก้อธรรมดา ไม่ได้มีอะไรแปลกใหม่ ไม่สมราคาเลย ราคาแพงไปด้วยซ้ำ นวดแค่ครึ่ง ชม เหมือนตามร้านนวดทั่วไป
ยุวพัชร์

ยุวพัชร์
ใช้บริการยังไม่ถึง 75 นาทีเลยค่ะ นวดก้อธรรมดา ไม่ได้มีอะไรแปลกใหม่ ไม่สมราคาเลย ราคาแพงไปด้วยซ้ำ นวดแค่ครึ่ง ชม เหมือนตามร้านนวดทั่วไป
+7

验证评论
已访问 08 Mar 2020
5.0
so relaxing and wonderful! it is a treat
Suri
Suri
so relaxing and wonderful! it is a treat
+2

验证评论
已访问 20 Dec 2019
3.0
บริการดีค่ะ มีน้ำขวดเสิร์ฟให้ด้วย
Nutcha

Nutcha
บริการดีค่ะ มีน้ำขวดเสิร์ฟให้ด้วย
+1

验证评论
已访问 11 Dec 2020
4.75
ช่างแนะนำการทำได้ดี พนักงานน่ารัก ชอบตอนสระผมมีบริการนวดศีรษะให้ด้วยสบายมากๆ คนไม่เยอะมาก แต่ควรโทรมาจองก่อนจะดีกว่า
Sasiphan
Sasiphan
ช่างแนะนำการทำได้ดี พนักงานน่ารัก ชอบตอนสระผมมีบริการนวดศีรษะให้ด้วยสบายมากๆ คนไม่เยอะมาก แต่ควรโทรมาจองก่อนจะดีกว่า
+1

验证评论
已访问 10 Dec 2020
5.0
พนักงานน่ารักดีค่ะ ไว้จะมาใช้บริการใหม่ค่ะ
Horjita
Horjita
พนักงานน่ารักดีค่ะ ไว้จะมาใช้บริการใหม่ค่ะ
+1

验证评论
已访问 19 Sep 2020
5.0
ชอบที่นี่มากๆอยู่แล้ง นวดสบายหัวมากๆค่ะ ตอนเสร็จก็ทำทรงผมอะไรก็ได้ แชมพูกลิ่นหอมมากๆด้วย
Kanyapat

Kanyapat
ชอบที่นี่มากๆอยู่แล้ง นวดสบายหัวมากๆค่ะ ตอนเสร็จก็ทำทรงผมอะไรก็ได้ แชมพูกลิ่นหอมมากๆด้วย
+1

验证评论
已访问 05 Jul 2020
4.0
เดินทางสะดวกมาก และบรรยากาศภายในร้านก็ดี
สุพิชฌาย์
สุพิชฌาย์
เดินทางสะดวกมาก และบรรยากาศภายในร้านก็ดี
+1

验证评论
已访问 05 Mar 2020
5.0
very good skill staff
Chiharu

Chiharu
very good skill staff
+1

验证评论
已访问 27 Jan 2020
3.5
โดยรวมให้บริการสระผมดี สระนวดประมาณ 45 นาที แล้วมาตัดผมต่ออีก เเต่ร้านหายากเพราะตั้งอยู่ชั้นสาม เดินผ่านๆ จะหาร้านไม่เจอ ส่วนความคุ้มค่ามองว่าแอบแพงไปนิด ถ้าทั้งหมด ~800 จะคุ้มราคมมากกว่า
ชุติมา
ชุติมา
โดยรวมให้บริการสระผมดี สระนวดประมาณ 45 นาที แล้วมาตัดผมต่ออีก เเต่ร้านหายากเพราะตั้งอยู่ชั้นสาม เดินผ่านๆ จะหาร้านไม่เจอ ส่วนความคุ้มค่ามองว่าแอบแพงไปนิด ถ้าทั้งหมด ~800 จะคุ้มราคมมากกว่า
+1

验证评论
已访问 14 Dec 2019
4.0
The staff is very nice and great with a good service mind, recommended 😘
Nuanpak
Nuanpak
The staff is very nice and great with a good service mind, recommended 😘
+1

验证评论
已访问 12 Dec 2019
People Also Like
Bong Bong Clinic
1021 评论
Mandarin Ginger Spa
233 评论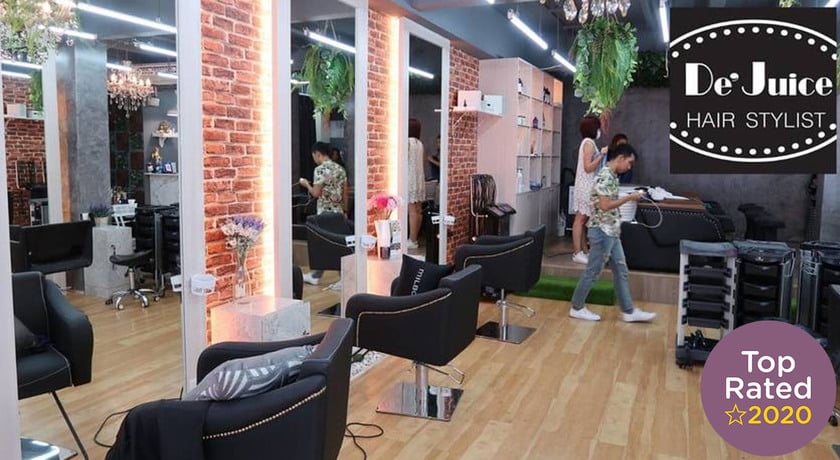 De Juice Hair Stylist
194 评论
Clarins Skin Spa
54 评论