Book Online at GoWabi - Center Point Massage & Spa (Siam Square 3 Branch)
Center Point Massage & Spa (Siam Square 3 Branch)
Cash, credit card
$$ (Based on Special Rates from our Partners)
THB
266/3 Siam Square 3, Rama 1 Road, Patumwan, Bangkok 10330
นวดสบาย พนักงานต้อนรับกับพนักงานนวดดีมากๆ ร้าน

- Jib

+3

พนักงานน่ารักค่ะ สถานที่คับแคบเล็กน้อย โปรแกรม

- Pleng

+1

นวดสบาย น้ำหนักมือดีครับ คุณเพชร

- Nopphakhun

+1
Welcome to our spa, Center Point Massage & Spa, Siam Square 3 Branch, a relaxation massage and spa in Bangkok in the center of the town situated in Siam Square Area and Shopping Area near Siam Square One Building, Siam Paragon, Central World, Siam Center and MBK Center (Maboonklong) and also near BTS which always welcome you through the nature of relaxing. Our Center Point Massage & Spa is decorated in an Oriental-European design feel. We provide a relaxing and warm home feeling atmosphere where you can enjoy the premium treatments with traditional Thai service and hospitality.
Center Point Massage & Spa aims to achieve the harmonious connection of body, mind, and soul. We offer high-quality services with a team of experts, who are professional masseuses and therapists with a high depth of experience, in addition, to prepare the best products and treatments including varieties of massage and spa. You can immediately feel a sense of refreshment, relaxation, and enjoy a great spa and massage promotion offers.
Terms & Conditions
• Participants must be aged 13+ to participate in this activity
• Children aged 0-12 are not recommended to join this activity nor accompany their parents into the facility
• Due to the nature of this activity, seniors aged 60+ are not recommended to participate
• This activity is not recommended for pregnant women
• People suffering from fever, deep vein thrombosis (DVT), unstable angina (UA), rheumatoid arthritis (RA), cancer, open wound, blood vessel disease, blood clotting disorder, skin disease, infectious disease, severe myositis, bone fracture, osteoporosis, osteomyelitis, bone/spinal cord tumors, severe herniated disc, high - low blood pressure, diabetes, have recently consumed alcohol, or have undergone major surgery within 3 years are strictly not allowed to avail of treatments
• Smelly food (e.g. durian) is not allowed in the facility
• Smoking and drinking are not allowed
• This activity is not stroller and wheelchair-accessible
Thai Style Massage is a whole body massage type, focuses on realigning the muscular and energy pathways in the body; unlocking tense shoulder, neck, muscles, and also provides relief to guests with lower back disorders. The technique is a combination of pressure points which work on the body skin tissue and muscular areas with particular attention to legs and feet.
Aromatherapy Massage
Aromatherapy Body Massage is an ancient therapeutic method of pressure point massage utilizing Aromatic Essential Oils from plants, leaves, and flowers which has a positive effect on moods and can induce certain emotion. Aromatherapy Body Massage releases tension free and refreshes your mind with the high quality of Aromatic Essential Oil that we offer. Different kinds of Aromatic Essential Oils provide different characteristics which you can choose from the best one and feel the essence while the professional therapist takes care of you.
Foot Massage
Foot massage is a natural and drugless way to heal physical and mental sickness. The technique is believed to help prevent and cure many diseases such as headache, tension, asthma, constipation, sinusitis, and migraine, etc. To say that sensory nerve of internal organs are spread throughout the body and some connecting with other organs as well as skin so that Foot massage is a good way of stimulating the activity of internal organs, improving blood, and lymph circulation. Apparently, it results that foot massage is good for our health.
- Foot Scrub
- Seaweed Foot Wrap
- Aromatic Foot Massage
- Head and Shoulder Massage
- Natural Foot Spray
Center Point Massage & Spa (Siam Square 3 Branch)
266/3 Siam Square 3, Rama 1 Road, Patumwan, Bangkok 10330
Mon 10:00 AM - 11:00 PM
Tue 10:00 AM - 11:00 PM
Wed 10:00 AM - 11:00 PM
Thu 10:00 AM - 11:00 PM
Fri 10:00 AM - 11:00 PM
Sat 10:00 AM - 11:00 PM
Sun 10:00 AM - 11:00 PM
REVIEWS (written by customers after their visit)

---
5.0
นวดสบาย พนักงานต้อนรับกับพนักงานนวดดีมากๆ ร้านสะอาดหอม
Jib
Jib
นวดสบาย พนักงานต้อนรับกับพนักงานนวดดีมากๆ ร้านสะอาดหอม
+3

Verified Reviews
Visited 13 Dec 2020
2.75
พนักงานน่ารักค่ะ สถานที่คับแคบเล็กน้อย โปรแกรมขัดตัวทำไม่ค่อยทั่วทั้งตัว
Pleng
Pleng
พนักงานน่ารักค่ะ สถานที่คับแคบเล็กน้อย โปรแกรมขัดตัวทำไม่ค่อยทั่วทั้งตัว
+1

Verified Reviews
Visited 20 Dec 2020
5.0
นวดสบาย น้ำหนักมือดีครับ คุณเพชร
Nopphakhun

Nopphakhun
นวดสบาย น้ำหนักมือดีครับ คุณเพชร
+1

Verified Reviews
Visited 18 Dec 2020
4.0
นวดดี แต่พนักงานเข้ามาตอนอาบน้ำ..
Sasithon
Sasithon
นวดดี แต่พนักงานเข้ามาตอนอาบน้ำ..
+1

Verified Reviews
Visited 13 Dec 2020
5.0
บริการดี เดินทางสะดวก พนักงานให้บริการดีมาก มีคำแนะนำให้ลูกค้าที่ดี มีกลิ่นอโรมาเธอราพีให้เลือก บริการนวดสบายตัวมาก ผ่อนคลายความเมื่อยล้าได้ดี ร้านสะอาด เป็นกันเอง
Warunee

Warunee
บริการดี เดินทางสะดวก พนักงานให้บริการดีมาก มีคำแนะนำให้ลูกค้าที่ดี มีกลิ่นอโรมาเธอราพีให้เลือก บริการนวดสบายตัวมาก ผ่อนคลายความเมื่อยล้าได้ดี ร้านสะอาด เป็นกันเอง
+1

Verified Reviews
Visited 13 Dec 2020
5.0
พี่พนักงานบริการดีมากค่ะ สถานที่สงบ เงียบ เป็นส่วนตัว พนักงานไม่คุยกันรบกวนการพักผ่อน ดีมากๆค่ะ คราวหน้ามีโอกาสจะไปนวดอีก
Gift
Gift
พี่พนักงานบริการดีมากค่ะ สถานที่สงบ เงียบ เป็นส่วนตัว พนักงานไม่คุยกันรบกวนการพักผ่อน ดีมากๆค่ะ คราวหน้ามีโอกาสจะไปนวดอีก
+1

Verified Reviews
Visited 12 Dec 2020
5.0
นวดสบายมาก บรรยากาศดี สะอาด ห้องสวยมากๆ พนักงานน่ารัก มารยาทดีมากๆค่ะ มาใช้บริการอีกแน่นอน
Teetee

Teetee
นวดสบายมาก บรรยากาศดี สะอาด ห้องสวยมากๆ พนักงานน่ารัก มารยาทดีมากๆค่ะ มาใช้บริการอีกแน่นอน
+1

Verified Reviews
Visited 12 Dec 2020
5.0
บริหารนวดดีมาก พนักงานสุภาพ เดินทางง่าย
Ying
Ying
บริหารนวดดีมาก พนักงานสุภาพ เดินทางง่าย
+1

Verified Reviews
Visited 01 Dec 2020
5.0
ขัดดีมากกกก แบบดีมากๆสองรอบอะ ผิวลื่นๆนิ่มๆมากๆๆๆๆ จริงๆ
Fon
Fon
ขัดดีมากกกก แบบดีมากๆสองรอบอะ ผิวลื่นๆนิ่มๆมากๆๆๆๆ จริงๆ
+1

Verified Reviews
Visited 29 Nov 2020
5.0
สถานที่ดี สะอาด เงียบ สงบ ส่วนตัว พนักงานนวดดี มีมารยาท น้ำมันอโรม่า & สครัป มีหลายกลิ่นให้เลือกเยอะดี โดยรวมโอเค จะกลับไปอีก
Bhappy
Bhappy
สถานที่ดี สะอาด เงียบ สงบ ส่วนตัว พนักงานนวดดี มีมารยาท น้ำมันอโรม่า & สครัป มีหลายกลิ่นให้เลือกเยอะดี โดยรวมโอเค จะกลับไปอีก
+1

Verified Reviews
Visited 24 Nov 2020
People Also Like
THE EMPRESSER
221 reviews
Mendel Clinic
1368 reviews
Viva Jiva Spa @ Lancaster Bangkok Hotel
347 reviews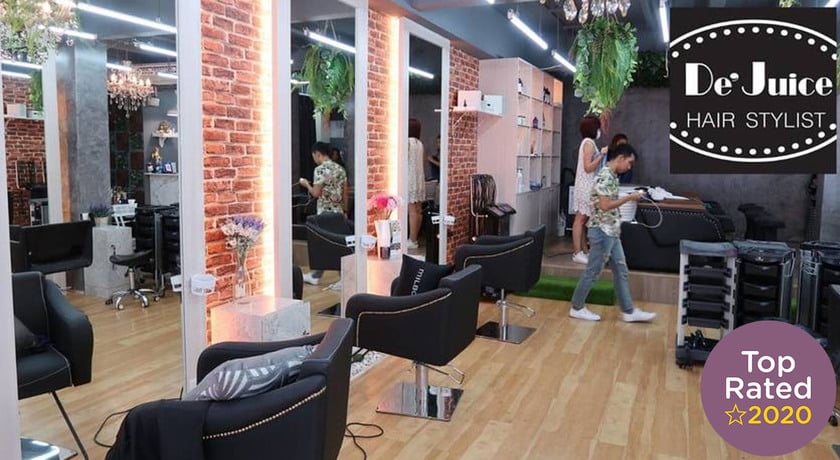 De Juice Hair Stylist
194 reviews
Clarins Skin Spa
54 reviews