Book Online at GoWabi - Gangnam Korean Hair Salon
Gangnam Korean Hair Salon
Cash, credit card
$$ (Based on Special Rates from our Partners)
THB
10/30 The Trendy Office Building, 1A frool , soi sukhumvit 13 ,Khlong Toei Nuea, Watthana, Bangkok 10110
ชอบค่ะทำละเอียดดีมากค่ะๆๆ

- A

+3

ตัดผมละเอียดดีค่ะ ละเอียดมากจนเกินไปด้วยซ้ำ ช่

-

+3

บริการโดยรวมดี มีล่ามคอยแปลให้

- Nattakarn

+3
GANGNAM HAIR SALON ASOK Is an expert in hair design Providing advice and services for hair care, as well as expertise in trimming, decorating, coloring, and open for customers of all ages. "Imported products Quality technicians from South Korea. "The team has expertise in high product use We will help you look good And have good health forever.


Terms & Conditions:
• This voucher can be used within 2 month after purchase.
• All purchases and treatments cannot be amended.
• These vouchers cannot be used with other promotions.
• Show your voucher from email or GoWabi app for verification
• Appointment has to be booked in advance. The shop contact details will be available in your "GoWabi's Booking Confirmation email or My Booking page"
All hair length 
Haircut will be designed by korean professional and experienced staff.
Hair Treatment
Benezyme Waxing Magical จากประเทศเกาหลีใต้ ทางร้านได้คัดสรรคแบรนด์คุณภาพชั้นนำที่ดีที่สุดให้กับสุขภาพผม ตัวนี้จะช่วยดูแลเส้นผมเหมาะสำหรับผู้ที่เคยผ่านการทำสีผม หรือทำสีผมมาแล้ว ผมแห้งเสียจากการทำสี ตัวนี้จะช่วยเคลือบเส้นผม ให้มีความเงา ดูสุขภาพดี ทำให้เส้นผมแข็งแรงมีน้ำหนัก และดูสวยงามสัมผัสได้ตั้งแต่ครั้งแรก
Hair detoxification helps deep cleansing the scalp. Methods for detoxification and relaxing head massage with nadimo pro treatment (korea product) ,this product helps to provide intense nourishment and hydration, for hair that looks and feels stronger, smoother and more luscious. 
All hair lenght 
This treatment makes the hair shiny, not pointed out, and easy to do hair style. It helps you can see the volume immediately. use by NADIMO PRO TREATMENT product from Korea.
Gangnam Korean Hair Salon
10/30 The Trendy Office Building, 1A frool , soi sukhumvit 13 ,Khlong Toei Nuea, Watthana, Bangkok 10110
Mon 09:00 AM - 06:30 PM
Tue 09:00 AM - 06:30 PM
Wed 09:00 AM - 06:30 PM
Thu 09:00 AM - 06:30 PM
Fri 09:00 AM - 06:30 PM
Sat 09:00 AM - 06:30 PM
Sun 09:00 AM - 06:30 PM
REVIEWS (written by customers after their visit)

---
3.75
ช่างที่ตัดผมผู้หญิงน่าจะตัดไม่ค่อย เก่งค่ะเนื่องจากตัดแบบตรงๆเลยไม่ค่อยมีดีไซน์อะไรเท่าไหร่แต่การทรีทเม้นต์ก็โอเคค่ะรวมเหมาะกับราคาไม่ถูกไม่ได้แพงแต่ถ้าอยากได้ทรงผมผู้หญิงที่นี่อาจจะไม่ตอบโจทย์เท่าไหร่ค่ะ
Pearl
Pearl
ช่างที่ตัดผมผู้หญิงน่าจะตัดไม่ค่อย เก่งค่ะเนื่องจากตัดแบบตรงๆเลยไม่ค่อยมีดีไซน์อะไรเท่าไหร่แต่การทรีทเม้นต์ก็โอเคค่ะรวมเหมาะกับราคาไม่ถูกไม่ได้แพงแต่ถ้าอยากได้ทรงผมผู้หญิงที่นี่อาจจะไม่ตอบโจทย์เท่าไหร่ค่ะ
+1

Verified Reviews
Visited 12 Sep 2020
4.0
ได้ตัดกับพี่คนไทยแทน เพราะช่างเกาหลีไม่อยุ่ เสียใจนิดหน่อย แต่พี่คนไทยตัดโอเคเลยค่ะ น่ารักมากๆ พี่พนักงานก้อน่ารัก ประทับใจกับการไดร์ผมมากกกก และทรีนเม้นทำผมหอมไปสามสี่วันเลยค่ะ
Sittinee

Sittinee
ได้ตัดกับพี่คนไทยแทน เพราะช่างเกาหลีไม่อยุ่ เสียใจนิดหน่อย แต่พี่คนไทยตัดโอเคเลยค่ะ น่ารักมากๆ พี่พนักงานก้อน่ารัก ประทับใจกับการไดร์ผมมากกกก และทรีนเม้นทำผมหอมไปสามสี่วันเลยค่ะ
+1

Verified Reviews
Visited 29 Oct 2020
5.0
บริการดีมาก เป็นกันเอง ช่างเก่งครับ
Teerasut
Teerasut
บริการดีมาก เป็นกันเอง ช่างเก่งครับ
+1

Verified Reviews
Visited 01 Nov 2020
5.0
ช่างน่ารักมากค่ะ ทรีทเม้นต์แล้วผมนุ่มมาก
Pattarin
Pattarin
ช่างน่ารักมากค่ะ ทรีทเม้นต์แล้วผมนุ่มมาก
+1

Verified Reviews
Visited 01 Nov 2020
5.0
ร้านอยู่ชั้น 1A จอดรถได้ที่อาคาร trendy เลยค่ะ สแตมป์บัตรจอดรถได้ที่ร้าน จอดฟรี 2 ชั่วโมง ร้านคนเกาหลี ก็จะต้องใช้ล่ามช่วยแปลให้ หรือจะใช้ช่างคนไทยก็ได้ค่ะ
Tapanee

Tapanee
ร้านอยู่ชั้น 1A จอดรถได้ที่อาคาร trendy เลยค่ะ สแตมป์บัตรจอดรถได้ที่ร้าน จอดฟรี 2 ชั่วโมง ร้านคนเกาหลี ก็จะต้องใช้ล่ามช่วยแปลให้ หรือจะใช้ช่างคนไทยก็ได้ค่ะ
+1

Verified Reviews
Visited 31 Oct 2020
4.0
สีไม่ตรงกับที่เลือก แต่บริการดี
Ratchanart

Ratchanart
สีไม่ตรงกับที่เลือก แต่บริการดี
+1

Verified Reviews
Visited 31 Oct 2020
5.0
ดีค่ะ พนักงานน่ารัก ดูเอาใจใส่ พูดจาดี ทำทรีทเม้นก็ดีค่ะ หอมมมากก แต่งงๆตอนตัดผมนิดนึง เพราะเลือกตัดกับช่างชาวเกาหลี แล้วเรารู้สึกเหมือนเค้าแค่หวีไปหวีมา ละก็เล็มปลาย สักพักบอกเสร็จแล้ว โอเคมั้ย 55555 แต่คือเค้าก็โอเคแหละ ไดร์ผมสวย 5555 แต่แค่งงๆว่าเอ้ะนี่ตัดเสร็จแล้วหรอ 🤣🤣
Passawee
Passawee
ดีค่ะ พนักงานน่ารัก ดูเอาใจใส่ พูดจาดี ทำทรีทเม้นก็ดีค่ะ หอมมมากก แต่งงๆตอนตัดผมนิดนึง เพราะเลือกตัดกับช่างชาวเกาหลี แล้วเรารู้สึกเหมือนเค้าแค่หวีไปหวีมา ละก็เล็มปลาย สักพักบอกเสร็จแล้ว โอเคมั้ย 55555 แต่คือเค้าก็โอเคแหละ ไดร์ผมสวย 5555 แต่แค่งงๆว่าเอ้ะนี่ตัดเสร็จแล้วหรอ 🤣🤣
+1

Verified Reviews
Visited 01 Nov 2020
3.75
เราผมยาวและเยอะมากๆ ในดีลไม่รวมฟอกสีผม แต่สีที่ออกมาก็สวย สม่ำเสมอ
Bushi
Bushi
เราผมยาวและเยอะมากๆ ในดีลไม่รวมฟอกสีผม แต่สีที่ออกมาก็สวย สม่ำเสมอ
+1

Verified Reviews
Visited 30 Nov 2020
3.5
ตัดผมผู้ชาย ช่างเกาหลีตัดผมดี ทรงสวย แต่เวลาเซ็ทผมให้ช่างไทยมาทำ ยังไม่ค่อยประทับใจ
Bushi
Bushi
ตัดผมผู้ชาย ช่างเกาหลีตัดผมดี ทรงสวย แต่เวลาเซ็ทผมให้ช่างไทยมาทำ ยังไม่ค่อยประทับใจ
+1

Verified Reviews
Visited 30 Nov 2020
5.0
Good service, hairstylist recommended for the hair style that suit for me

Good service, hairstylist recommended for the hair style that suit for me
+1

Verified Reviews
Visited 31 Oct 2020
People Also Like
THE EMPRESSER
231 reviews
Mendel Clinic
1414 reviews
Viva Jiva Spa @ Lancaster Bangkok Hotel
353 reviews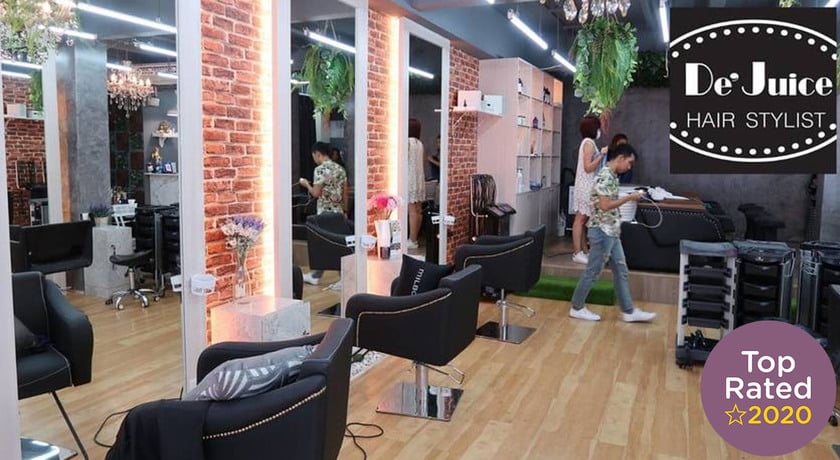 De Juice Hair Stylist
194 reviews
Clarins Skin Spa
54 reviews