Book Online at GoWabi - H.O.M House of Massage Siam Square
H.O.M House of Massage Siam Square
Cash, credit card
$$ (Based on Special Rates from our Partners)
THB
Siam Square Soi 3 , Pathum Wan, Pathum Wan, Bangkok 10330
ขัดดีมากๆ พี่ฟ้าขัดละเอียดจริงๆ สุภาพ ทำทุกขั้

- Bee

+1

โอเคเลยค่า ขัดให้ดีมากๆเลยค่ะ นวดก็สบายค่ะ

- Oraya

นวดดีค่ะ กลิ่นสมุนไพรน้อยไปนิดค่ะ

- Naru
Welcome to the House of Beauty Siam Square!
เฮ้าส์ ออฟ บิ้วตี้ (House of Beauty) ร้านบริการซาลอนเล็บและสปา บริการอยู่ที่สยามสแควร์ ใจกลางแหล่งช้อปปิ้งของกรุงเทพฯ ที่ร้านใส่ใจในทุกขั้นตอนและดูแลคุณด้วย ผู้เชี่ยวชาญมากมาย ให้คุณได้สวยถึงปลายเล็บอย่างแท้จริง นอกเหนือจากการบริการสปา เรายังมีบริการทำเล็บและต่อขนตาด้วยขนมิ้งค์แท้จากเกาหลี ทางร้านนั้นรักษามาตรฐานในการให้บริการสปาอยู่เสมอ เพื่อให้มั่นใจว่าลูกค้าทุกท่านจะเต็มไปด้วยความประทับใจ นอกจากนั้นบรรยากาศภายในร้าน House of Beauty ยังเป็นกันเอง ลูกค้าสามารถนั่งชิว ๆ สบาย ๆ เหมือนได้มาพักผ่อนและผ่อนคลายความเครียดกันในตัว
บริการสปาของทางร้าน เฮ้าส์ ออฟ บิ้วตี้ (House of Beauty) ที่เด่น ๆ คือ นวดตัว สครับผิว โดยช่างมืออาชีพ และพนักงานนวดที่มีประสบการณ์ ทางร้านมีบริการเสริมสวยหลากหลายตั้งแต่ ยกขนตา ต่อขนตา ต่อเล็บเจล ทาเจลสี ทาสีเล็บ สปาเล็บมือ สครับผิว นวดประคบหินร้อน และ อื่น ๆ อีกมากมาย ที่ร้านยังใช้แต่ผลิตภัณฑ์ที่มีคุณภาพ เป็นผลิตภัณฑ์ออร์แกนนิค Vegan Organic แท้ 100% ซึ่งเป็นแบรนด์ชั้นนำที่ได้รับการยอมรับทั่วโลก และที่สำคัญได้รับการรับรองว่าปลอดภัย
เฮ้าส์ ออฟ บิ้วตี้ (House of Beauty) เปิดให้บริการที่ สยามสแควร์ ซอย 3 ใจกลางกรุงเทพฯ สามารถมาได้โดย BTS ลงสถานีสยาม ลูกค้าสามารถช้อปปิ้งกับห้างสรรพสินค้าชั้นนำเช่น สยาม พารากอน หรือ เซ็นทรัลเวิลด์ หลังจากใช้บริการที่ House of Beauty
จอง เฮ้าส์ ออฟ บิ้วตี้ (House of Beauty) ออนไลน์ ตอนนี้เพื่อรับสิทธิพิเศษและส่วนลดราคาในบริการนวดตัว สครัปตัว สปาหินร้อน นวดหน้า ทำเล็บ ยกขนตา ต่อขนตา ยกโคนขนตา และอื่น ๆ อีกมากมาย ดูรายการเมนู ราคา พร้อมโปรโมชั่น
Aroma Oil Massage
This is a beautiful way to express caring and help relieve the stress with the choice of the natural scents. Especially can help reduce headaches, migraines, cramps and spasms. You will leave with a good warm feeling from deep within.
Body Massage
Breast Massage after Augmentation with 6 pairs of hot stone for shaping the breast Perfect.
Body Treatments
- Massage to dissolve fat and cellulite with RF tools alternating 1 hour 45 minutes.
- Using red seaweed products And RF beams to the skin, cellulite And deep fat
- Choose from 2 parts: body, leg, arm, abdomen or hip.
- Dry yourself with warm gel for the body Burn calories like a 15 minute workout.
Hot Stone Massage
Body 90 min + Face 60 min
นวดตัวหินร้อน : กำจัดของเสียในร่างกาย กระตุ้นการไหลเวียนโลหิต ผ่อนคลายกล้ามเนื้อทุกส่วน สร้างความสมดุลแก่ร่างกายด้วยหินลาวาร้อน
Manicure & Pedicure
This basic manicure and pedicure include hands and feet soak, nails shaping, feet exfoliation, sugar scrub, cuticle care, buffing and general nails polish coloring.
Oil Massage
Designed to relax and balance the body and mind with the blend of aroma-therapeutic essential oil and Thai massage warm oil and palm kneading to promote fluid flow in the body while the euphoric aroma of the oil soothes and relaxes the mind ridding you of stress and nurtures the skin at the same time.
Aromatic essential hot oil to soften and heal muscle tissue.
A medium to strong massage with a local Extra Virgin coconut oil is being used.
Packages
Hot Stone Massage + Scurf Bombing
Sauna
Thai Herbal sauna is believed to soften the skin and cleanse body impurities while relaxing tensed muscles.
Sport Massage
Correcting problem and imbalances in soft tissue caused from repetitive and strenuous physical activity.
H.O.M House of Massage Siam Square
Siam Square Soi 3 , Pathum Wan, Pathum Wan, Bangkok 10330
Mon 11:30 AM - 11:30 PM
Tue 11:30 AM - 11:30 PM
Wed 11:30 AM - 11:30 PM
Thu 11:30 AM - 11:30 PM
Fri 11:30 AM - 11:30 PM
Sat 11:30 AM - 11:30 PM
Sun 11:30 AM - 11:30 PM
REVIEWS (written by customers after their visit)

---
5.0
ขัดดีมากๆ พี่ฟ้าขัดละเอียดจริงๆ สุภาพ ทำทุกขั้นตอนอย่างใส่ใจ ขี้ไคลระเบิดสมชื่อจริงๆ กลับไปใช้บริการอีกแน่นอน
Bee
Bee
ขัดดีมากๆ พี่ฟ้าขัดละเอียดจริงๆ สุภาพ ทำทุกขั้นตอนอย่างใส่ใจ ขี้ไคลระเบิดสมชื่อจริงๆ กลับไปใช้บริการอีกแน่นอน
+1

Verified Reviews
Visited 12 Nov 2020
5.0
โอเคเลยค่า ขัดให้ดีมากๆเลยค่ะ นวดก็สบายค่ะ
Oraya

Oraya
โอเคเลยค่า ขัดให้ดีมากๆเลยค่ะ นวดก็สบายค่ะ

Verified Reviews
Visited 18 Dec 2020
5.0
นวดดีค่ะ กลิ่นสมุนไพรน้อยไปนิดค่ะ
Naru
Naru
นวดดีค่ะ กลิ่นสมุนไพรน้อยไปนิดค่ะ

Verified Reviews
Visited 13 Dec 2020
5.0
ทำเสร็จผิวนุ่มลื่นดีมากๆค่ะ เดินทางสะดวก จะต้องกลับไปใช้บริการอีกแน่นอนค่ะ
Toon
Toon
ทำเสร็จผิวนุ่มลื่นดีมากๆค่ะ เดินทางสะดวก จะต้องกลับไปใช้บริการอีกแน่นอนค่ะ

Verified Reviews
Visited 02 Dec 2020
4.0
The atmosphere was not what I expect for a spa place and especially for the price
Ging

Ging
The atmosphere was not what I expect for a spa place and especially for the price. No complain at all about the service though. The therapist was super nice

Verified Reviews
Visited 06 Dec 2020
3.0
นวดดี ใส่ใจ ร้านสะอาด บริการดี
Charinthip

Charinthip
นวดดี ใส่ใจ ร้านสะอาด บริการดี

Verified Reviews
Visited 20 Nov 2020
5.0
ประทับใจในการบริการมาก พี่ฟ้าใจดี น่ารักมากค่ะ
June

June
ประทับใจในการบริการมาก พี่ฟ้าใจดี น่ารักมากค่ะ

Verified Reviews
Visited 21 Nov 2020
5.0
gooooooooooooooooooooooooodd
Wannita

Wannita
gooooooooooooooooooooooooodd

Verified Reviews
Visited 19 Nov 2020
5.0
พนักงานบริการดีค่ะ หลังทำผิวนุ่มลื่นมากค่ะ
Khanichnett

Khanichnett
พนักงานบริการดีค่ะ หลังทำผิวนุ่มลื่นมากค่ะ

Verified Reviews
Visited 03 Nov 2020
5.0
พนักงานทำดีมากค่ะ ทำครั้งแรกก้จะเขินๆ หน่อย แต่พนักงานก้เซฟเราดีค่ะ ชอบๆ ไว้มีโอกาสจะไปอีกค่ะ
Wipada
Wipada
พนักงานทำดีมากค่ะ ทำครั้งแรกก้จะเขินๆ หน่อย แต่พนักงานก้เซฟเราดีค่ะ ชอบๆ ไว้มีโอกาสจะไปอีกค่ะ

Verified Reviews
Visited 27 Oct 2020
People Also Like
NAIL HOUSE BANGKOK (Thonglor Soi 17)
475 reviews
Bong Bong Clinic
1027 reviews
Mandarin Ginger Spa
233 reviews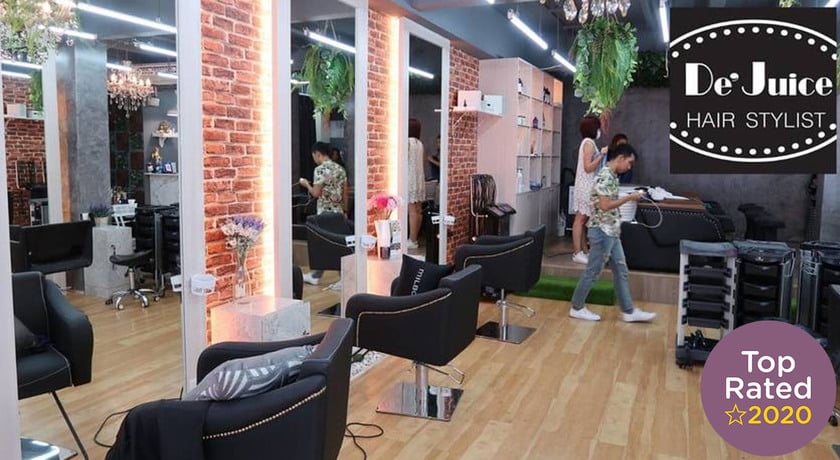 De Juice Hair Stylist
196 reviews
Clarins Skin Spa
54 reviews