Book Online at GoWabi - Have a Good Nails (Sathon)
Have a Good Nails (Sathon)
Cash, credit card
$$ (Based on Special Rates from our Partners)
THB
2092/28 Narathiwat Ratchanakarin 22 Chong Nonsi, Yan Nawa, Bangkok 10120
พนักงานดูแลดีมาก น้องผู้หญิงที่เป็นช่างทำดีมาก

- Supapit

+1

แอดมินร้านน่ารักมากค่ะะะะ

- ทัตพร

+1

They did a manicure quickly, accurately and to

- Aliona
If you are looking for a decent manicure and spa place in Satorn with affordable price and hundreds of different colours to choose in a private scene please don't hesitate to come in! We will never let you down.
Terms & Conditions:
• This voucher can be used within 2 months after purchase.
• All purchases and treatments cannot be amended.
• These vouchers cannot be used with other promotions.
• Show your voucher from email or GoWabi app for verification
• Appointment has to be booked in advance. The shop contact details will be available in your "GoWabi's Booking Confirmation email or My Booking page"
Eyelash Extension
You can select Eyelash Design Style
Natural Style - This style emphasizes the natural look and is ideal for subtly enhancing your natural look.
Charming Sunday - This style emphasizes the central part of the eye. Using extra curly eyelash extension to make your eyes look cuter, bigger and rounder.
Sexy Sunday - This style emphasizes the delicate mix for different shapes of curls. The tails of the eyes will look sharper longer and sexier for a more prominent look.
Glamorous Sunday - This style emphasizes the whole eyes with volume for a more dimensional and superficial glamorous look. 
Lash Curl : J30°/ B45°/ C60°/ CC65°/ D70°/ U80°/ L85° 
Lash Thinkness : 0.03mm / 0.05mm / 0.07mm / 0.12mm / 0.15mm / 0.20mm / 0.25mm 
Lash Length : 4mm, 5mm, 6mm, 7mm, 8mm, 9mm, 10mm, 11mm, 12mm, 13mm, 14mm, 15mm
Dimension of Lash Volume Fan 2D, 3D, 4D, 5D, 6D,7D,8D,9D,10D
Gel Nails
Gel Nail Polish for both hands or feet. Variety of choices for you to choose, you can choose unlimited colors including cat-eye colors and glitter colors. We used a high - quality  imported product.
*This promotion is excluding color removal, gel glitter, nail paint, nail extension and nail accessories.
Package
A spa that will indulge and relax with special spa techniques along with arm or leg.
1. Clean your arm or leg with Sakura soap
2.Put hair removal moose on arms or legs (15 mins)
3.Massage arms or legs with aloe vera gel 
Have a Good Nails (Sathon)
2092/28 Narathiwat Ratchanakarin 22 Chong Nonsi, Yan Nawa, Bangkok 10120
Mon 11:00 AM - 09:00 PM
Tue 11:00 AM - 09:00 PM
Wed 11:00 AM - 09:00 PM
Thu 11:00 AM - 09:00 PM
Fri 11:00 AM - 09:00 PM
Sat 11:00 AM - 09:00 PM
Sun 11:00 AM - 09:00 PM
REVIEWS (written by customers after their visit)

---
5.0
พนักงานดูแลดีมาก น้องผู้หญิงที่เป็นช่างทำดีมากค่ะ เบามือและขนตาหนาและนาวตามที่อยากได้ ในราคาเอื้อมถึง
Supapit

Supapit
พนักงานดูแลดีมาก น้องผู้หญิงที่เป็นช่างทำดีมากค่ะ เบามือและขนตาหนาและนาวตามที่อยากได้ ในราคาเอื้อมถึง
+1
Classic Eyelash Extension (Unlimited Strands) (Only Ladprao)

Verified Reviews
Visited 13 Oct 2020
5.0
แอดมินร้านน่ารักมากค่ะะะะ
ทัตพร

ทัตพร
แอดมินร้านน่ารักมากค่ะะะะ
+1
Gel Color Hands and Feet (Unlimited Colors)

Verified Reviews
Visited 13 Oct 2020
5.0
They did a manicure quickly, accurately and took into account my wishes, my color makes me happy ☺️
Aliona
Aliona
They did a manicure quickly, accurately and took into account my wishes, my color makes me happy ☺️
Gel Color Hands and Feet (Unlimited Colors) [Flash Sale eVoucher]

Verified Reviews
Visited 24 Oct 2020
5.0
ต่อขนตาที่สาขาลาดพร้าวค่ะ น้องพนักงานทำดีและมีความตั้งใจมาก แต่เตียงนอนนานแล้วแอบเมื่อยนิดนึงค่ะ กับได้กลิ่นกาว แล้วก็ทาเจลต่อกับอีกคนนึง ไม่ได้ซื้อดีลค่ะ น้องทำดีและตั้งใจเหมือนกันค่ะ

ต่อขนตาที่สาขาลาดพร้าวค่ะ น้องพนักงานทำดีและมีความตั้งใจมาก แต่เตียงนอนนานแล้วแอบเมื่อยนิดนึงค่ะ กับได้กลิ่นกาว แล้วก็ทาเจลต่อกับอีกคนนึง ไม่ได้ซื้อดีลค่ะ น้องทำดีและตั้งใจเหมือนกันค่ะ
Classic Eyelash Extension (Unlimited Strands) (Only Ladprao)

Verified Reviews
Visited 24 Oct 2020
5.0
พนักงานทำดีมากค่ะ สีติดทนนานดีค่ะ
Kulpreeya

Kulpreeya
พนักงานทำดีมากค่ะ สีติดทนนานดีค่ะ
Gel Color Hands and Feet (Unlimited Colors)

Verified Reviews
Visited 25 Oct 2020
5.0
มีที่จอดรถสะดวกดีค่ะ​ งานละเอียดไม่ลองไม่รู้ มีที่จอดรถสะดวกดีค่ะ​ งานละเอียดไม่ลองไม่รู้
Nichamas​

Nichamas​
มีที่จอดรถสะดวกดีค่ะ​ งานละเอียดไม่ลองไม่รู้ มีที่จอดรถสะดวกดีค่ะ​ งานละเอียดไม่ลองไม่รู้
Gel Color Hands or Feet (1Color)

Verified Reviews
Visited 23 Oct 2020
3.0
บริการพอใช้ได้ พนักงานคุยกันเสียงดังไปหน่อย
Cartoon
Cartoon
บริการพอใช้ได้ พนักงานคุยกันเสียงดังไปหน่อย
Gel Color Hands and Feet (Unlimited Colors)

Verified Reviews
Visited 22 Oct 2020
5.0
พนักงานน่ารักค่ะ พนักงานก็ทำไวมากเพราะเรารีบมีนัดต่อ แต่งานเรียบร้อยค่ะ
Nannapat

Nannapat
พนักงานน่ารักค่ะ พนักงานก็ทำไวมากเพราะเรารีบมีนัดต่อ แต่งานเรียบร้อยค่ะ
Gel Color Hands and Feet (Unlimited Colors) [Flash Sale eVoucher]

Verified Reviews
Visited 18 Oct 2020
5.0
staff was very attentive
Perada

Perada
staff was very attentive
Smooth Hand Mini Spa

Verified Reviews
Visited 17 Oct 2020
5.0
staff is friendly and service is good
Perada

Perada
staff is friendly and service is good
Smooth Foot Mini Feet Spa

Verified Reviews
Visited 17 Oct 2020
People Also Like
Lashury Eyelash Salon
353 reviews
Let's Relax Onsen Thong Lor
2425 reviews
La Zensa Spa
442 reviews
The Cocktail Clinic
1835 reviews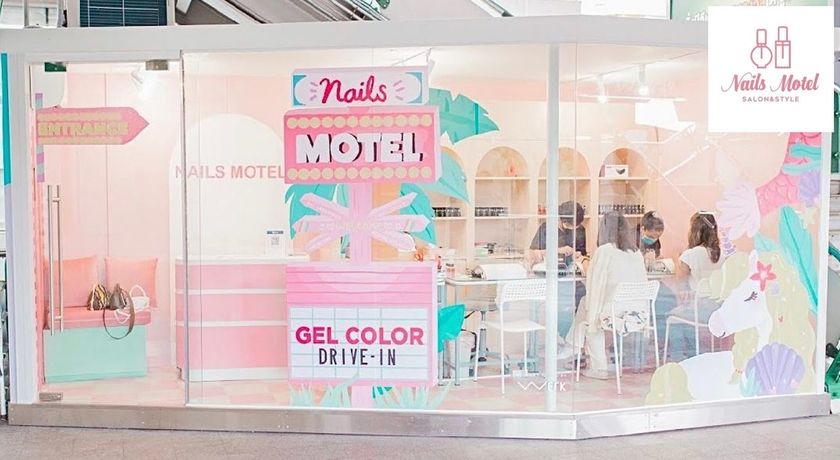 Nails Motel
50 reviews
Have a Good Nails (Sathon)
2092/28 Narathiwat Ratchanakarin 22 Chong Nonsi, Yan Nawa, Bangkok 10120
MON 11:00 AM - 09:00 PM
TUE 11:00 AM - 09:00 PM
WED 11:00 AM - 09:00 PM
THU 11:00 AM - 09:00 PM
FRI 11:00 AM - 09:00 PM
SAT 11:00 AM - 09:00 PM
SUN 11:00 AM - 09:00 PM
Available Payment Methods
People Also Like
Lashury Eyelash Salon
353 reviews
Let's Relax Onsen Thong Lor
2425 reviews
La Zensa Spa
442 reviews
The Cocktail Clinic
1835 reviews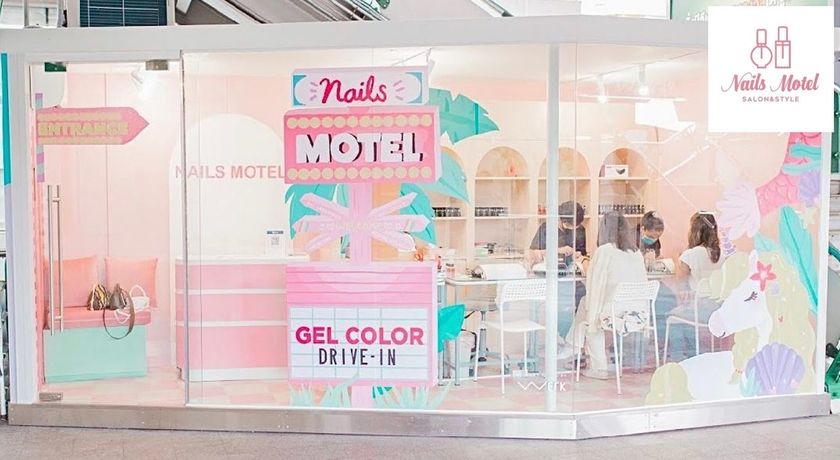 Nails Motel
50 reviews