Book Online at GoWabi - Hello Hair Station
Hello Hair Station
Cash, credit card
$$ (Based on Special Rates from our Partners)
THB
RK garden Sukhumvit 79 (Bts Onnut) Bangkok 10260
เป็นร้านเล็กๆ พี่เจ้าของร้านเสียงดัง ตอนแรกแอบ

- Nawaporn

ร้านใกล้บีทีเอสมากกก เดิน10ก้าวถึง (ไม่ได้นับเ

- Poyfon
Hello Hair Station is a hair salon serviced by professional hairdressers. The shop provides comprehensive services including straightening, perming, coloring and hair treatment of all types. The shop is happy to give advice before serving every time.
The shop is located at RK Garden (BTS On Nut), easily accessible from BTS Exit 1.
Terms & Conditions:
• This voucher can be used within 2 months after purchase.
• All purchases and treatments cannot be amended.
• These vouchers cannot be used with other promotions.
• Show your voucher from email or GoWabi app for verification
• Appointment has to be booked in advance. The shop contact details will be available in your "GoWabi's Booking Confirmation email or My Booking page"
Hair Coloring
Hair Color 1 time free 1 time within 15 days and free treatment hair wax (all length). We use high quality product. Treatment helps make hair soft, smooth and damaged hair. Taking a short time but providing a very good result. Our hair stylists are pleased to give a consult to you before getting the service
Hello Hair Station
RK garden Sukhumvit 79 (Bts Onnut) Bangkok 10260
Mon 09:00 AM - 10:00 PM
Tue 09:00 AM - 10:00 PM
Wed 09:00 AM - 10:00 PM
Thu 09:00 AM - 10:00 PM
Fri 09:00 AM - 10:00 PM
Sat 09:00 AM - 10:00 PM
Sun 09:00 AM - 10:00 PM
REVIEWS (written by customers after their visit)

---
4.75
เป็นร้านเล็กๆ พี่เจ้าของร้านเสียงดัง ตอนแรกแอบตกใจ แต่สักพักเริ่มชิน เป็นกันเองค่ะ ร้านตัดผมได้ทรงตามที่ต้องการค่ะ
Nawaporn

Nawaporn
เป็นร้านเล็กๆ พี่เจ้าของร้านเสียงดัง ตอนแรกแอบตกใจ แต่สักพักเริ่มชิน เป็นกันเองค่ะ ร้านตัดผมได้ทรงตามที่ต้องการค่ะ

Verified Reviews
Visited 16 Dec 2020
5.0
ร้านใกล้บีทีเอสมากกก เดิน10ก้าวถึง (ไม่ได้นับเป๊ะๆนะแต่กะเอา☺️) ทรีทเม้นคือปัง หลายขั้นตอนคุ้มกับราคาที่ซื้อมามากก พี่ๆบริการเป็นกันเอง ไว้คราวหน้าจะมาทำสีผมค่ะ🥳🥳🥳
Poyfon

Poyfon
ร้านใกล้บีทีเอสมากกก เดิน10ก้าวถึง (ไม่ได้นับเป๊ะๆนะแต่กะเอา☺️) ทรีทเม้นคือปัง หลายขั้นตอนคุ้มกับราคาที่ซื้อมามากก พี่ๆบริการเป็นกันเอง ไว้คราวหน้าจะมาทำสีผมค่ะ🥳🥳🥳

Verified Reviews
Visited 12 Nov 2020
People Also Like
THE EMPRESSER
221 reviews
Mendel Clinic
1368 reviews
Viva Jiva Spa @ Lancaster Bangkok Hotel
347 reviews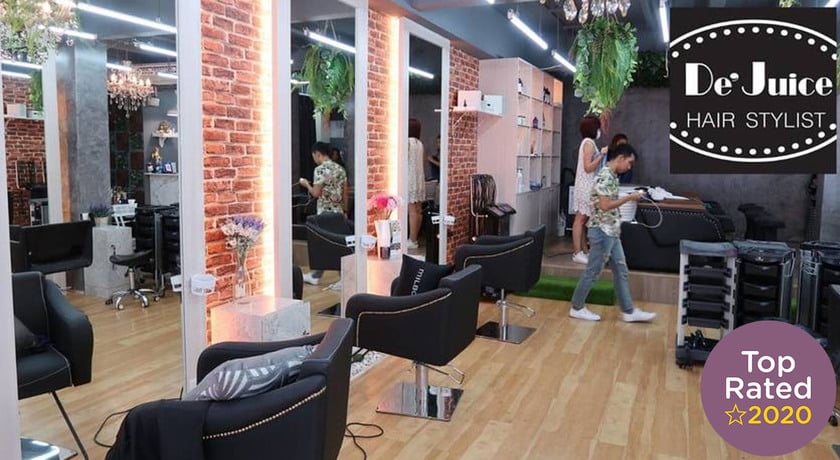 De Juice Hair Stylist
194 reviews
Clarins Skin Spa
54 reviews