Book Online at GoWabi - Let Mein Clinic
Let Mein Clinic
Cash, credit card
$$ (Based on Special Rates from our Partners)
THB
2135 On Nut, Suan Luang, Suang Luang, Bangkok 10250
พนักงานน่ารัก บริการดีมากค่ะ

- Bella

+1

ร้านดีมากค่า บริการดี ใส่ใจทำนุ่มนวลมาก ตั้งใจ

- Panita

+1

ดีเหมือนเดิมเลยค่ะ :)

- Panita
Let Mein Clinic is located in On Nut area with convenient parking. Can travel easily Whether driving by yourself or traveling by, BTS is comfortable and clean inside. Korean style decoration The place is private, all raw materials, equipment passed Thai FDA standards and international quality standards. Provided by professional doctors And beauty experts The standard of the procedure is guaranteed by a certificate from Korea.
Terms & Conditions:
• This voucher can be used within 2 months after purchase.
• All purchases and treatments cannot be amended.
• These vouchers cannot be used with other promotions.
• Show your voucher from email or GoWabi app for verification
• Appointment has to be booked in advance. The shop contact details will be available in your "GoWabi's Booking Confirmation email or My Booking page"
Body Treatments
It is an innovation that has been standardized from Switzerland. It is a method of removing excess fat with a negative cooling effect using technology. CRYOLIPOLYSIS By transmitting cold at the freezing level of -5 to -10 degrees down under the skin to the fat layer because in the human body fat cells do not tolerate frost, which has been studied by researchers found that when Experiments to cool the freezing level in living fat cells in less time.
บท็อกซ์
บท็อกซ์ is a type of protein used to reduce forehead wrinkles. The furrows between the eyebrows, crow's feet, authentic drug บท็อกซ์ imported from Korea Is a drug that has good results, the face is not hardened, wrinkles disappear, but the face remains natural Using to reduce wrinkles, when บท็อกซ์ is injected, it will loosen the muscles. Causing the wrinkles that are formed to disappear.
IV Therapy
Skin problems such as dullness, uneven skin It may be at the cellular level which needs to be restored. Nourish deep to the cell level effectively. With vitamins that are specially formulated of the clinical white, not shabby Korean version Intravenous injection of vitamins or fluids directly into the body is different from other forms of vitamin that require digestion, absorption, or screening.
Mesotherapy
Details are natural extracts containing multivitamins, minerals, enzymes, placenta and collagen, injected according to the location of the facial lymph nodes to restore at the cellular level. Detoxification occurs to eliminate toxins And dead cells that remain in the skin Stimulates the activity of collagen help the skin to be fine. Smooth, clear, not dry, pores tighten like a Korean girl, reduce acne, reduce excess oil on the face. Stimulate blood circulation Nourish the skin, improve the strength of the face.
Details are fat dissolving with real drugs imported from Korea. Dissolve only the areas that are excess fat such as cheeks, chin, wattle, arms, thighs, abdomen, waist, hips. No need for recovery. Without surgery And will be excreted in the form of sweat and urine Slender face Tighten the skin, a lot of cheeks, wattle and sag. Manage with Fat, fat dissolving.
Thread Lifting
Is a technique that helps to lift the sagging, unshaped of the face and adjust the face shape to look slimmer. Reduce the sagging of the face. lift, firm, and look young without surgery. This silk will bring about a tightening mechanism. Collagen is created to tighten the face in the end. Which will see results immediately after treatment.
Let Mein Clinic
2135 On Nut, Suan Luang, Suang Luang, Bangkok 10250
Mon 10:00 AM - 08:00 PM
Tue 10:00 AM - 08:00 PM
Wed 10:00 AM - 08:00 PM
Thu 10:00 AM - 08:00 PM
Fri 10:00 AM - 08:00 PM
Sat 10:00 AM - 08:00 PM
Sun 10:00 AM - 08:00 PM
REVIEWS (written by customers after their visit)

---
5.0
พนักงานน่ารัก บริการดีมากค่ะ
Bella
Bella
พนักงานน่ารัก บริการดีมากค่ะ
+1

Verified Reviews
Visited 16 Dec 2020
5.0
ร้านดีมากค่า บริการดี ใส่ใจทำนุ่มนวลมาก ตั้งใจทำทุกขึ้นตอนค่ะ เริ่มจากเช็ดทำความสพอาดผิวหน้า ลงครีมสครับนวดเบาๆ และเช็ดออก ลงครีมเพื่อดีดสิวเสี้ยนลดอับเสบสิว และลงครีมบำรุงนวดเบาๆและใช้เครื่องนวดวนๆ จนครบเวลาและก็ลงครีมบำรุงนวดต่ออีก ลงครีมกันแดด และก็จบโปรแกรมค่ะ ส่วนตัวเราว่าเราชอบนะคะ ทำเสร็จหน้าใสขึ้นค่ะ รู้สึกหน้าเคลียร์ขึ้น
Panita

Panita
ร้านดีมากค่า บริการดี ใส่ใจทำนุ่มนวลมาก ตั้งใจทำทุกขึ้นตอนค่ะ เริ่มจากเช็ดทำความสพอาดผิวหน้า ลงครีมสครับนวดเบาๆ และเช็ดออก ลงครีมเพื่อดีดสิวเสี้ยนลดอับเสบสิว และลงครีมบำรุงนวดเบาๆและใช้เครื่องนวดวนๆ จนครบเวลาและก็ลงครีมบำรุงนวดต่ออีก ลงครีมกันแดด และก็จบโปรแกรมค่ะ ส่วนตัวเราว่าเราชอบนะคะ ทำเสร็จหน้าใสขึ้นค่ะ รู้สึกหน้าเคลียร์ขึ้น
+1

Verified Reviews
Visited 09 Jan 2021
5.0
ดีเหมือนเดิมเลยค่ะ :)
Panita

Panita
ดีเหมือนเดิมเลยค่ะ :)

Verified Reviews
Visited 09 Jan 2021
3.0
จองคิวค่อนข้างยาก เป็นfatตัวที่ฉีดแล้วบวม
Nampetch

Nampetch
จองคิวค่อนข้างยาก เป็นfatตัวที่ฉีดแล้วบวม

Verified Reviews
Visited 28 Dec 2020
5.0
ดีทุกอย่างคะ มาทำครั้งที่สองแล้วคะ
Bella
Bella
ดีทุกอย่างคะ มาทำครั้งที่สองแล้วคะ

Verified Reviews
Visited 16 Dec 2020
5.0
Good Service and Good technicians
Champeral
Champeral
Good Service and Good technicians

Verified Reviews
Visited 13 Dec 2020
5.0
Good service and good technicians
Champeral
Champeral
Good service and good technicians

Verified Reviews
Visited 13 Dec 2020
2.75
พนง.ตื้อเสรอเปลี่ยนตัววิตามินโดนไป2,500ใจไม่แข็งต้องห้ามใจไว้ดีดีนะคะ หมอน่ารักค่ะ มือเบาไม่เจ็บเลย แต่ก็โอเคค่ะ แถมทรีทเม้นท์หน้า กลับมาสบายหน้ามาก
Aniszah
Aniszah
พนง.ตื้อเสรอเปลี่ยนตัววิตามินโดนไป2,500ใจไม่แข็งต้องห้ามใจไว้ดีดีนะคะ หมอน่ารักค่ะ มือเบาไม่เจ็บเลย แต่ก็โอเคค่ะ แถมทรีทเม้นท์หน้า กลับมาสบายหน้ามาก

Verified Reviews
Visited 07 Dec 2020
5.0
staff is great good service
Pam

Pam
staff is great good service

Verified Reviews
Visited 14 Nov 2020
4.0
พนักงานเป็นกันเอง ส่วนตัวก็ชอบไว้มีโอกาสจะไปใหม่ค่ะ
Milkii
Milkii
พนักงานเป็นกันเอง ส่วนตัวก็ชอบไว้มีโอกาสจะไปใหม่ค่ะ

Verified Reviews
Visited 14 Nov 2020
People Also Like
THE EMPRESSER
211 reviews
Mendel Clinic
1283 reviews
Viva Jiva Spa @ Lancaster Bangkok Hotel
347 reviews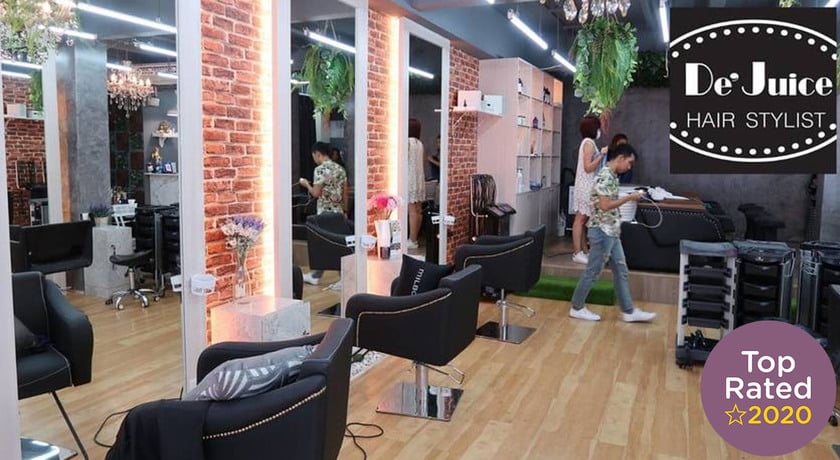 De Juice Hair Stylist
194 reviews
Clarins Skin Spa
54 reviews