Book Online at GoWabi - New Image Salon
New Image Salon
Cash, credit card
$$ (Based on Special Rates from our Partners)
THB
721 Ratchadaphisek Rd, Din Daeng, Din Daeng, Bangkok 10400
หมุดไม่ตรงนะคะ ร้านอยู่หลังบิ๊กซีรัชดาค่ะ หรือ

- พอใจ

ช่างใจเย็นมากค่า ร้านหายากนิดนึง ถ้าขับรถมา แน

- Joy

ช่างละเอียดมากค่ะ ใส่ใจดีเลย

- Am'may
The shop provides perm services, hair coloring, stretching, shampooing, consulting before receiving the service.
Terms & Conditions:
• This voucher can be used within 2 months after purchase.
• All purchases and treatments cannot be amended.
• These vouchers cannot be used with other promotions.
• Show your voucher from email or GoWabi app for verification
• Appointment has to be booked in advance. The shop contact details will be available in your "GoWabi's Booking Confirmation email or My Booking page"
Hair Coloring
It will help your hair look more dimensional and stand out.
Gray hair to look harmonious, which does not require dark dyeing.
Or add color to the root of the hair frequently
Helps add flair and enhance more beautiful to the hair
100% free of ammonia and parabens, does not irritate the skin
No pungent smell
Not itchy scalp  
No risk of chemical residues that may cause cancer
Our shop uses organic, non-toxic hair color products.
Contains pure oil from argan seeds, Jojoba oil, Aloe vera, protein, citric acid
Helps protect and nourish the hair while coloring.  Make hair shiny and durable fresh color is a permanent dye that will not peel off until my hair grows new
Hair bleaching adds beauty to the style for people who are bored of the same hair color in order to lighten the hair color, add personality to stand out until everyone has to look back
Hair Package
Nourishes the hair to be soft and beautiful
Hair design and cut According to the style that customers want
Hair Perm
The shop provides Cold perm.
Digital bending is bending using heat.
The result will be beautiful, even, natural curls and stay for a long time than cold bending can be beautiful in the style of your choice, whether it is Style C Curl Style S Curl or Style J Curl
Perm with an organic solution is an innovation of a special formula liquid that helps restructure the hair from the loss of keratin.
Organic perm will help maintain the natural hair conditions.
Add volume to the hair and still keep me healthy
Hair Straight
Keratin is one way to freeze your hair straight and add shine To the hair. It can also add texture to dry or damaged hair light, frizzy, and lack weight as well throughout the length of the hair. Keratin is also an important component of the hair.  
Not to be hurt again called for women who have a problem with excess hair loss.
Will heal and want me to come back to look healthy  Fluttering naturally beautiful
Organic stretch, the specialty is no chemicals that cause hair damage.
In all stretching and procedures are chemical-free.
So be assured that straight hair can be beautiful without being hurt and broke after stretching
Organic is also suitable for those who  Have problems with damaged hair, dry hair
Split ends and want to straighten to nourish the hair, must try it
Using a straightening technique for those with large, thick, curly hair.
Wavy will change you to have hair that is straight and soft.
It's natural, no need to waste time clamping or styling yourself every day.
Hair Treatment
Keratin is a protein that serves 90% of the major structural components of hair. It has a fish scale-like arrangement.  Acts to control substances that enter the hair cells. Because 
keratin in the hair is damaged, thus making the hair brittle, frizzy, and easily broken  
Keratin treatment therefore answers the question to those who have had hair loss problems clearly
Will help keep the scalp clean 
No chemical residue 
Helps to strengthen hair, reduce oiliness, reduce hair loss.
Soft hair More natural
Special restoration of damaged hair urgently for restoring good health, soft and shiny, add moistures, and add weight to the hair
New Image Salon
721 Ratchadaphisek Rd, Din Daeng, Din Daeng, Bangkok 10400
Mon 10:00 AM - 08:00 PM
Tue 10:00 AM - 08:00 PM
Wed 10:00 AM - 08:00 PM
Thu 10:00 AM - 08:00 PM
Fri 10:00 AM - 08:00 PM
Sat 10:00 AM - 08:00 PM
Sun 10:00 AM - 08:00 PM
REVIEWS (written by customers after their visit)

---
5.0
หมุดไม่ตรงนะคะ ร้านอยู่หลังบิ๊กซีรัชดาค่ะ หรือเข้ามาทางรัชดา ซ.7ก็ได้ค่ะ หน้าร้านมีที่จอดรถ ช่างทำออกมาสวยและดูธรรมชาติมากค่ะ ผมไม่เสียเลย ใ้ช้เวลาไม่นานด้วยค่ะ คุ้มเกินราคาค่ะ ช่างให้คำแนะนำได้ดีมาก เทคนิคทันสมัย ดูแล้วช่างมีประสบการณ์ค่ะ ร้านก็สะอาดดี พนักงานก็น่ารักเป็นกันเองค่ะ มีโอกาสจะกลับไปใช้บริการอีกแน่นอนค่ะ
พอใจ

พอใจ
หมุดไม่ตรงนะคะ ร้านอยู่หลังบิ๊กซีรัชดาค่ะ หรือเข้ามาทางรัชดา ซ.7ก็ได้ค่ะ หน้าร้านมีที่จอดรถ ช่างทำออกมาสวยและดูธรรมชาติมากค่ะ ผมไม่เสียเลย ใ้ช้เวลาไม่นานด้วยค่ะ คุ้มเกินราคาค่ะ ช่างให้คำแนะนำได้ดีมาก เทคนิคทันสมัย ดูแล้วช่างมีประสบการณ์ค่ะ ร้านก็สะอาดดี พนักงานก็น่ารักเป็นกันเองค่ะ มีโอกาสจะกลับไปใช้บริการอีกแน่นอนค่ะ

Verified Reviews
Visited 11 Jan 2021
5.0
ช่างใจเย็นมากค่า ร้านหายากนิดนึง ถ้าขับรถมา แนะนำให้โทรหาร้านก่อนนะค้า
Joy

Joy
ช่างใจเย็นมากค่า ร้านหายากนิดนึง ถ้าขับรถมา แนะนำให้โทรหาร้านก่อนนะค้า

Verified Reviews
Visited 05 Jan 2021
5.0
ช่างละเอียดมากค่ะ ใส่ใจดีเลย
Am'may
Am'may
ช่างละเอียดมากค่ะ ใส่ใจดีเลย

Verified Reviews
Visited 29 Dec 2020
5.0
พนักงานน่ารัก บริการดี แนะนำดี มือเบาค่ะ
Panatda

Panatda
พนักงานน่ารัก บริการดี แนะนำดี มือเบาค่ะ

Verified Reviews
Visited 20 Dec 2020
People Also Like
THE EMPRESSER
211 reviews
Mendel Clinic
1282 reviews
Viva Jiva Spa @ Lancaster Bangkok Hotel
347 reviews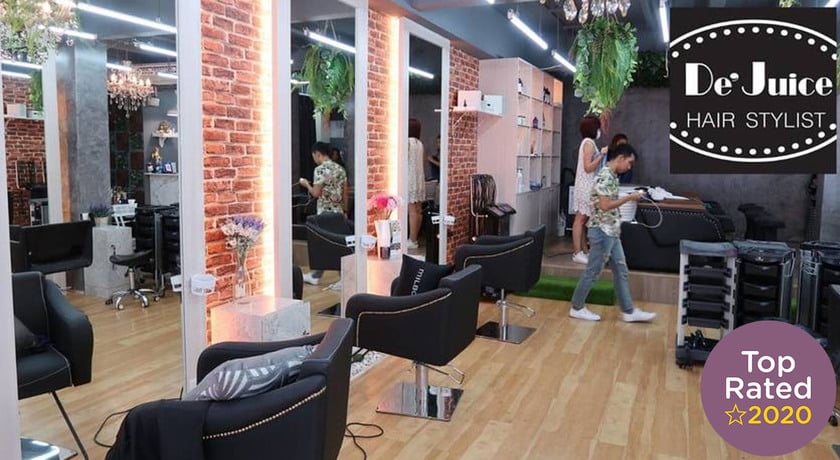 De Juice Hair Stylist
194 reviews
Clarins Skin Spa
54 reviews