Book Online at GoWabi - PIJI Nail Bar
PIJI Nail Bar
Cash, credit card
$$ (Based on Special Rates from our Partners)
THB
23 Saladaeng Rd, Khwaeng Silom, Bang Rak, Bangkok 10500
น้องเจ้าของร้านทำสวยและตั้งใจมากๆ เลยค่ะ มาหลา

- Arya

+2

ร้านสะอาด อุปกรณ์สะอาดด ติดที่เก้าอี้นั่งนานจะ

- Sudarat

+1

เรื่องทำเล็บ - งานละเอียดมากค่ะ ตัดหนังเรียบร้

- Chayanid

+1
Piji Nail Bar is the coolest hidden nail bar in town. We provide various type of nail designs. Just 3 minutes walk from BTS Saladaeng or MRT Silom.
Nail Arts
Unlimited gel colors and all nail designs
not include nail removal and nail extensions
You can choose 4 plain colors and 4 painted designs. Shop use High-quality products from China and Free cut and shape nails.
*Not including Gel nails removal.
Nail Packages
The Shop Provieds Manicure service and Gel Hands (Unlimited Colors) Not include glitter.
- Apply skin cream to make the cuticle soft and cut off easily
- Cut leather trim on the fingers
PIJI Nail Bar
23 Saladaeng Rd, Khwaeng Silom, Bang Rak, Bangkok 10500
Mon 11:00 AM - 09:00 PM
Tue 11:00 AM - 09:00 PM
Wed 11:00 AM - 09:00 PM
Thu 11:00 AM - 09:00 PM
Fri 11:00 AM - 09:00 PM
Sat 10:00 AM - 08:00 PM
Sun 10:00 AM - 08:00 PM
REVIEWS (written by customers after their visit)

---
5.0
น้องเจ้าของร้านทำสวยและตั้งใจมากๆ เลยค่ะ มาหลายรอบแล้ว คราวที่แล้วทำสีเจลและ nail art ไป อยู่ทนได้เดือนครึ่ง จนทุกคนถามว่าทำร้านไหน ไว้มาอีกแน่นอนค่ะ
Arya

Arya
น้องเจ้าของร้านทำสวยและตั้งใจมากๆ เลยค่ะ มาหลายรอบแล้ว คราวที่แล้วทำสีเจลและ nail art ไป อยู่ทนได้เดือนครึ่ง จนทุกคนถามว่าทำร้านไหน ไว้มาอีกแน่นอนค่ะ
+2

Verified Reviews
Visited 11 Jan 2021
5.0
ร้านสะอาด อุปกรณ์สะอาดด ติดที่เก้าอี้นั่งนานจะเมื่อยไปหน่อย แต่โดยรวมชอบมากค่ะ จะกลับมาซ้ำอีกแน่นอน💖
Sudarat

Sudarat
ร้านสะอาด อุปกรณ์สะอาดด ติดที่เก้าอี้นั่งนานจะเมื่อยไปหน่อย แต่โดยรวมชอบมากค่ะ จะกลับมาซ้ำอีกแน่นอน💖
+1

Verified Reviews
Visited 20 Dec 2020
5.0
เรื่องทำเล็บ - งานละเอียดมากค่ะ ตัดหนังเรียบร้อย / ตอนทากลิตเตอร์ พนง.จัดกลิตเตอร์ให้กระจายทั่วๆ ด้วยค่ะ ไม่ได้ทาเฉยๆ ร้าน - ค่อนข้างเล็ก แต่บรรยากาศดี ร้านตกแต่งน่ารักมาก พนักงาน - บริการดีมากๆๆๆๆๆๆๆๆๆ คือเราเดินมาร้านแล้วระหว่างทางแดดแรงมาก ตอนทำเล็บอยู่ ก็รู้สึกจะเป็นลม พนง.ก็ช่วยเหลือเต็มที่ ไปสั่งน้ำหวานให้ เอายาดมให้ ขอบคุณมากค่ะ TT คราวหน้าจะนั่งวินไปแทนแล้วค่ะ แนะนำว่าถ้าแดดแรงนั่งวินเถอะค่ะ ไปใช้บริการอีกแน่นอนค่ะ🥺
Chayanid
Chayanid
เรื่องทำเล็บ - งานละเอียดมากค่ะ ตัดหนังเรียบร้อย / ตอนทากลิตเตอร์ พนง.จัดกลิตเตอร์ให้กระจายทั่วๆ ด้วยค่ะ ไม่ได้ทาเฉยๆ ร้าน - ค่อนข้างเล็ก แต่บรรยากาศดี ร้านตกแต่งน่ารักมาก พนักงาน - บริการดีมากๆๆๆๆๆๆๆๆๆ คือเราเดินมาร้านแล้วระหว่างทางแดดแรงมาก ตอนทำเล็บอยู่ ก็รู้สึกจะเป็นลม พนง.ก็ช่วยเหลือเต็มที่ ไปสั่งน้ำหวานให้ เอายาดมให้ ขอบคุณมากค่ะ TT คราวหน้าจะนั่งวินไปแทนแล้วค่ะ แนะนำว่าถ้าแดดแรงนั่งวินเถอะค่ะ ไปใช้บริการอีกแน่นอนค่ะ🥺
+1

Verified Reviews
Visited 27 Dec 2020
5.0
ร้านเล็กหน่อย แต่พนง.ใส่ใจค่ะ
Nuanpak
Nuanpak
ร้านเล็กหน่อย แต่พนง.ใส่ใจค่ะ
+1

Verified Reviews
Visited 25 Aug 2020
5.0
ร้านนาารัก กระทัดรัด บริการดีค่ะ
Nuanpak
Nuanpak
ร้านนาารัก กระทัดรัด บริการดีค่ะ
+1

Verified Reviews
Visited 25 Aug 2020
5.0
Best place to get manicure in Silom area
Pattheera
Pattheera
Best place to get manicure in Silom area
+1

Verified Reviews
Visited 04 Jan 2021
5.0
ทำดี สวยและตั้งใจทำมากค่ะ คุ้มค่ามากๆ
Terds
Terds
ทำดี สวยและตั้งใจทำมากค่ะ คุ้มค่ามากๆ
+1

Verified Reviews
Visited 16 Oct 2020
5.0
บรรยากาศดี เพลงเพราะ งานละเอียดค่ะ
Jirapa

Jirapa
บรรยากาศดี เพลงเพราะ งานละเอียดค่ะ

Verified Reviews
Visited 17 Jan 2021
5.0
พนักงานที่ชื่อพี่น้ำผึ้งตั้งใจทำมากๆๆๆค่ะ สวยสุดๆ
Arya

Arya
พนักงานที่ชื่อพี่น้ำผึ้งตั้งใจทำมากๆๆๆค่ะ สวยสุดๆ

Verified Reviews
Visited 11 Jan 2021
5.0
ร้านเล็กๆน่ารัก ช่างตั้งใจทำมากค่ะ เพ้นสวยมาก
Phagamas
Phagamas
ร้านเล็กๆน่ารัก ช่างตั้งใจทำมากค่ะ เพ้นสวยมาก

Verified Reviews
Visited 30 Dec 2020
People Also Like
THE EMPRESSER
197 reviews
Mendel Clinic
1247 reviews
Viva Jiva Spa @ Lancaster Bangkok Hotel
347 reviews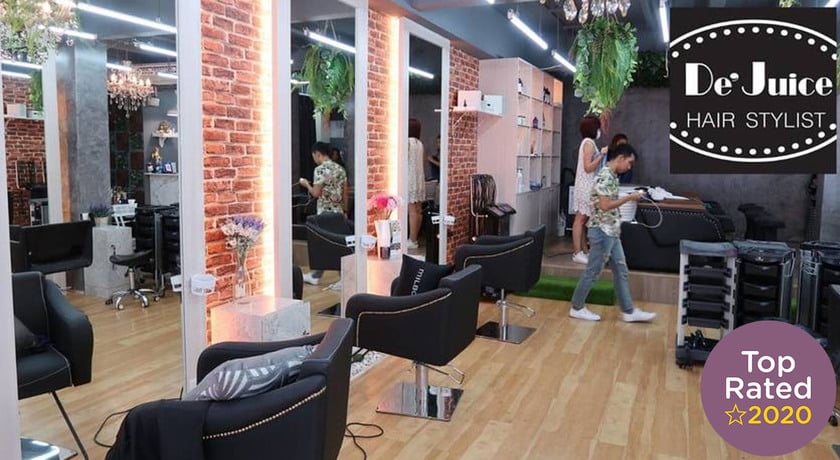 De Juice Hair Stylist
194 reviews
Clarins Skin Spa
54 reviews