Book Online at GoWabi - The Arch Dental
The Arch Dental
Cash, credit card
$$ (Based on Special Rates from our Partners)
THB
2Fl., Suite N-7, Jasmine City Building,, Sukhumvit 23, Klongtoey-nua, Wattana, Bangkok 10110
Easy acyfeom BTS adolescences. Starting from t

- Max Hideki

+1

Amazing service and very informative with good

- Nathaniel

บริการดีมากครับ retainer มีคุณภาพสูง สามารถชำร

- Ake
Terms & Conditions:
• This voucher can be used within 4 month after purchase.
• All purchases and treatments cannot be amended.
• These vouchers cannot be used with other promotions.
• Show your voucher from email or GoWabi app for verification
• Appointment has to be booked in advance. The shop contact details will be available in your "GoWabi's Booking Confirmation email or My Booking page"
Laser teeth whitenning in case of have tartar recommend for scaling (800 baht) before to make liquid get into tooth surface effiency. Teeth whitening divided for 2 round 20 minutes per round. The result depend on individual.
Dental Package
Scaling & Fluoride Treatment for 2 persons *In case of have more tartar may have additional charge around 500 baht
Retainers
Wire retainer 1 pair ( top or bottom ) *This promotion including mouth print but excluding sterilite medical equipments for 60 baht

The Arch Dental
2Fl., Suite N-7, Jasmine City Building,, Sukhumvit 23, Klongtoey-nua, Wattana, Bangkok 10110
Mon 10:00 AM - 08:00 PM
Tue 10:00 AM - 08:00 PM
Wed 10:00 AM - 08:00 PM
Thu 10:00 AM - 08:00 PM
Fri 10:00 AM - 08:00 PM
Sat 10:00 AM - 05:00 PM
Sun 10:00 AM - 05:00 PM
REVIEWS (written by customers after their visit)

---
5.0
Easy acyfeom BTS adolescences
Max Hideki

Max Hideki
Easy acyfeom BTS adolescences. Starting from the courtesy call one day before the appointment day to finishing the treatment, the whole team was kind and their service was seamless. The whitening did not cause any pain, too which shows the level of the doctor and I am very happy with the results.will come back for other treatments.
+1

Verified Reviews
Visited 27 Jan 2020
5.0
Amazing service and very informative with good recommendations on how to keep my teeth healthy
Nathaniel

Nathaniel
Amazing service and very informative with good recommendations on how to keep my teeth healthy. I would return back

Verified Reviews
Visited 20 Jan 2021
5.0
บริการดีมากครับ retainer มีคุณภาพสูง สามารถชำระเงินเพิ่ม 500 บาทเพื่อรับแบบด่วนได้เลยครับ
Ake
Ake
บริการดีมากครับ retainer มีคุณภาพสูง สามารถชำระเงินเพิ่ม 500 บาทเพื่อรับแบบด่วนได้เลยครับ

Verified Reviews
Visited 28 Nov 2020
5.0
ราคาไม่แพง ใช้เวลารอประมาน 3วันก็ได้แล้วค่า
Mind
Mind
ราคาไม่แพง ใช้เวลารอประมาน 3วันก็ได้แล้วค่า

Verified Reviews
Visited 26 Nov 2020
5.0
คลินิกสะอาด คุณหมออธิบายให้ฟังทุกขั้นตอน รู้สึกไม่ค่อยเจ็บด้วยค่ะเวลาทำ
Mind
Mind
คลินิกสะอาด คุณหมออธิบายให้ฟังทุกขั้นตอน รู้สึกไม่ค่อยเจ็บด้วยค่ะเวลาทำ

Verified Reviews
Visited 26 Nov 2020
5.0
ก่อนทำคุณหมอจะให้ดูสีฟันของเราก่อน พอทำเสร็จฟันขาวขึ้นมาประมาณ 4-5 เฉด ถือว่าโอเครค่ะ ตอนทำมีเจ็บๆตรงที่ใส่ปิดเหงือกนิดหน่อย หลังจากทำแล้วตัวเราไม่รู้สึกว่าเสียวฟันนะ ใช้เวลาทำประมาณ1ชั่วโมง เร็วและสะดวกกว่ามาทำเองที่บ้าน
Bow
Bow
ก่อนทำคุณหมอจะให้ดูสีฟันของเราก่อน พอทำเสร็จฟันขาวขึ้นมาประมาณ 4-5 เฉด ถือว่าโอเครค่ะ ตอนทำมีเจ็บๆตรงที่ใส่ปิดเหงือกนิดหน่อย หลังจากทำแล้วตัวเราไม่รู้สึกว่าเสียวฟันนะ ใช้เวลาทำประมาณ1ชั่วโมง เร็วและสะดวกกว่ามาทำเองที่บ้าน

Verified Reviews
Visited 13 Oct 2020
5.0
very clean and professional
Panida

Panida
very clean and professional

Verified Reviews
Visited 07 Oct 2020
5.0
ดีมาก ทุกอย่างดี ราคาไม่แพง
Siam Cameron
Siam Cameron
ดีมาก ทุกอย่างดี ราคาไม่แพง

Verified Reviews
Visited 21 Aug 2020
5.0
best staff and very clean
Younghwan

Younghwan
best staff and very clean

Verified Reviews
Visited 05 Aug 2020
5.0
They charged sanitize fee
Okihito

Okihito
They charged sanitize fee

Verified Reviews
Visited 05 May 2020
People Also Like
THE EMPRESSER
231 reviews
Mendel Clinic
1414 reviews
Viva Jiva Spa @ Lancaster Bangkok Hotel
353 reviews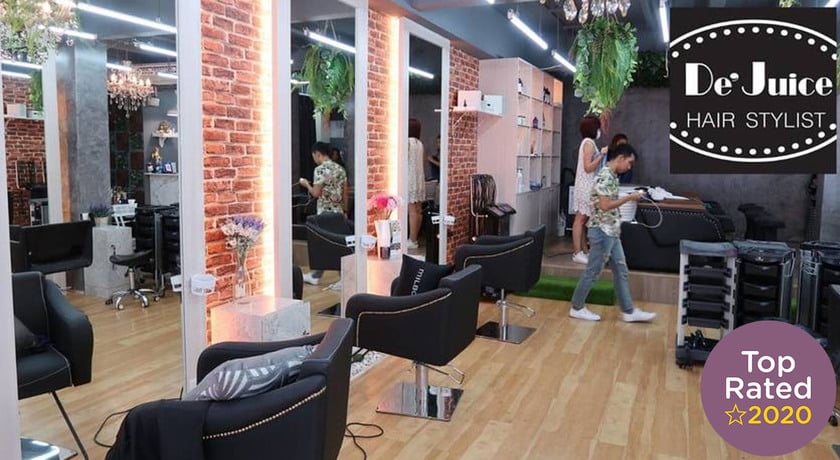 De Juice Hair Stylist
194 reviews
Clarins Skin Spa
54 reviews