Book Online at GoWabi - TRIA Medical Wellness Center
TRIA Medical Wellness Center
Cash, credit card
$$ (Based on Special Rates from our Partners)
THB
TRIA Medical Wellness Center 998 Rimklongsamsan (Rama9) Road. Bangkapi, Huay Kwang, Bangkok, Thailand 10310
Great place , but some function is close

- Jatupon

เงียบสงบ สถานที่สะอาด มีความเป็นส่วนตัว สระและ

- Pirati

ดีค่า เเต่ส่วนตัวไม่ค่อยชอบ เก่าเเละเหม็น

- Kamornwan
TRIA MEDICAL WELLNESS CENTER
The Luxury Health & Beauty Center in Bangkok
TRIA takes an integrated approach to health and wellness, in an urban spa retreat environment. It is also one of the world's
leading Integrative Medicine facilities where medical doctors, nutritionists, chiropractors, acupuncturists and other specialists combine
techniques from eastern and western medicine in a holistic approach to a healthier lifestyle.
TRIA mission is to help guests optimize their health and well-being by embracing wellness as a lifestyle. A comprehensive
approach to attaining a balanced and fulfilling life by optimizing one's health potential, reducing risks and making wise lifestyle choices.
TRIA targets people in a modern living aged 26 – 60 who embrace wellness as a positive lifestyle choice and some of those
who start to feel the effects of unhealthy living and age.
TRIA's philosophy believes that true wellness lies in the harmony of three essential health components : Cell, Body, and Mind
states. For this reasons, TRIA provides the following services to span the three components of your wellness.


Terms & Conditions:
• This voucher can be used within 2 month after purchase.
• All purchases and treatments cannot be amended.
• These vouchers cannot be used with other promotions.
• Show your voucher from email or GoWabi app for verification
• Appointment has to be booked in advance. The shop contact details will be available in your "GoWabi's Booking Confirmation email or My Booking page"
Body Massage
Massage program for pregnant mothers directly by specialists The mother must have a normal pregnancy condition. And the gestational age from 4 months to 8 months has never had a history of miscarriage. There is no recurring disease at risk of miscarriage. (Bring a medical certificate Certify normal pregnancy conditions to submit)
Massage program for pregnant mothers directly by specialists The mother must have a normal pregnancy condition. And the gestational age from 4 months to 8 months has never had a history of miscarriage. There is no recurring disease at risk of miscarriage. (Bring a medical certificate Certify normal pregnancy conditions to submit)
Deep Tissue Massage
You can relax in a premium spa atmosphere at an affordable price. In the atmosphere of privacy A single massage room offers unlimited access to the hot spring for one day (japanese onsen relax with two onsen baths at 36 degrees and 39 degrees for you to relax). Body and mind With separate privacy zones for men and women clearly and can use the Swiss shower / infrared sauna / steam room for free)
You can relax in a premium spa atmosphere at an affordable price. In the atmosphere of privacy A single massage room offers unlimited access to the hot spring for one day (japanese onsen relax with two onsen baths at 36 degrees and 39 degrees for you to relax). Body and mind With separate privacy zones for men and women clearly and can use the Swiss shower / infrared sauna / steam room for free)
Thai Traditional Massage
You can relax in a premium spa atmosphere at an affordable price. In the atmosphere of privacy A single massage room offers unlimited access to the hot spring for one day (japanese onsen relax with two onsen baths at 36 degrees and 39 degrees for you to relax). Body and mind With separate privacy zones for men and women clearly and can use the Swiss shower / infrared sauna / steam room for free)
TRIA Medical Wellness Center
TRIA Medical Wellness Center 998 Rimklongsamsan (Rama9) Road. Bangkapi, Huay Kwang, Bangkok, Thailand 10310
Mon 06:00 AM - 08:00 PM
Tue 06:00 AM - 08:00 PM
Wed 06:00 AM - 08:00 PM
Thu 06:00 AM - 08:00 PM
Fri 06:00 AM - 08:00 PM
Sat 07:00 AM - 08:00 PM
Sun 07:00 AM - 08:00 PM
REVIEWS (written by customers after their visit)

---
3.0
Great place , but some function is close
Jatupon

Jatupon
Great place , but some function is close

Verified Reviews
Visited 05 Dec 2020
5.0
เงียบสงบ สถานที่สะอาด มีความเป็นส่วนตัว สระและออนเซนใหญ่ๆ2บ่อ
Pirati
Pirati
เงียบสงบ สถานที่สะอาด มีความเป็นส่วนตัว สระและออนเซนใหญ่ๆ2บ่อ

Verified Reviews
Visited 12 Nov 2020
5.0
ดีค่า เเต่ส่วนตัวไม่ค่อยชอบ เก่าเเละเหม็น
Kamornwan
Kamornwan
ดีค่า เเต่ส่วนตัวไม่ค่อยชอบ เก่าเเละเหม็น

Verified Reviews
Visited 09 Nov 2020
5.0
บรรยากาศดีมากๆ เป็นส่วนตัว มีสัดส่วนแบ่งพื้นที่ชัดเจน สงบ เหมาะกับการผ่อนคลายจากความเครียดสุดๆจริงๆ บ่อออนเซนมี 1 บ่อ ที่ 39องศา และมีบ่อน้ำอุ่นให้ปรับตัว 36 องศา ซึ่งแช่ได้เรื่อยๆ บริหารร่างกายในน้ำก็ได้ ชอบในความใส่ใจและละเอียดของการออกแบบพื้นที่และแสงมาก เพราะมีผลต่ออารมณ์ พนักงานน่ารัก นวดได้ดี จบท้ายมีขนมสุขภาพธัญพืชพร้อมชามะตูม สรุปคือชอบมากค่ะ
May

May
บรรยากาศดีมากๆ เป็นส่วนตัว มีสัดส่วนแบ่งพื้นที่ชัดเจน สงบ เหมาะกับการผ่อนคลายจากความเครียดสุดๆจริงๆ บ่อออนเซนมี 1 บ่อ ที่ 39องศา และมีบ่อน้ำอุ่นให้ปรับตัว 36 องศา ซึ่งแช่ได้เรื่อยๆ บริหารร่างกายในน้ำก็ได้ ชอบในความใส่ใจและละเอียดของการออกแบบพื้นที่และแสงมาก เพราะมีผลต่ออารมณ์ พนักงานน่ารัก นวดได้ดี จบท้ายมีขนมสุขภาพธัญพืชพร้อมชามะตูม สรุปคือชอบมากค่ะ

Verified Reviews
Visited 08 Nov 2020
5.0
บริการดีมาก สะอาด ดูหรูหรา คนไม่เยอะ มีพื้นที่กว้างใหญ่ คนชอบเงียบๆที่นี้เหมาะมากเลย
วศิน
วศิน
บริการดีมาก สะอาด ดูหรูหรา คนไม่เยอะ มีพื้นที่กว้างใหญ่ คนชอบเงียบๆที่นี้เหมาะมากเลย

Verified Reviews
Visited 06 Nov 2020
5.0
สถานที่สวย สะอาด พนักงานบริการดี ที่จอดรถเยอะ
Naruepak
Naruepak
สถานที่สวย สะอาด พนักงานบริการดี ที่จอดรถเยอะ

Verified Reviews
Visited 31 Oct 2020
5.0
บรรยากาศดี สถานที่สวยงาม แต่วันนั้นที่ไปแช่น้ำ น้ำขุ่นดูสกปรก แล้วหลังจากที่แช่ก็รู้สึกว่าตัวมันเมือกๆเหมือนมีอะไรเคลือบตัวก็ไม่รู้ ทำให้รู้สึกว่าน้ำไม่สะอาดอย่างแรง
Yhu Yhi
Yhu Yhi
บรรยากาศดี สถานที่สวยงาม แต่วันนั้นที่ไปแช่น้ำ น้ำขุ่นดูสกปรก แล้วหลังจากที่แช่ก็รู้สึกว่าตัวมันเมือกๆเหมือนมีอะไรเคลือบตัวก็ไม่รู้ ทำให้รู้สึกว่าน้ำไม่สะอาดอย่างแรง

Verified Reviews
Visited 30 Oct 2020
3.0
Staff do not introduce to me anything
Chien Ku
Chien Ku
Staff do not introduce to me anything

Verified Reviews
Visited 23 Oct 2020
5.0
บรรยากาศดี และหมอนวดนวดดีค่ะ
Yhu Yhi
Yhu Yhi
บรรยากาศดี และหมอนวดนวดดีค่ะ

Verified Reviews
Visited 30 Oct 2020
4.0
It was good experience
Payal
Payal
It was good experience

Verified Reviews
Visited 20 Sep 2020
People Also Like
THE EMPRESSER
228 reviews
Mendel Clinic
1392 reviews
Viva Jiva Spa @ Lancaster Bangkok Hotel
347 reviews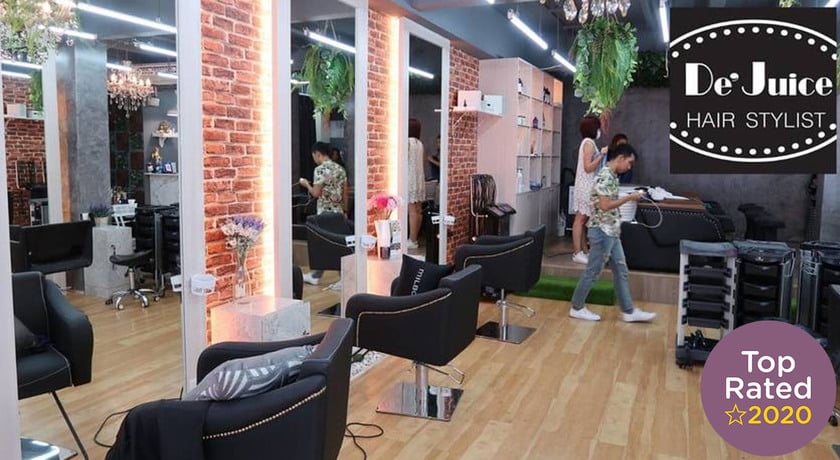 De Juice Hair Stylist
194 reviews
Clarins Skin Spa
54 reviews