在GoWabi网上预订 - National Hair Institute (The Sense Pinklao Branch)
National Hair Institute (The Sense Pinklao Branch)
Cash, credit card
$$ (Based on Special Rates from our Partners)
THB
The Sense, 71/50 BOROMMARATCHACHONNANI RD. ARUN AMMARIN , BANGKOK NOI BANGKOK 10700
คุ้มราคา เย็นสบายศีรษะ แม้จะทำได้แค่ครั้งเดียว

- กัญญา

+1

คุ้มราคา เย็นสบายศีรษะ แม้จะทำได้แค่ครั้งเดียว

- กัญญา

+1

การให้คำปรึกษาและการบริการดี พนักงานยิ้มแย้มแจ

- กัญญา

+1
National Hair Institute The Sense Pinklao Branch, the shop provides new innovation of hair care using natural extracts, no side effects. National Hair Institute combines the science of Western and Eastern ways. Make your hair strong, caring from the inside out
美发套餐
In this promotion treatment, the customer can receive 100 ml shampoo for free. The customer has to select only 1 treatment program in the following.
•The Revolutionary Anti Hair Loss Treatment
Owing to modern science, plant stem cells can reduce the degeneration of hair follicle cells, and enhance the period of hair follicles. This will reduce hair loss.
•Energizer For Hair Growth Treatment
As high innovation brings various kinds of Herbal Extract from the best source, which maintains the freshness and concentration. The treatment will deeply absorb into the hair follicles. For this reason, it will stimulate blood circulation, and reduce hair loss that caused by bacteria and pollution as well as restoring small hair to be stronger.
•Pantothenic Hair Growth Therapy Treatment
This vitamins that have the properties of Water Soluble Vitamins, which are significant substances for various processes in the body. This substance has the property to prevent premature graying, and reduce hair loss. Besides, this helps to reduce acne on the scalp, and the size of pores as well.
•Centella Follicular Active Program Treatment
As Centella Asiatica extract helps to reduce inflammation of the hair follicle. This helps accelerate the absorption of purifying treatment, and prevents hair loss from stress, dandruff, itchy scalp or sensitive skin. For this reason, it will return your hair to be healthy condition.
•Tricho Factor Program Treatment
This is special developed programs, which it extends the life and nourishes growth of the origin hair cells. Your hair will not easily fall, and also recover the number of hair.
National Hair Institute (The Sense Pinklao Branch)
The Sense, 71/50 BOROMMARATCHACHONNANI RD. ARUN AMMARIN , BANGKOK NOI BANGKOK 10700
Mon 11:00 AM - 09:00 PM
Tue 11:00 AM - 09:00 PM
Wed 11:00 AM - 09:00 PM
Thu 11:00 AM - 09:00 PM
Fri 11:00 AM - 09:00 PM
Sat 11:00 AM - 09:00 PM
Sun 11:00 AM - 09:00 PM
评价 (访问后客户意见)

---
5.0
สปาดีผมนุ่มมีน้ำหนักเป็นส่วนตัว
Tangkwa
Tangkwa
สปาดีผมนุ่มมีน้ำหนักเป็นส่วนตัว

验证评论
已访问 26 Feb 2020
3.0
ไม่รู้​สึกอะไรกับเส้นผมนะ หรือศรีสะ ก็เหมือน​ได้สระผม ละก็เป่า
Ubonkarn
Ubonkarn
ไม่รู้​สึกอะไรกับเส้นผมนะ หรือศรีสะ ก็เหมือน​ได้สระผม ละก็เป่า

验证评论
已访问 18 Feb 2020
5.0
พี่พนักงานบริการดี มีห้องให้ระหว่างรอ เป็นส่วนตัวดีค่ะ
วริษา
วริษา
พี่พนักงานบริการดี มีห้องให้ระหว่างรอ เป็นส่วนตัวดีค่ะ

验证评论
已访问 18 Feb 2020
5.0
บริการดี สบายมากจริงๆ ได้โปรราคาถูกมา คุ้มมากๆค่ะ
Numomay Zii
Numomay Zii
บริการดี สบายมากจริงๆ ได้โปรราคาถูกมา คุ้มมากๆค่ะ

验证评论
已访问 11 Feb 2020
4.0
ให้บริการดี และคำแนะนำดีค่ะ
กรชนก

กรชนก
ให้บริการดี และคำแนะนำดีค่ะ

验证评论
已访问 18 Jan 2020
5.0
พนักงานบริการดีมากค่ะ ทรีทเมนท์หลายขั้นตอน คุ้มค่าค่ะ
ณัฏฐา

ณัฏฐา
พนักงานบริการดีมากค่ะ ทรีทเมนท์หลายขั้นตอน คุ้มค่าค่ะ

验证评论
已访问 11 Jan 2020
4.0
เห็นผลตั้งแต่ครั้งแรกที่ทดลอง แต่ราคาคอร์สแพงมาก ราคาแชมพูก็แรง พี่ที่ดูจะเป็นเจ้าของขายของฮาร์ดเซลมาก เตรียมใจไว้เลย
Nahm
Nahm
เห็นผลตั้งแต่ครั้งแรกที่ทดลอง แต่ราคาคอร์สแพงมาก ราคาแชมพูก็แรง พี่ที่ดูจะเป็นเจ้าของขายของฮาร์ดเซลมาก เตรียมใจไว้เลย

验证评论
已访问 02 Jan 2020
5.0
แนะนำดีมากค่ะ สนใจอยากทำต่อ แต่อยู่ค่อนข้างไกลค่ะ
Pang
Pang
แนะนำดีมากค่ะ สนใจอยากทำต่อ แต่อยู่ค่อนข้างไกลค่ะ

验证评论
已访问 02 Jan 2020
5.0
รู้สึกผมสะอาดดี พนักงานบริการดีมาก
Nitcha
Nitcha
รู้สึกผมสะอาดดี พนักงานบริการดีมาก

验证评论
已访问 17 Dec 2019
5.0
ดีค่ะ บริการได้อยู่นะคะ
Mmay
Mmay
ดีค่ะ บริการได้อยู่นะคะ

验证评论
已访问 16 Dec 2019
People Also Like
GoWabi Gift Card
6 评论
ISS Aesthetic & Wellness
278 评论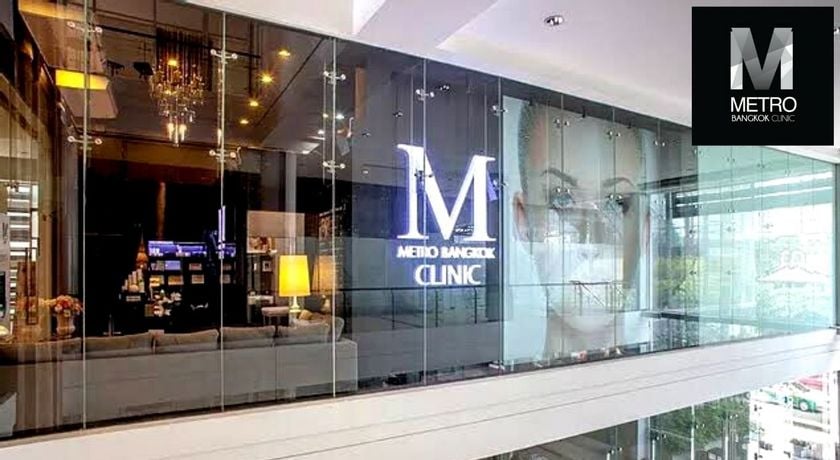 Metro Bangkok Clinic
309 评论