在GoWabi网上预订 - PhiBrows by Konnok Academy
PhiBrows by Konnok Academy
Cash, credit card
$$ (Based on Special Rates from our Partners)
THB
La Vie En Rose Place Condo (Building B,7 floor) Sukhumvit 36 ,Khlong Tan, Khlong Toei, Bangkok 10110
สถานที่สะอาดและบรรยากาศดีมากค่ะ ขนตานิ่ม กาสดี

- Pimpun

+2

ร้านสะอาด ต่อขนตาสวยถูกใจ สถานที่แบบ private ม

- Oh

+2

ดีงาม ขนตาเบาสวย เต็ม10 😘💕💕💕💕

- Charlotte

+2
PhiBrows by Konnok Academy We are artists who are more than eyelash technicians. We design lash styles especially & uniquely for each of our customers. We meet our customers' needs with services provided by our eyelash professional artists, from many certified beauty academies around the world. All of the tools are imported and highly-selected
Location : Nearby BTS thonglor La Vie En Rose Place Condo (Building B,7 floor)
Terms & Conditions:
• This voucher can be used within 2 months after purchase.
• All purchases and treatments cannot be amended.
• These vouchers cannot be used with other promotions.
• Show your voucher from email or GoWabi app for verification
• Appointment has to be booked in advance. The shop contact details will be available in your "GoWabi's Booking Confirmation email or My Booking page"
• In case of non-arrival without prior notification, the shop reserves the right of full charges.
• In case of postponement, please notify at least 24 hours in advance. Otherwise, the shop reserves the right to cancel the appointment without prior notification.
Is very popular, suitable for girls who like natural But not natural, there will be lighter, more natural, thicker, more voluminous eyelashes, use European lashes, black shadow, soft, light, very comfortable, curl C / CC / D / M / L / LU type F. Russia and Russia
Thickness 0.05 mm
Length 7-15 depending on customer preferences and designs.
Free Eyebrow Waxing and Pink Lip Mask
*This promotion excluding eyelash removal. 
One on one eyelash extension, using unlimit strands to createnatural look with personlized design to suit with each person eyeshape to look natural and effortless
This style will help you complete many different looks such as no-make up lookUsing high quality black silk extensionsCurls C and DThickness 0.10-0.15 mmLengths 8-12 mm
Free Eyebrow Waxing and Pink Lip Mask
*This promotion excluding eyelash removal. 
Hybrid wet look lashes per volume with Unlimited Strands 
For girls who like frizz But do not want to be very thick And help increase the volume Or those with little lashes that will help make them look full But not too thick or too little It is our technique that enhances the eyes look sweet, hidden, sour every day. European eyelashes, black hair, soft and light
Curl C / CC / D / M / L / L + / B / DD
Thickness 0.05 / 0.07
Length 7-16 mm, depending on your preferences, can be selected as appropriate.
Free Eyebrow Waxing and Pink Lip Mask
*This promotion excluding eyelash removal. 
特殊服务
Suitable for women who like natural, long-lasting, people with short, straight lashes, down or long, add curl all the time. Free dyeing of upper and lower eyelashes with products from Australia.
唇部&眼部
The technique of embedding lip color to look bright and youthful. Will help change the color of the lips that are dark The color is uneven, fading to look bright and colorful. The result of the color will look like a natural lip color. Like healthy lips Laced with blood, full of water and just a touch of lip balm, it will instantly look plump.
纹眉
Microblading Eyebrow Technique It is the most realistic eyebrow tattoo It is a tattoo by tattooing one eyebrow at a time to blend with the real eyebrows and look like the real eyebrows Make the eyebrows look naturally beautiful. And will help correct the imperfections of the eyebrows such as filling in the eyebrows that are cleft, thin, lacking or incomplete eyebrows Unbalanced eyebrow shape To fill in a beautiful shape And good physiognomy Individual
After the tattoo will be beautiful immediately. There may be swelling from the anesthetic.
Can hit water Just avoiding the carving of the eyebrows
Day 2-4, the color will be somewhat darker before the scab. Began to apply the cream received Eyebrows will begin to shrink. And begin to scab completely within 1 week
After peeling, the paint will not fully rise. Will look faded, do not panic
Within 4-8 weeks, the colors will begin to achieve beautiful colors. And the tattooed lines will look harmonious and natural
Free Eyebrow Waxing and Pink Lip Mask
评价 (访问后客户意见)

---
5.0
สถานที่สะอาดและบรรยากาศดีมากค่ะ ขนตานิ่ม กาสดีมากค่ะ แถมแวกซ์คิ้วด้วย คุ้มค่าค่ะ ใช้ของคุณภาพดี ชอบกว่าที่อื่นๆที่เคยทำมาเลยค่ะ
Pimpun

Pimpun
สถานที่สะอาดและบรรยากาศดีมากค่ะ ขนตานิ่ม กาสดีมากค่ะ แถมแวกซ์คิ้วด้วย คุ้มค่าค่ะ ใช้ของคุณภาพดี ชอบกว่าที่อื่นๆที่เคยทำมาเลยค่ะ
+2
Classic Eyelash Extension - Unlimited strand (Free Eyebrow Waxing & Facial mask & Pink Lip Mask & Eye Mask and Blackheads Cleansing White Clay Mask)

验证评论
已访问 01 Oct 2020
5.0
ร้านสะอาด ต่อขนตาสวยถูกใจ สถานที่แบบ private มาก เดินทางสะดวก
Oh
Oh
ร้านสะอาด ต่อขนตาสวยถูกใจ สถานที่แบบ private มาก เดินทางสะดวก
+2
Wet look Eyelash Extension - Unlimited Strands (Free Eyebrow Waxing & Facial mask & Pink Lip Mask & Eye Mask and Blackheads Cleansing White Clay Mask)

验证评论
已访问 30 Sep 2020
5.0
ดีงาม ขนตาเบาสวย เต็ม10 😘💕💕💕💕
Charlotte
Charlotte
ดีงาม ขนตาเบาสวย เต็ม10 😘💕💕💕💕
+2
Classic Eyelash Extension - Unlimited strand (Free Eyebrow Waxing & Facial mask & Pink Lip Mask & Eye Mask and Blackheads Cleansing White Clay Mask)

验证评论
已访问 22 Sep 2020
5.0
ทำดีมากค่าาาา ร้านสะอาด หาง่ายมาก เดินทางสะดวกด้วยค่ะ ช่างต่อแนะนำดีมากค่ะ ต่อออกมาแล้วเข้ากับตัวเองมากกกก ชอบมากมีแต่คนทัก
Phattharawadee
Phattharawadee
ทำดีมากค่าาาา ร้านสะอาด หาง่ายมาก เดินทางสะดวกด้วยค่ะ ช่างต่อแนะนำดีมากค่ะ ต่อออกมาแล้วเข้ากับตัวเองมากกกก ชอบมากมีแต่คนทัก
+2
Classic Eyelash Extension - Unlimited strand (Free Eyebrow Waxing & Facial mask & Pink Lip Mask & Eye Mask and Blackheads Cleansing White Clay Mask)

验证评论
已访问 09 Oct 2020
5.0
บริการแบบประทับใจมาก มีทั้งมาร์คหน้านวดขาและที่สำคัญพี่นัชชาให้คำแนะนำดีสุด เป็นกันเองใครมองหาสถานที่และบริการที่ดีและค่อนข้างส่วนตัว ขอแนะนำที่นี่เลยค่ะ👍👍👍👍👍👍👍👍👍👍👍👍👍👍👍👍👍
Preawpim

Preawpim
บริการแบบประทับใจมาก มีทั้งมาร์คหน้านวดขาและที่สำคัญพี่นัชชาให้คำแนะนำดีสุด เป็นกันเองใครมองหาสถานที่และบริการที่ดีและค่อนข้างส่วนตัว ขอแนะนำที่นี่เลยค่ะ👍👍👍👍👍👍👍👍👍👍👍👍👍👍👍👍👍
+1
Wet look Eyelash Extension - Unlimited Strands (Free Eyebrow Waxing & Facial mask & Pink Lip Mask & Eye Mask and Blackheads Cleansing White Clay Mask)

验证评论
已访问 21 Oct 2020
5.0
ไปต่อมาแล้วเพลอขยี้ตาไปนะแต่ยังไม่หลุดเลย😃😃
Wu Tidaow
Wu Tidaow
ไปต่อมาแล้วเพลอขยี้ตาไปนะแต่ยังไม่หลุดเลย😃😃
+1
Classic Eyelash Extension - Unlimited strand (Free Eyebrow Waxing & Facial mask & Pink Lip Mask & Eye Mask and Blackheads Cleansing White Clay Mask)

验证评论
已访问 21 Oct 2020
5.0
ช่างมือเบามากก ต่อออกมาสวยค่ะ
Lookwah

Lookwah
ช่างมือเบามากก ต่อออกมาสวยค่ะ
+1
Wet look Eyelash Extension - Unlimited Strands (Free Eyebrow Waxing & Facial mask & Pink Lip Mask & Eye Mask and Blackheads Cleansing White Clay Mask)

验证评论
已访问 20 Oct 2020
5.0
สถานที่หาง่าย สะอาด พี่พนักงานใส่ใจดีมาก แนะนำว่าต้องต่อยังไงถึงออกมาสวย ต่อเสร็จแล้วสะพรึงมาก ชอบ ตัวแถมคือแวกซ์และมาร์กก้ดี กลิ่นหอมมาก
Netili

Netili
สถานที่หาง่าย สะอาด พี่พนักงานใส่ใจดีมาก แนะนำว่าต้องต่อยังไงถึงออกมาสวย ต่อเสร็จแล้วสะพรึงมาก ชอบ ตัวแถมคือแวกซ์และมาร์กก้ดี กลิ่นหอมมาก
+1
Wet look Eyelash Extension - Unlimited Strands (Free Eyebrow Waxing & Facial mask & Pink Lip Mask & Eye Mask and Blackheads Cleansing White Clay Mask)

验证评论
已访问 20 Oct 2020
5.0
สถานที่สวยดี สะอาด ช่างทำสวยค่ะ ดีมาก
Patcharanin
Patcharanin
สถานที่สวยดี สะอาด ช่างทำสวยค่ะ ดีมาก
+1
Wet look Eyelash Extension - Unlimited Strands (Free Eyebrow Waxing & Facial mask & Pink Lip Mask & Eye Mask and Blackheads Cleansing White Clay Mask)

验证评论
已访问 15 Oct 2020
5.0
ต่อสวยมากๆเลยค่ะชอบ มีบริการขนม เครื่องดื่ม ครบเลยค่ะ
พาณิภัค
พาณิภัค
ต่อสวยมากๆเลยค่ะชอบ มีบริการขนม เครื่องดื่ม ครบเลยค่ะ
+1
Classic Eyelash Extension - Unlimited strand (Free Eyebrow Waxing & Facial mask & Pink Lip Mask & Eye Mask and Blackheads Cleansing White Clay Mask)

验证评论
已访问 13 Oct 2020
People Also Like
Lashury Eyelash Salon
360 评论
Let's Relax Onsen Thong Lor
2472 评论
La Zensa Spa
452 评论
The Cocktail Clinic
1875 评论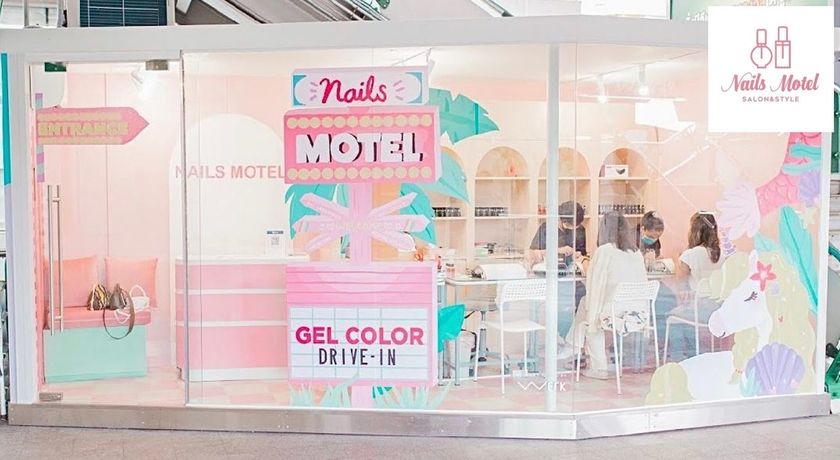 Nails Motel
60 评论
PhiBrows by Konnok Academy
La Vie En Rose Place Condo (Building B,7 floor) Sukhumvit 36 ,Khlong Tan, Khlong Toei, Bangkok 10110
周二 10:00 AM - 07:00 PM
周三 10:00 AM - 07:00 PM
周四 10:00 AM - 07:00 PM
周五 10:00 AM - 07:00 PM
周六 10:00 AM - 07:00 PM
周天 10:00 AM - 07:00 PM
Available Payment Methods
People Also Like
Lashury Eyelash Salon
360 评论
Let's Relax Onsen Thong Lor
2472 评论
La Zensa Spa
452 评论
The Cocktail Clinic
1875 评论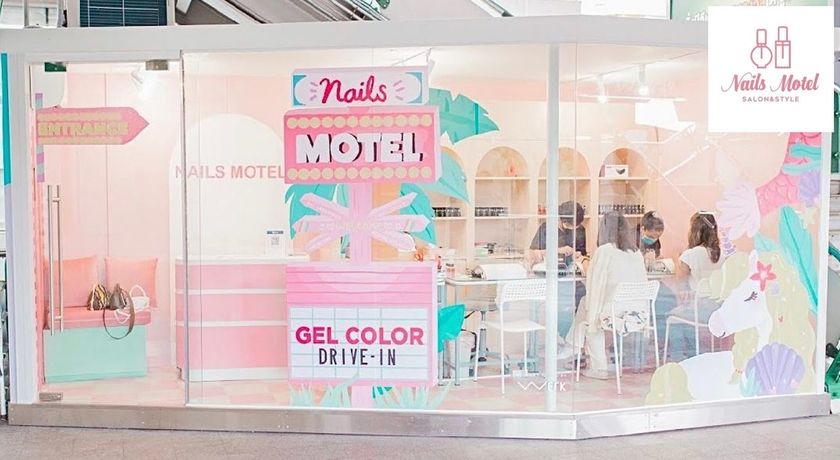 Nails Motel
60 评论