在GoWabi网上预订 - SC Skin Club Clinic
SC Skin Club Clinic
Cash, credit card
$$ (Based on Special Rates from our Partners)
THB
213/7 Asoke Towers, 1st Floor, Soi Sukhumvit 21, Khlong Toei Nuea, Watthana, Bangkok 10110
รอคิวไม่นาน โดยรวมแล้วดี

- Marisa

Very nice session feel the blood flowing in my

- Kardo

กดสิวทั่วใบหน้า พนักงานมือเบา

- Marisa
We want to build a beauty clinic with professional specialists, a good service and use high-quality laser machines for our customers. We are ready to provide the best service for you. That's why the SC Skin Club Clinic began.
Conditions:
• This voucher can be used within 2 month after purchase.
• All purchases and treatments cannot be amended.
• These vouchers cannot be used with other promotions.
• Show your voucher from email or GoWabi app for verification
• Appointment has to be booked in advance. The shop contact details will be available in your "GoWabi's Booking Confirmation email or My Booking page"
特殊服务
1. Facial cleaning
2. Apply tea, leave for 30-45 minutes.
3. Blow facial skin ready for E-matrix.
4. Start E-Matrix
1. Consult with a medical professional
2. Clean the area that needs treatment
3. Start acupuncture Takes about 5-15 minutes
4. Withdraw the needle
1. Cleaning the area that needs to do IPL.
2. Start firing lasers
3.Clean the destroyed hair stains
SC Skin Club Clinic
213/7 Asoke Towers, 1st Floor, Soi Sukhumvit 21, Khlong Toei Nuea, Watthana, Bangkok 10110
Mon 11:00 AM - 08:00 PM
Tue 11:00 AM - 08:00 PM
Wed 11:00 AM - 08:00 PM
Thu 11:00 AM - 08:00 PM
Fri 11:00 AM - 08:00 PM
Sat 11:00 AM - 08:00 PM
Sun 11:00 AM - 08:00 PM
评价 (访问后客户意见)

---
4.0
รอคิวไม่นาน โดยรวมแล้วดี
Marisa
Marisa
รอคิวไม่นาน โดยรวมแล้วดี

验证评论
已访问 28 Jan 2020
5.0
Very nice session feel the blood flowing in my face
Kardo
Kardo
Very nice session feel the blood flowing in my face. glow

验证评论
已访问 18 Jan 2020
4.0
กดสิวทั่วใบหน้า พนักงานมือเบา
Marisa
Marisa
กดสิวทั่วใบหน้า พนักงานมือเบา

验证评论
已访问 28 Jan 2020
5.0
ซื้อมาสองคูปองเลยค่ะ เพราะชอบมาก
Amm
Amm
ซื้อมาสองคูปองเลยค่ะ เพราะชอบมาก

验证评论
已访问 21 Dec 2019
5.0
ได้ลองทำกดสิวและ Qswitch กดสิวได้เกลี้ยงมากค่ะ แต่ Qswitch ยังไม่เห็นผลเพราะเพิ่งทำ พนักงานมารยาทดีมากค่พ สถานที่ตกแต่งสวยงาม กลิ่นหอม ใกล้mrt เพชรบุรี
Amm
Amm
ได้ลองทำกดสิวและ Qswitch กดสิวได้เกลี้ยงมากค่ะ แต่ Qswitch ยังไม่เห็นผลเพราะเพิ่งทำ พนักงานมารยาทดีมากค่พ สถานที่ตกแต่งสวยงาม กลิ่นหอม ใกล้mrt เพชรบุรี

验证评论
已访问 21 Dec 2019
4.0
พนักงานกดมือเบามาก ถามตลอดว่าเจ็บมั้ย เจ็บบอกได้นะคะ คลีนิคสะอาด บริการดี ไม่ยัดเยียดขายคอร์ส แนะนำดี
พิมพ์พิมล
พิมพ์พิมล
พนักงานกดมือเบามาก ถามตลอดว่าเจ็บมั้ย เจ็บบอกได้นะคะ คลีนิคสะอาด บริการดี ไม่ยัดเยียดขายคอร์ส แนะนำดี

验证评论
已访问 13 Dec 2019
People Also Like
THE EMPRESSER
231 评论
Mendel Clinic
1414 评论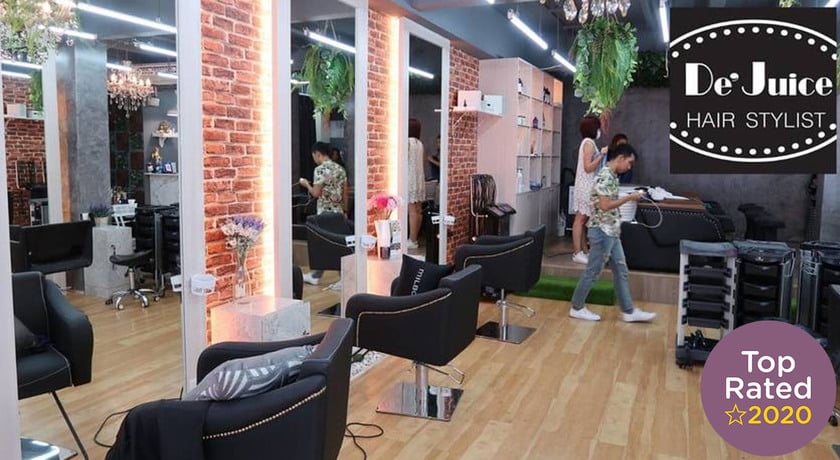 De Juice Hair Stylist
194 评论
Clarins Skin Spa
54 评论