在GoWabi网上预订 - BELL otonagami Salon
BELL otonagami Salon
Cash, credit card
$$ (Based on Special Rates from our Partners)
THB
6/13 sukhumvit39, Soi Prommitr 1, Khlong Toei Nuea, Watthana, Bangkok 10110
บริการดีค่ะ แต่ตอนสระผมกับนวด มือหนักไปนิด แล้

- Vrcy

+1

ร้านทำดีมากค่ะ ตกแต่งสวยมาก เหมือนอยู่ญี่ปุ่นเ

- Mei

+1

ร้านน่ารักมากก บริการดีสุดๆไปเลย ตั้งแต่พี่ที่

- Chanis

+1
When opening the door to enter the store. You will find the hairdressing zone that is divided into proportions because our salon takes your privacy seriously. Make you feel fully relaxed and almost forgot that you were using a salon service in Thailand. We are beauty salon for hair. That gives the whole atmosphere and top quality like you've never experienced anywhere before.
The salon that everyone is looking for the atmosphere is elegant and classic. It helps to relieve stress from daily activities very well.
**The shop Close on Wednesday & 2nd , 4th Thursday**
Terms & Conditions:
• This voucher can be used within 2 months after purchase.
• All purchases and treatments cannot be amended.
• These vouchers cannot be used with other promotions.
• Show your voucher from email or GoWabi app for verification
• Appointment has to be booked in advance. The shop contact details will be available in your "GoWabi's Booking Confirmation email or My Booking page"
美发套餐
This is a menu that many customers review that glasses worn every day become loose after coming to a head spa with us.
-The head spa will take about 20-30 minutes. The spa will be performed along with the use of 5 aroma scents for the scalp to get rest and feel as relaxed as possible.
-Hair treatment, We use products imported from Japan. It is a special intensive treatment that can deeply nourish the hair shaft. To restore the condition of dry and damaged hair well the hair is soft and smooth and have look healthy after the service.
-Spa, for products used to detox the scalp it's will be able to wash off the dirt and residue thoroughly. Make the blood flow better, reduces the smell on the scalp and reduce the symptoms of hair loss and bald head until you can notice that your hair looks thicker after you get service regularly.
Design and cut that make the face to look smaller, and we will choose to mix 26 types of straighteners with different properties. Order made to get the solution that is best suited to the hair type of each customer, along with the advanced maintenance deep with special treatments from Japan.
评价 (访问后客户意见)

---
5.0
บริการดีค่ะ แต่ตอนสระผมกับนวด มือหนักไปนิด แล้วก็เวลาแจ้งว่า 90 นาที ทำจริงรวมไดร์แค่ชมเดียวค่ะ แต่อย่างอื่นโอเคดี
Vrcy

Vrcy
บริการดีค่ะ แต่ตอนสระผมกับนวด มือหนักไปนิด แล้วก็เวลาแจ้งว่า 90 นาที ทำจริงรวมไดร์แค่ชมเดียวค่ะ แต่อย่างอื่นโอเคดี
+1

验证评论
已访问 30 Nov 2020
5.0
ร้านทำดีมากค่ะ ตกแต่งสวยมาก เหมือนอยู่ญี่ปุ่นเลย สะอาด บริการดีมากๆ ตั้งแต่สระผม มีให้เลือกกลิ่นอโรม่าด้วย นวดสบาย บริการเหมือนจ่ายเป็นพัน ตัดผมก็ละเอียดมากๆคะ มีบริการชา กาแฟ ขนม อุปกรณ์เครื่องไดร์ก็ใช้ของดีมากคะ
Mei
Mei
ร้านทำดีมากค่ะ ตกแต่งสวยมาก เหมือนอยู่ญี่ปุ่นเลย สะอาด บริการดีมากๆ ตั้งแต่สระผม มีให้เลือกกลิ่นอโรม่าด้วย นวดสบาย บริการเหมือนจ่ายเป็นพัน ตัดผมก็ละเอียดมากๆคะ มีบริการชา กาแฟ ขนม อุปกรณ์เครื่องไดร์ก็ใช้ของดีมากคะ
+1

验证评论
已访问 15 Nov 2020
5.0
ร้านน่ารักมากก บริการดีสุดๆไปเลย ตั้งแต่พี่ที่ต้อนรับ พี่ที่สระผม พี่ช่างตัด โอ้ยแนะนำเลยค่ะ สระผมก็ดีผ่อนคลาย มีให้เลือกน้ำมันหลายกลิ่น มีผ้าร้อน เลือกน้ำร้อนน้ำเย็น ชอบอ่าา ❤️❤️ แล้วมีน้ำชา กาแฟ ขนม ผ้าเย็นบริการ ตัดผมช่างก็เก่งมาก เอาจริงๆ เราไม่ค่อยรู้เรื่องผมเท่าไหร่ ก็แนะนำได้อย่างดีเลยค่า ไว้กลับมาใช้บริการอีกน้า 🥰
Chanis

Chanis
ร้านน่ารักมากก บริการดีสุดๆไปเลย ตั้งแต่พี่ที่ต้อนรับ พี่ที่สระผม พี่ช่างตัด โอ้ยแนะนำเลยค่ะ สระผมก็ดีผ่อนคลาย มีให้เลือกน้ำมันหลายกลิ่น มีผ้าร้อน เลือกน้ำร้อนน้ำเย็น ชอบอ่าา ❤️❤️ แล้วมีน้ำชา กาแฟ ขนม ผ้าเย็นบริการ ตัดผมช่างก็เก่งมาก เอาจริงๆ เราไม่ค่อยรู้เรื่องผมเท่าไหร่ ก็แนะนำได้อย่างดีเลยค่า ไว้กลับมาใช้บริการอีกน้า 🥰
+1

验证评论
已访问 15 Nov 2020
5.0
ดีงามมากๆ บริการดี สระผม/นวดดี และนานด้วย ชอบมากมีให้เลือกกลิ่น ตัดและไดร์สวย ร้านหายากนิดนึง
Jirapa

Jirapa
ดีงามมากๆ บริการดี สระผม/นวดดี และนานด้วย ชอบมากมีให้เลือกกลิ่น ตัดและไดร์สวย ร้านหายากนิดนึง
+1

验证评论
已访问 13 Nov 2020
5.0
นวดศีรษะผ่อนคลายดีค่ะ บริการดีมีน้ำกับของว่างและผ้าเย็นให้ กลิ่นทรีทเมนท์หอมติดผมมาก
Wimonluck

Wimonluck
นวดศีรษะผ่อนคลายดีค่ะ บริการดีมีน้ำกับของว่างและผ้าเย็นให้ กลิ่นทรีทเมนท์หอมติดผมมาก

验证评论
已访问 16 Jan 2021
5.0
Skilled stylist and good environment
Pei

Pei
Skilled stylist and good environment

验证评论
已访问 16 Jan 2021
5.0
สบายหัวมาก สดชื่น 👍🏻👍🏻👍🏻👍🏻👍🏻👍🏻👍🏻👍🏻👍🏻
Prisana

Prisana
สบายหัวมาก สดชื่น 👍🏻👍🏻👍🏻👍🏻👍🏻👍🏻👍🏻👍🏻👍🏻

验证评论
已访问 10 Jan 2021
5.0
สบาย นวดถูกจุด สบายกลิ่นหอม สบายหัวมาก
Jaoya
Jaoya
สบาย นวดถูกจุด สบายกลิ่นหอม สบายหัวมาก

验证评论
已访问 10 Jan 2021
5.0
ヘッドスパはとても気持ちが良かった。気持ちが良すぎて、うとうと寝てしまいました。とても丁寧にブローしてくれてサラサラヘアーになりました。

ヘッドスパはとても気持ちが良かった。気持ちが良すぎて、うとうと寝てしまいました。とても丁寧にブローしてくれてサラサラヘアーになりました。

验证评论
已访问 29 Dec 2020
5.0
ประทับใจมาก นวดสบายหัวสุดๆ บริการดีมากๆ กลับไปใช้บริการอีกแน่นอนค่ะ
Bee
Bee
ประทับใจมาก นวดสบายหัวสุดๆ บริการดีมากๆ กลับไปใช้บริการอีกแน่นอนค่ะ

验证评论
已访问 29 Dec 2020
People Also Like
THE EMPRESSER
211 评论
Mendel Clinic
1283 评论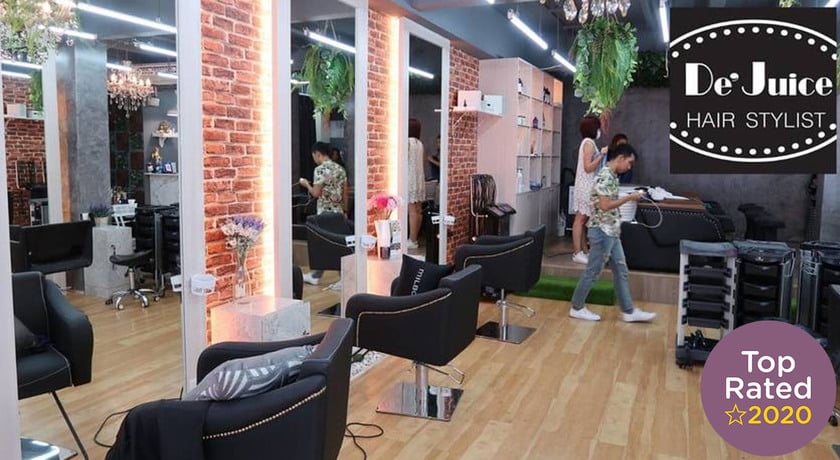 De Juice Hair Stylist
194 评论
Clarins Skin Spa
54 评论