在GoWabi网上预订 - Blanc Eyelash & Eyebrow Salon Tokyo
Blanc Eyelash & Eyebrow Salon Tokyo
Cash, credit card
$$ (Based on Special Rates from our Partners)
THB
Located in Selected 9 Branches in Bongkok
ร้านสะอาดมาก ช่างบริการดีมากค่ะ

- Winiphat

+1

ทุกอย่างโอเคแต่เจ็บค่ะ.. มีแผล burn เล็กๆ หลัง

- Mami

nice and polite staff ,

- Plerdplern
Blanc Eyelash & Eyebrow Salon Tokyo No.1 Eyelash Extension Salon from Japan. Guaranteed quality with the highest number of members in Japan, more than 100 shops. Featured with eyelash extension technique from Japan, every eyelash designer of Blanc has completed the Eyelash Extensions Course form Blanc Eyelash School (Japan) and every designer must pass the general standard exam. 'Blanc Lash' exclusive only "Blanc". Produced and imported from Japan with special synthetic materials Hypoallergenic Nanofilament, which is the best material for eyelash production. Giving extra soft touch, gentle to the eyes and is very close to the natural eyelash. Each person's eyes and eyelashes are different. 'Blanc' has more than 180 types of lashes, so everyone is free to create lashes in a variety of styles and support all eyes.
Terms & Conditions:
• This voucher can be used within 2 months after purchasing.
• All purchases and treatments cannot be amended.
• These vouchers cannot be used with other promotions.
• Show your voucher from email or GoWabi app for verification
• Appointment has to be booked in advance. The shop contact details will be available in your "GoWabi's Booking Confirmation email or My Booking page"
Located in Selected 8 Branches:
1. ICONSIAM (5Fl)
2. Gateway Ekamai (1Fl)
3. Central Plaza Rama 9 (5Fl)
4. Mercury Ville Chidlom (2Fl)
5. Season Square Srinakarin (3Fl)
6. Central Festival EastVille (3Fl)
7. Central Plaza PinKlao (3Fl)
8. Central Plaza Bangna (3Fl)
Embroidery
Lip : Gives a beautiful, healthy, and natural-looking mouth shape, the effect of micro-blading depends on the original color of the lips.
This promotion price does not include color filling services.
纹眉
Design and embedding eyebrows For naturally beautiful eyebrows With color mixing techniques And line drawing typical of Blance That will add a distinctive, beautiful, harmonious nature
*This price not excluding Filling colors.
评价 (访问后客户意见)

---
5.0
ร้านสะอาดมาก ช่างบริการดีมากค่ะ
Winiphat
Winiphat
ร้านสะอาดมาก ช่างบริการดีมากค่ะ
+1

验证评论
已访问 26 Oct 2020
3.0
ทุกอย่างโอเคแต่เจ็บค่ะ.
Mami

Mami
ทุกอย่างโอเคแต่เจ็บค่ะ.. มีแผล burn เล็กๆ หลังทำ :(

验证评论
已访问 13 Nov 2020
5.0
nice and polite staff ,
Plerdplern
Plerdplern
nice and polite staff ,

验证评论
已访问 17 Nov 2020
4.0
First impression
Jeabchan
Jeabchan
First impression. Good place with expert staff.

验证评论
已访问 14 Nov 2020
5.0
Staff know what she is doing, she put my eyebrows in good shape, a bit pricy but worth it.
Massaline
Massaline
Staff know what she is doing, she put my eyebrows in good shape, a bit pricy but worth it.

验证评论
已访问 10 Nov 2020
5.0
very satisfied with their service!

very satisfied with their service!

验证评论
已访问 30 Aug 2020
4.0
บริการดีมาก พนักงานมารยาทดี และออกมาก็สวยดีค่ะ
Anutra

Anutra
บริการดีมาก พนักงานมารยาทดี และออกมาก็สวยดีค่ะ

验证评论
已访问 19 Sep 2020
4.75
จองคิวไม่ยาก พนักงานบริการดี เอาใจใส่ เก็บงานละเอียด ช่วยดูจนกว่าเราจะพอใจ
Gene
Gene
จองคิวไม่ยาก พนักงานบริการดี เอาใจใส่ เก็บงานละเอียด ช่วยดูจนกว่าเราจะพอใจ

验证评论
已访问 08 Jul 2020
People Also Like
Bong Bong Clinic
1021 评论
Mandarin Ginger Spa
233 评论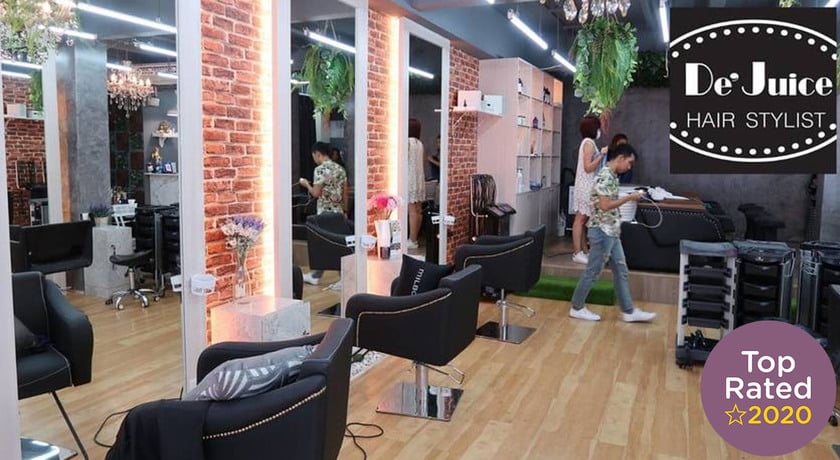 De Juice Hair Stylist
194 评论
Clarins Skin Spa
54 评论