在GoWabi网上预订 - Gangnam Korean Hair Salon
Gangnam Korean Hair Salon
Cash, credit card
$$ (Based on Special Rates from our Partners)
THB
10/30 The Trendy Office Building, 1A frool , soi sukhumvit 13 ,Khlong Toei Nuea, Watthana, Bangkok 10110
ร้านเดินทางง่าย นั่ง bts ลง สถานีนานา เดินไม่

- Jaruwan

+4

พรักงานสุภาพน่ารักทุกคนค่ะ ตัดผมละเอียด แนะนำผ

- Apichaya

+4

Good and reasonable price service

- Fur

+4
GANGNAM HAIR SALON ASOK Is an expert in hair design Providing advice and services for hair care, as well as expertise in trimming, decorating, coloring, and open for customers of all ages. "Imported products Quality technicians from South Korea. "The team has expertise in high product use We will help you look good And have good health forever.


Terms & Conditions:
• This voucher can be used within 2 month after purchase.
• All purchases and treatments cannot be amended.
• These vouchers cannot be used with other promotions.
• Show your voucher from email or GoWabi app for verification
• Appointment has to be booked in advance. The shop contact details will be available in your "GoWabi's Booking Confirmation email or My Booking page"
All hair length 
Haircut will be designed by korean professional and experienced staff.
美发护理
Benezyme Waxing Magical จากประเทศเกาหลีใต้ ทางร้านได้คัดสรรคแบรนด์คุณภาพชั้นนำที่ดีที่สุดให้กับสุขภาพผม ตัวนี้จะช่วยดูแลเส้นผมเหมาะสำหรับผู้ที่เคยผ่านการทำสีผม หรือทำสีผมมาแล้ว ผมแห้งเสียจากการทำสี ตัวนี้จะช่วยเคลือบเส้นผม ให้มีความเงา ดูสุขภาพดี ทำให้เส้นผมแข็งแรงมีน้ำหนัก และดูสวยงามสัมผัสได้ตั้งแต่ครั้งแรก
Hair detoxification helps deep cleansing the scalp. Methods for detoxification and relaxing head massage with nadimo pro treatment (korea product) ,this product helps to provide intense nourishment and hydration, for hair that looks and feels stronger, smoother and more luscious. 
All hair lenght 
This treatment makes the hair shiny, not pointed out, and easy to do hair style. It helps you can see the volume immediately. use by NADIMO PRO TREATMENT product from Korea.
Gangnam Korean Hair Salon
10/30 The Trendy Office Building, 1A frool , soi sukhumvit 13 ,Khlong Toei Nuea, Watthana, Bangkok 10110
Mon 09:00 AM - 06:30 PM
Tue 09:00 AM - 06:30 PM
Wed 09:00 AM - 06:30 PM
Thu 09:00 AM - 06:30 PM
Fri 09:00 AM - 06:30 PM
Sat 09:00 AM - 06:30 PM
Sun 09:00 AM - 06:30 PM
评价 (访问后客户意见)

---
5.0
พนักงานดูแลดีค่ะ มาช่วงเช้าลูกค้ายังไม่เยอะ เจ้าของร้านคนเกาหลีต้อนรับดีมากค่ะ
Adcharaporn

Adcharaporn
พนักงานดูแลดีค่ะ มาช่วงเช้าลูกค้ายังไม่เยอะ เจ้าของร้านคนเกาหลีต้อนรับดีมากค่ะ
+2

验证评论
已访问 27 Oct 2020
5.0
The staff are very caring and attentive
Iammoe
Iammoe
The staff are very caring and attentive. The venue is very clean and spacious. I bought 2 vouchers, one is hair color and another one is hair cut and treatment, so far to say, I'm very satisfied with the result and the services. The staff warned me beforehand that it will take a lot of time due to the hair color I chose is very light, they asked me if I'm hungry or thirsty or not, they even offered to run an errand to buy me something to eat 😂 Will surely visit this place for the next hair cut.
+2

验证评论
已访问 23 Oct 2020
5.0
Lovely haircut 💇‍♀️ and hair colors ❤️
Chevinta

Chevinta
Lovely haircut 💇‍♀️ and hair colors ❤️
+2

验证评论
已访问 09 Oct 2020
5.0
ช่างแนะนำดีค่ะ ทรีทเมนท์ชอบมากค่ะ ไว้กลับไปทำอีกรอบนะค่ะ
Thananpat
Thananpat
ช่างแนะนำดีค่ะ ทรีทเมนท์ชอบมากค่ะ ไว้กลับไปทำอีกรอบนะค่ะ
+2

验证评论
已访问 10 Oct 2020
5.0
บริการดีมาก พนักงานน่ารัก ประทับใจค่ะ
Natthakarn

Natthakarn
บริการดีมาก พนักงานน่ารัก ประทับใจค่ะ
+2

验证评论
已访问 09 Oct 2020
5.0
บริการดีมากค่ะ พนงน่ารัก ช่างก็ตัดผมดี ได้ดีล399 ทั้งทรีทเม้นและตัด ชอบมากๆ ไว้ไปใช้บริการอีกค่า
Sirikarn
Sirikarn
บริการดีมากค่ะ พนงน่ารัก ช่างก็ตัดผมดี ได้ดีล399 ทั้งทรีทเม้นและตัด ชอบมากๆ ไว้ไปใช้บริการอีกค่า
+2

验证评论
已访问 11 Sep 2020
4.5
รอนานมากๆ จองไว้ 4โมง ได้ทำจริงๆ 5โมง โดยรวมบริการดี แต่ใช้เวลานาน
Teerada
Teerada
รอนานมากๆ จองไว้ 4โมง ได้ทำจริงๆ 5โมง โดยรวมบริการดี แต่ใช้เวลานาน
+2

验证评论
已访问 12 Sep 2020
5.0
บริการดีมาก เเนะนำดีมากด้วย ตัดผมออกมาก็สวยมาก ตัดผมโดยช่างเกาหลีเลย ดูแลดีปถมร้านสะอาดมาก อุปกรณ์ต่างๆก็ทันสมัย โดยรวมถูกใจมากๆเลย คิดว่าไปทำผมร้านนี้อีกเเน่ๆ
Seunghyun
Seunghyun
บริการดีมาก เเนะนำดีมากด้วย ตัดผมออกมาก็สวยมาก ตัดผมโดยช่างเกาหลีเลย ดูแลดีปถมร้านสะอาดมาก อุปกรณ์ต่างๆก็ทันสมัย โดยรวมถูกใจมากๆเลย คิดว่าไปทำผมร้านนี้อีกเเน่ๆ
+2

验证评论
已访问 12 Sep 2020
5.0
ดีงามมากค่ะ ช่างตัดละเอียดมาก
Chatri

Chatri
ดีงามมากค่ะ ช่างตัดละเอียดมาก
+2

验证评论
已访问 08 Sep 2020
5.0
ช่างตัดผม ออกแบบทรงผมได้ดี อาจารย์ฌอน โดยรวมคุ้มราคาคะ
ทัศนีย์

ทัศนีย์
ช่างตัดผม ออกแบบทรงผมได้ดี อาจารย์ฌอน โดยรวมคุ้มราคาคะ
+2

验证评论
已访问 12 Sep 2020
People Also Like
THE EMPRESSER
231 评论
Mendel Clinic
1414 评论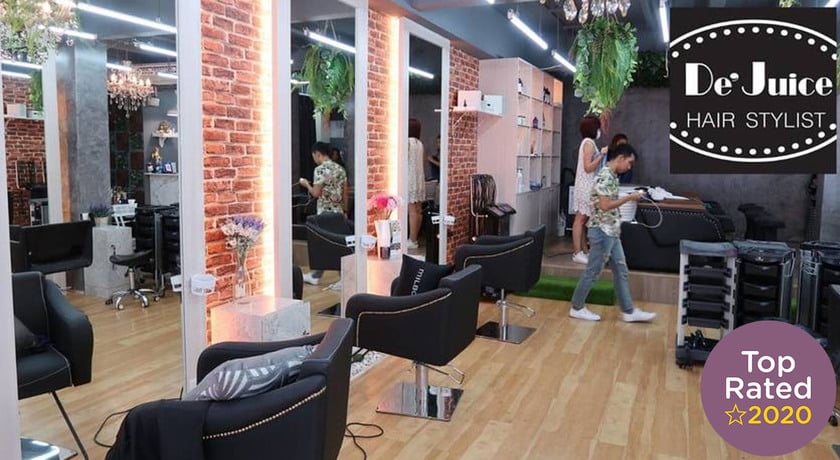 De Juice Hair Stylist
194 评论
Clarins Skin Spa
54 评论