在GoWabi网上预订 - Naholic Clinic
Naholic Clinic
Cash, credit card
$$ (Based on Special Rates from our Partners)
THB
262/2 Siam Square Soi 3, Pathum Wan, Pathum Wan District, Bangkok 10260
ก็ดี แต่เฉลี่ยๆ ไม่มีอะไรที่ประทับใจมากๆ

- Littlee

+3

It's good. Service is excellent.

- วชิราภรณ์

+1

อันที่จริงทางทีมเขียนรีวิวผิดนะคะ เคยเข้าใช้บร

- Uchara
Naholic Clinic provides you complete beauty services including Treatment, Hair Removal Laser, Scar Removal Laser, Vitamin Supplements, Body Tightening, and Face Shape Adjustment by our professionals. We focus on beauty from inside to outside by combining natural and scientific methodology. We create high quality and reasonable-price services to our customers. Naholic Clinic is located at Siam Square soi 3, near BTS Siam station. Parking areas are also available.
Book Naholic Clinic online now to get special discounts on underarm hair removal, body treatment and other services. Read Naholic Clinic reviews from other customers who have left a review. See full menu, prices with promotions and special discounts.
Terms & Conditions:
• This voucher can be used within 2 month after purchase.
• All purchases and treatments cannot be amended.
• These vouchers cannot be used with other promotions.
• Show your voucher from email or GoWabi app for verification
• Appointment has to be booked in advance. The shop contact details will be available in your "GoWabi's Booking Confirmation email or My Booking page"
评价 (访问后客户意见)

---
4.0
ก็ดี แต่เฉลี่ยๆ ไม่มีอะไรที่ประทับใจมากๆ
Littlee
Littlee
ก็ดี แต่เฉลี่ยๆ ไม่มีอะไรที่ประทับใจมากๆ
+3

验证评论
已访问 10 May 2019

วชิราภรณ์
It's good. Service is excellent.
+1

验证评论
已访问 30 Oct 2019
4.0
อันที่จริงทางทีมเขียนรีวิวผิดนะคะ เคยเข้าใช้บริการจากวันนั้นจนถึงวันนี้เท่ากับ 3 ครั้งค่ะ เครื่องมือโอเค ผลลัพธ์ดี พนักงานคนแรกเฉยๆ พนักงานคนที่2 คนที่ใส่เเว่นให้บริการและให้คำแนะนำดีมาก บอกทุกขั้นตอนและอัธยาศัยดี พนักงานคนล่าสุดคนที่ 3 ที่ใส่ชุดดำผมบลอนด์ รู้สึกว่าเหมือนทำไปส่งๆ วิจารณ์ผู้ใช้บริการ ไม่ค่อยบอก ไม่ค่อยแจ้ง แล้วเร่งตอนเปลี่ยนเสื้อผ้า ค่อนข้างรู้สึกเกร็ง สรุปโดยรวมก็โอเคค่ะ
Uchara

Uchara
อันที่จริงทางทีมเขียนรีวิวผิดนะคะ เคยเข้าใช้บริการจากวันนั้นจนถึงวันนี้เท่ากับ 3 ครั้งค่ะ เครื่องมือโอเค ผลลัพธ์ดี พนักงานคนแรกเฉยๆ พนักงานคนที่2 คนที่ใส่เเว่นให้บริการและให้คำแนะนำดีมาก บอกทุกขั้นตอนและอัธยาศัยดี พนักงานคนล่าสุดคนที่ 3 ที่ใส่ชุดดำผมบลอนด์ รู้สึกว่าเหมือนทำไปส่งๆ วิจารณ์ผู้ใช้บริการ ไม่ค่อยบอก ไม่ค่อยแจ้ง แล้วเร่งตอนเปลี่ยนเสื้อผ้า ค่อนข้างรู้สึกเกร็ง สรุปโดยรวมก็โอเคค่ะ

验证评论
已访问 10 May 2019
4.5
ก็ปกติ ไม่มีอะไรพิเศษ
Beam
Beam
ก็ปกติ ไม่มีอะไรพิเศษ

验证评论
已访问 10 May 2019
5.0
โดยรวมบริการดี แต่ทางร้านบอกว่าเครื่อง LPG พัง แล้วเขายังไม่ได้ติดต่อมาเลยว่า เมื่อไรจะแก้ไขเสร็จ
Lola
Lola
โดยรวมบริการดี แต่ทางร้านบอกว่าเครื่อง LPG พัง แล้วเขายังไม่ได้ติดต่อมาเลยว่า เมื่อไรจะแก้ไขเสร็จ

验证评论
已访问 10 May 2019
5.0
ได้ไปใช้บริการทางร้านสองครั้งค่ะ ประทับใจพนักงานคนแรกมาก พนักงาน friendly และก็บอกรายละเอียดเกี่ยวกับขั้นตอนได้ดีมาก ไม่เจ็บเท่าร้านอื่นที่ไปมา
Uchara

Uchara
ได้ไปใช้บริการทางร้านสองครั้งค่ะ ประทับใจพนักงานคนแรกมาก พนักงาน friendly และก็บอกรายละเอียดเกี่ยวกับขั้นตอนได้ดีมาก ไม่เจ็บเท่าร้านอื่นที่ไปมา

验证评论
已访问 10 May 2019
People Also Like
Bong Bong Clinic
1021 评论
Mandarin Ginger Spa
233 评论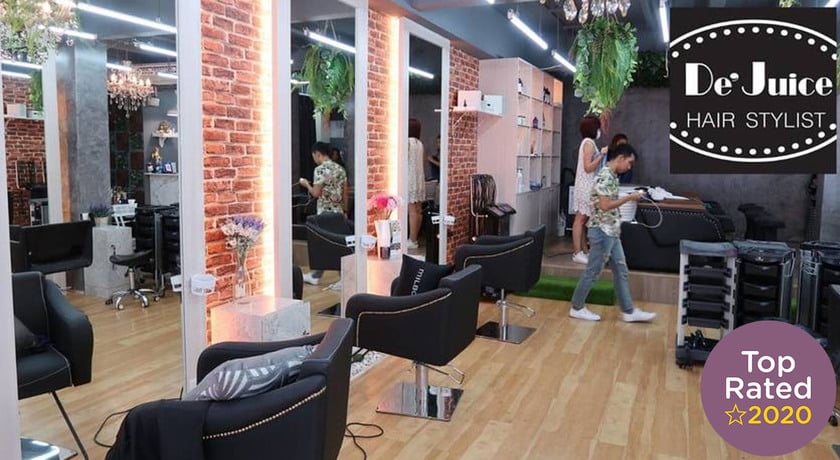 De Juice Hair Stylist
194 评论
Clarins Skin Spa
54 评论