在GoWabi网上预订 - Stretch me by Let's Relax (ICONSIAM Branch)
Stretch me by Let's Relax (ICONSIAM Branch)
Cash, credit card
$$ (Based on Special Rates from our Partners)
THB
5th Floor ICONSIAM, 299 Charoen Nakhon Rd, Khwaeng Khlong Ton Sai, Khet Khlong San, Bangkok 10600
เริดสุดปังสุด ยิ่งกว่าความผ่อนคลาย คือกล้ามเนื

- Sukkin

+1

จัดหนักจัดเต็มชุดใหญ่ไฟกะพริบต้องUltimate stre

- Sukkin

+1

ปังสุด เต็ม 10 ไม่หัก ใครไม่เคยลองต้องลอง จากช

- Sukkin

+1
"STRETCH ME BY LET'S RELAX @ICONSIAM"
STRETCHING STUDIO INTRODUCES YOU TO RELIEVING STRESS AND PAIN PREP YOU FOR AN EFFECTIVE DAY.
'Office Syndrome' urbanist's top conditions that affect everyday life. Regarding this serious health issue, Let's Relax Spa, the leading spa business operator of over two decades, expands the business line to solve the problem – launching "Stretch me by Let's Relax". The one and only stretching studio, under the supervision of physiology expertise, adopts the art of 'Static Stretching' – the most effective and popular stretching technique – along with therapeutic acupressure to help tune body balance, relieving body stress and pain.
Decorating in 'Modern Minimal' style, "Stretch me by Let's Relax" combines simple shades of grey spiked with the liveliness of yellow. The studio is conveying dynamic, active, yet relaxing atmosphere. Catering to urban working lifestyle, Stretch me by Let's Relax offer, power outlets throughout the studio to let customers stay connected online.
Stretch me by Let's Relax offers a variety of programs especially designed for millennial generation and their lifestyle; working and exercise. More, we provide expert advice and easy demonstration for each individual in order to complete the simple stretching at home.
(staff wear mask and gloves during the service)
Both male and female therapists will be randomly selected to provide the services.
Stretch me by Let's Relax (ICONSIAM Branch)
5th Floor ICONSIAM, 299 Charoen Nakhon Rd, Khwaeng Khlong Ton Sai, Khet Khlong San, Bangkok 10600
Mon 10:00 AM - 09:00 PM
Tue 10:00 AM - 09:00 PM
Wed 10:00 AM - 09:00 PM
Thu 10:00 AM - 09:00 PM
Fri 10:00 AM - 09:00 PM
Sat 10:00 AM - 09:00 PM
Sun 10:00 AM - 09:00 PM
评价 (访问后客户意见)

---
5.0
เริดสุดปังสุด ยิ่งกว่าความผ่อนคลาย คือกล้ามเนื้อที่กลับมาใช้งานได้จริงเต็มศักยภาพ ทุกองศาทุกฟังก์ชั่นการใช้งาน!! จากชีวิตที่เคยติดนวด ตอนนี้กลายเป็นติดยืดไปแล้ว เพราะมันยืดกล้ามเนื้อที่ตึงได้ตรงๆ
Sukkin

Sukkin
เริดสุดปังสุด ยิ่งกว่าความผ่อนคลาย คือกล้ามเนื้อที่กลับมาใช้งานได้จริงเต็มศักยภาพ ทุกองศาทุกฟังก์ชั่นการใช้งาน!! จากชีวิตที่เคยติดนวด ตอนนี้กลายเป็นติดยืดไปแล้ว เพราะมันยืดกล้ามเนื้อที่ตึงได้ตรงๆ
+1

验证评论
已访问 20 Feb 2021
5.0
จัดหนักจัดเต็มชุดใหญ่ไฟกะพริบต้องUltimate stretchยืดจุใจกันไปเลย2ชั่วโมง เอาให้กล้ามเนื้อคลายตัวเต็มที่ ใครอาการสาหัส ออกกำลังกายหนัก ปวดตึงเยอะต้องตัวนี้เท่านั้น เริดที่สุด
Sukkin

Sukkin
จัดหนักจัดเต็มชุดใหญ่ไฟกะพริบต้องUltimate stretchยืดจุใจกันไปเลย2ชั่วโมง เอาให้กล้ามเนื้อคลายตัวเต็มที่ ใครอาการสาหัส ออกกำลังกายหนัก ปวดตึงเยอะต้องตัวนี้เท่านั้น เริดที่สุด
+1

验证评论
已访问 20 Feb 2021
5.0
ปังสุด เต็ม 10 ไม่หัก ใครไม่เคยลองต้องลอง จากชีวิตติดนวด ตอนนี้กลายมาเป็นติดยืดแทน ต้องมาให้Therapistช่วยยืดกล้ามเนื้อที่ตึงปวดเมื่อยจากการออกกำลังกายได้คลายตัวและเพิ่มความสามารถของกล้ามเนื้อให้ทำงานได้เต็มองศาเต็มFunctionมากขึ้นด้วย มาเล๊ยๆๆๆ
Sukkin

Sukkin
ปังสุด เต็ม 10 ไม่หัก ใครไม่เคยลองต้องลอง จากชีวิตติดนวด ตอนนี้กลายมาเป็นติดยืดแทน ต้องมาให้Therapistช่วยยืดกล้ามเนื้อที่ตึงปวดเมื่อยจากการออกกำลังกายได้คลายตัวและเพิ่มความสามารถของกล้ามเนื้อให้ทำงานได้เต็มองศาเต็มFunctionมากขึ้นด้วย มาเล๊ยๆๆๆ
+1

验证评论
已访问 20 Feb 2021
4.75
น้องTherapistผู้ชายชื่อน้องไบรท์ ยืดให้ดีมากสุดมาก หลังออกกำลังกายมาโล่งเลยค่ะ คุ้มค่ามาก ประทับใจ
Sukkin

Sukkin
น้องTherapistผู้ชายชื่อน้องไบรท์ ยืดให้ดีมากสุดมาก หลังออกกำลังกายมาโล่งเลยค่ะ คุ้มค่ามาก ประทับใจ
+1

验证评论
已访问 20 Feb 2021
5.0
บริการดีมาก คลายกล้ามเนื้อหลังออกกำลังดีมาก ดีกว่าเวลาไปเข้าร้านนวดทั่วไป ออกมาสบายตัวแขนไหล่ที่ติดๆก็คลาย
Khung Chalermpun
Khung Chalermpun
บริการดีมาก คลายกล้ามเนื้อหลังออกกำลังดีมาก ดีกว่าเวลาไปเข้าร้านนวดทั่วไป ออกมาสบายตัวแขนไหล่ที่ติดๆก็คลาย
+1

验证评论
已访问 30 Jan 2021
3.75
ขาดประคบร้อน เลยไม่สุดเท่าที่อยากได้

ขาดประคบร้อน เลยไม่สุดเท่าที่อยากได้
+1

验证评论
已访问 03 Aug 2020
5.0
สถานที่สะอาด พนักงานต้อนรับและพนักงานเทอราปีส บริการดี
ยุทธนา
ยุทธนา
สถานที่สะอาด พนักงานต้อนรับและพนักงานเทอราปีส บริการดี
+1

验证评论
已访问 18 Jul 2020
5.0
พนักงานให้คำปรึกษาดีมาก
Jira

Jira
พนักงานให้คำปรึกษาดีมาก
+1

验证评论
已访问 14 Jun 2020
5.0
Great and nice service with nice therapist at Stretch Me ICONSIAM Score for the best services is 5
วลัยพร

วลัยพร
Great and nice service with nice therapist at Stretch Me ICONSIAM Score for the best services is 5
+1

验证评论
已访问 30 Apr 2019
5.0
บริการดีมาก มีผู้เชี่ยวชาญให้คำแนะนำ พื้นที่สะอาด มีการจัดการดี
Rotmay
Rotmay
บริการดีมาก มีผู้เชี่ยวชาญให้คำแนะนำ พื้นที่สะอาด มีการจัดการดี

验证评论
已访问 07 Feb 2021
People Also Like
GoWabi Gift Card
6 评论
ISS Aesthetic & Wellness
278 评论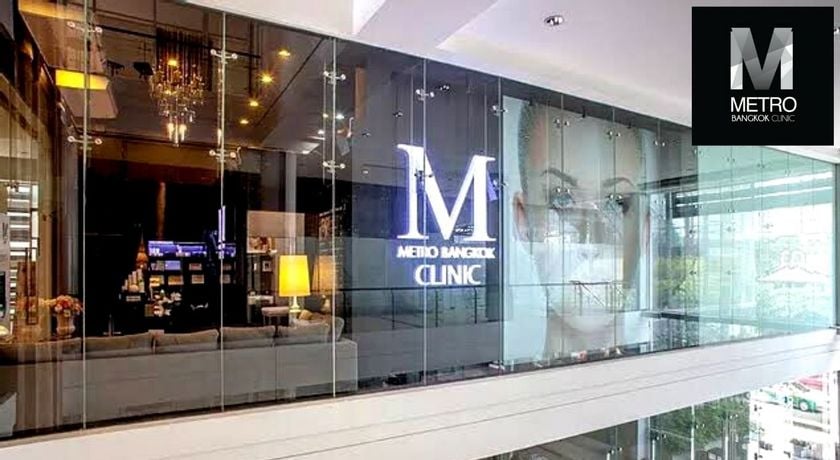 Metro Bangkok Clinic
309 评论