在GoWabi网上预订 - The Bloom Salon
The Bloom Salon
Cash, credit card
$$$
THB
251/2 Soi Thong Lo 13, Khlong Tan Nuea, Sukhumvit Rd, Khlong Tan Nuea, Watthana, Bangkok 10110
The Bloom Salon provides a full option of hair services, operating in the centre of Thong Lor. The shop aims to maximise customer service and experience for each client. There are many services provided in this shop such as haircuts, shampoo and blow dry, hair coloring, hair straightening and hair perming. The Bloom Salon is located in Soi Thonglor 13, which is opposite After You Cafe.
Haircut for men is serviced by professional hairstylist team, which the guest can discuss his preferred hair style. The professional hairstylist will cut and design according to guest preferences.
拉直发
Premium quality products, and professional staffs are used to provide permanent straightening services to the guest.
染发
Highlight or lowlight is the hair color process, which the customers will get natural hair color when they did lowlight, but the customers face will be brighter when they did highlight. This will depend on the preferences of each customer.
We provide hair color services by using low Ammonia color, which you can get permanent color but healthier hair.
We provide bleaching hair services to change to a color regarded as more fashionable or desirable, or to restore the original hair color after it has been discolored by hairdressing processes.
烫发
Permanent wave cold perm is perm that use lower heat compared to digital perm, so this will help your hair become healthier. The perm liquid is effectively absorbed to hair in temperature between 17 and 45 degree celsius. 
美发护理
We provide Keratin Repair Treatment services, which the customer will get soft, silky smooth hair. Keratin treatments will smooth damaged hair follicles and fix split ends, leaving you with beautiful silky locks.
The Bloom Salon
251/2 Soi Thong Lo 13, Khlong Tan Nuea, Sukhumvit Rd, Khlong Tan Nuea, Watthana, Bangkok 10110
Mon 11:00 AM - 11:00 PM
Tue 11:00 AM - 11:00 PM
Wed 11:00 AM - 11:00 PM
Thu 11:00 AM - 11:00 PM
Fri 11:00 AM - 11:00 PM
Sat 11:00 AM - 11:00 PM
Sun 11:00 AM - 11:00 PM
评价 (访问后客户意见)

---
Nadda
ช่างมีความรู้และตั้งใจทำมากค่ะ :) ดัดออกมาได้ถูกใจและราคาไม่แพง จะกละบไปอีกแน่นอนค่ะ
Permanent Wave Cold Perm (All length)

验证评论
已访问 25 Dec 2019
ณัฏฐา
บรรยากาสผ่อนคลาย บริการก้คุ้มค่าคุ้มเวลาค่ะ
Shampoo and Blow Dry

验证评论
已访问 13 Dec 2019
Pimchaya
บริการดีมาก โปะครีมทรีทเม้นให้จัดเต็มมาก
Hair Repair Treatment Keratin (All length)

验证评论
已访问 10 Dec 2019
Jang
บรรยากาศส่วนตัวดีค่ะ ทำเลสะดวก เข้าซอย13มาจะอยู่ซ้ายมือในเวิ้ง (ขวามือเป็น after you ก็เลยไปอีกนิดเดียว จะเยื้องกันค่ะ) มีที่จอดรถด้านหน้าร้านเลย แชมพูหอมดี ช่างใจดีค่ะ แนะนำให้จองก่อนนะคะ
Shampoo and Blow Dry

验证评论
已访问 10 Dec 2019

Ee Enfant
สระดีมากคะ พนักงานคุยสนุก
Shampoo and Blow Dry

验证评论
已访问 06 Dec 2019
Puifye
พนักงานน่ารัก บริการดีค่า
Shampoo and Blow Dry

验证评论
已访问 08 Dec 2019

Wirin
ร้านหาง่ายช่างตัดผมดี เป็นกันเอง
Haircut Women (All lengths)

验证评论
已访问 04 Dec 2019
Ploy
ช่างน่ารักมากค่ะ ชวนคุยและพูดอะไรตรงๆไม่อ้อมค้อม ช่างไม่ค่อยถนัดตัดแต่งทรงผมเท่าไร เค้าบอกว่าเค้าถนัดทำเคมีมากกว่า ร้านอยู่ปากซอย 13 มีที่จอดรถ สะดวกดีค่ะ ใครสนใจโทรจองกับพี่เค้าก่อนได้ค่ะ เป็นกันเองดี แนะนำเลย
Haircut Women (All lengths)

验证评论
已访问 30 Nov 2019
Muay
พนักงานน่ารัก บริการดี ดัดผมมาก็สวยค่ะไม่ได้บอกอะไรมาก โลเคชั่นก็สะดวกมากค่ะ ไปง่าย มีที่จอดรถด้วย

验证评论
已访问 23 Nov 2019
Jeab
พนักงานน่ารักบริการดีไดร์ผมสวยค่ะ
Shampoo and Blow Dry

验证评论
已访问 24 Nov 2019
People Also Like
Papalashzie
8 评论
The Zapp Clinic
24 评论
Mandarin Ginger Spa
31 评论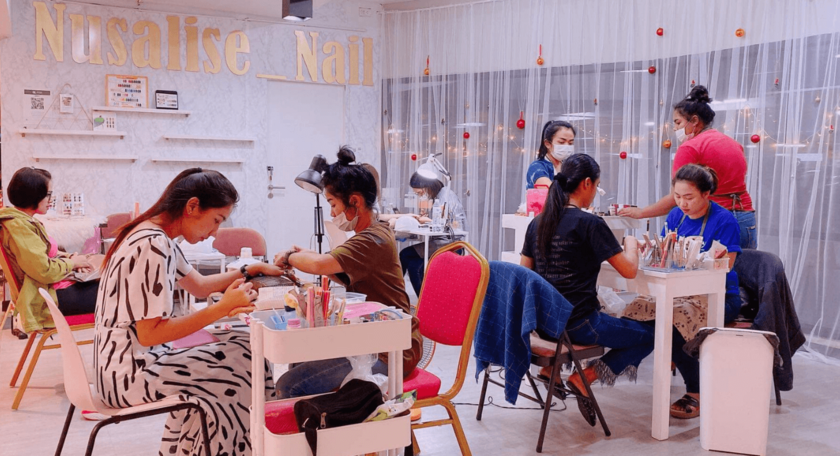 Nusalise Nail (Samrong Branch)
No reviews yet
The Bloom Salon
251/2 Soi Thong Lo 13, Khlong Tan Nuea, Sukhumvit Rd, Khlong Tan Nuea, Watthana, Bangkok 10110
周一 11:00 AM - 11:00 PM
周二 11:00 AM - 11:00 PM
周三 11:00 AM - 11:00 PM
周四 11:00 AM - 11:00 PM
周五 11:00 AM - 11:00 PM
周六 11:00 AM - 11:00 PM
周天 11:00 AM - 11:00 PM
Available Payment Methods
People Also Like
Papalashzie
8 评论
The Zapp Clinic
24 评论
Mandarin Ginger Spa
31 评论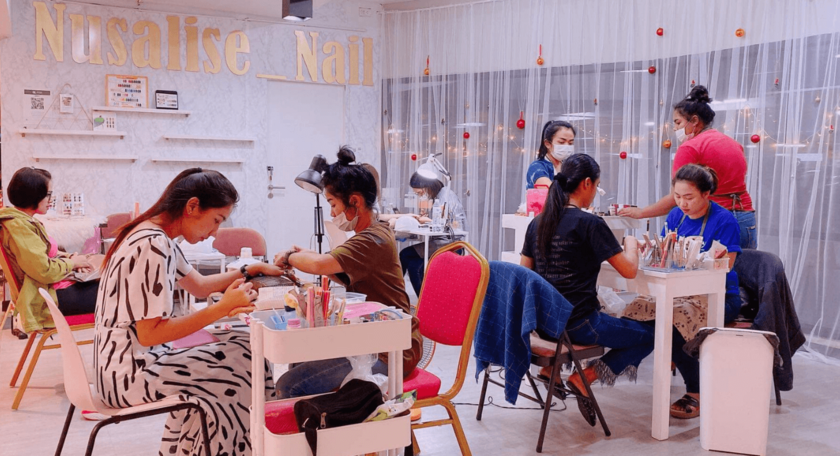 Nusalise Nail (Samrong Branch)
No reviews yet