在GoWabi网上预订 - NaQiCha Concept Sleep&Salon
NaQiCha Concept Sleep&Salon
Cash, credit card
$$ (Based on Special Rates from our Partners)
THB
8/1-5 The Paseo Park (Kanjanapisek), Kanchanaphisek Rd, Sala Thammasop, Thawi Watthana, Bangkok 10170
พนักงานบริการดี ผ่อนคลาย

- นพสร

+1

คุ้มค่ามากค่ะ พนักงานบริการดีมาก ทำออกมาสวยถูก

- Nada

เป็นการนวดมือหมดเลย ดีมากค่ะ

- Apisorn
NaQiCha is Salon that would like to promote Green Salon Concept to make sure that all our customers will be treated with all the organic products.
Terms & Conditions:
• This voucher can be used within 4 month after purchase.
• All purchases and treatments cannot be amended.
• These vouchers cannot be used with other promotions.
• Show your voucher from email or GoWabi app for verification
• Appointment has to be booked in advance. The shop contact details will be available in your "GoWabi's Booking Confirmation email or My Booking page"
NaQiCha Concept Sleep&Salon
8/1-5 The Paseo Park (Kanjanapisek), Kanchanaphisek Rd, Sala Thammasop, Thawi Watthana, Bangkok 10170
Mon 10:00 AM - 07:00 PM
Tue 10:00 AM - 07:00 PM
Wed 10:00 AM - 07:00 PM
Thu 10:00 AM - 07:00 PM
Fri 10:00 AM - 07:00 PM
Sat 10:00 AM - 07:00 PM
Sun 10:00 AM - 07:00 PM
评价 (访问后客户意见)

---
4.0
พนักงานบริการดี ผ่อนคลาย
นพสร
นพสร
พนักงานบริการดี ผ่อนคลาย
+1

验证评论
已访问 11 Jun 2020
5.0
คุ้มค่ามากค่ะ พนักงานบริการดีมาก ทำออกมาสวยถูกใจ
Nada
Nada
คุ้มค่ามากค่ะ พนักงานบริการดีมาก ทำออกมาสวยถูกใจ

验证评论
已访问 20 Oct 2020
5.0
เป็นการนวดมือหมดเลย ดีมากค่ะ
Apisorn

Apisorn
เป็นการนวดมือหมดเลย ดีมากค่ะ

验证评论
已访问 20 Oct 2020
5.0
ดีมากๆค่ะ พนักงานบริการดี อยากไปใช้บริการอีกค่ะ
Nuttaporn
Nuttaporn
ดีมากๆค่ะ พนักงานบริการดี อยากไปใช้บริการอีกค่ะ

验证评论
已访问 20 Oct 2020
5.0
ร้านสะอาด บรรยกาศดีค่ะ ราคาน่ารัก ถือว่าดีมากในย่านฝั่งธน ฃฃ
รุ่งไพลิน
รุ่งไพลิน
ร้านสะอาด บรรยกาศดีค่ะ ราคาน่ารัก ถือว่าดีมากในย่านฝั่งธน ฃฃ

验证评论
已访问 11 Aug 2020
5.0
คือดืออออมากกกก น้องสาวชอบมากค่ะ ผู้ชายก็ทำได้🥺🥺
Prim
Prim
คือดืออออมากกกก น้องสาวชอบมากค่ะ ผู้ชายก็ทำได้🥺🥺

验证评论
已访问 12 Aug 2020
5.0
คือดืออออมากกกก น้องสาวชอบมากค่ะ ผู้ชายก็ทำได้🥺🥺
Prim
Prim
คือดืออออมากกกก น้องสาวชอบมากค่ะ ผู้ชายก็ทำได้🥺🥺

验证评论
已访问 12 Aug 2020
4.25
สบายมาก ทรีทเม้นท์ทำให้ผมหอมและนุ่ม
Tukta
Tukta
สบายมาก ทรีทเม้นท์ทำให้ผมหอมและนุ่ม

验证评论
已访问 11 Aug 2020
People Also Like
THE EMPRESSER
216 评论
Mendel Clinic
1356 评论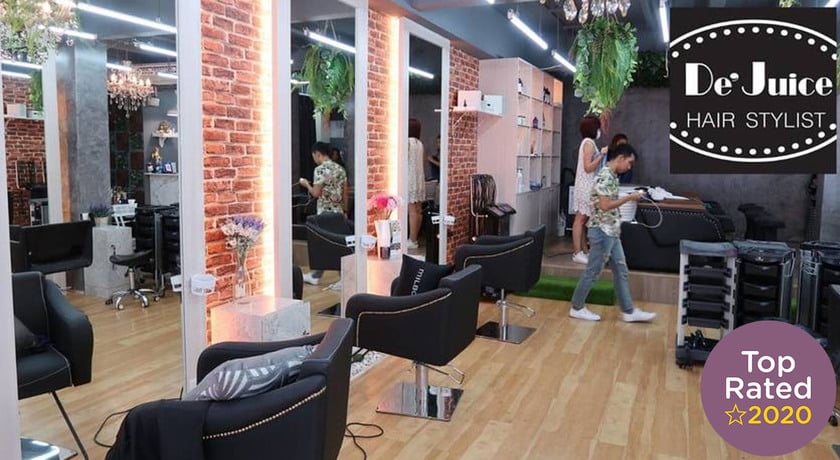 De Juice Hair Stylist
194 评论
Clarins Skin Spa
54 评论